Locals looking to score a sweet deal on rent in the Lower Mainland right now might not have many options.
Metro Vancouver rental prices have risen again this November, climbing to an average of $2,317 per month for an unfurnished one-bedroom rental unit, according to Liv.rent's latest rent report.
This figure is another annual high and brings prices well above the $2,300 mark, with some cities posting even higher numbers this month.
The monthly average is up $61 from October when the total cost of a one-bedroom rental unit averaged $2,256. While prices only rose $9 in October, they climbed up $71 in September and $147 in August.
As the Bank of Canada continues to increase interest rates and vacancy rates remain low in many areas, rental rates have been steadily climbing across the country. As such, Metro Vancouver landlords and renters could see high rental prices through the "typically slower winter months," according to Liv.rent.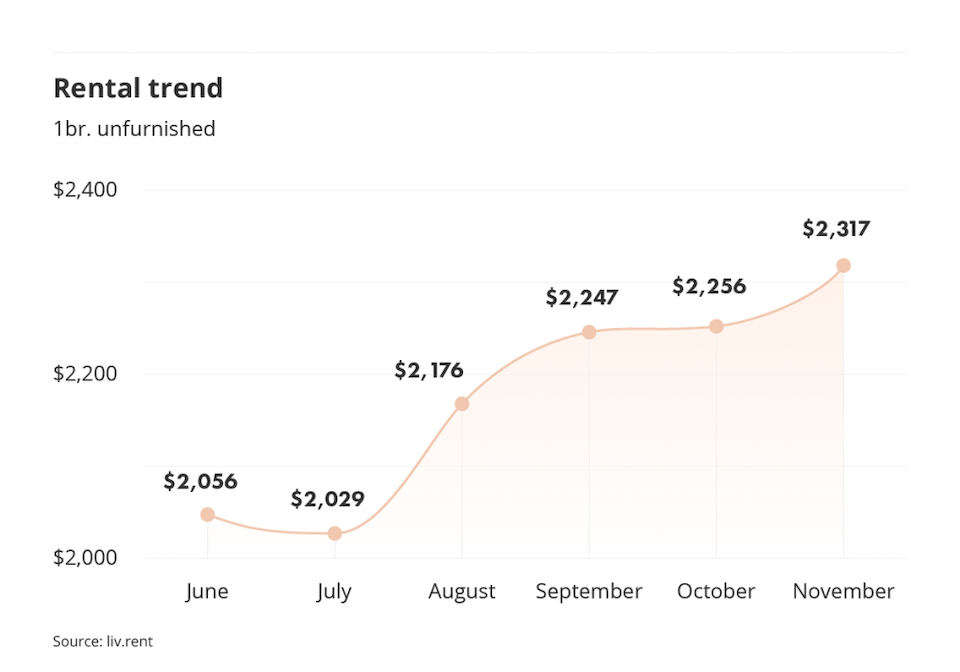 Metro Vancouver apartments for rent: Average rent by listing type
North Vancouver saw the month dramatic change this month, with prices for unfurnished one-bedroom units rising a whopping 10.44 per cent to $2,760, which also makes the city the most expensive in the region. Richmond also saw a substantial rise in average prices, with units averaging 7.21 per cent higher.
Langley saw a 5.67 per cent increase in prices, while Coquitlam wasn't far behind, with a 5.65 per cent increase.
In the City of Vancouver, average prices remained relatively stable, with only a slight overall increase of 0.18 per cent.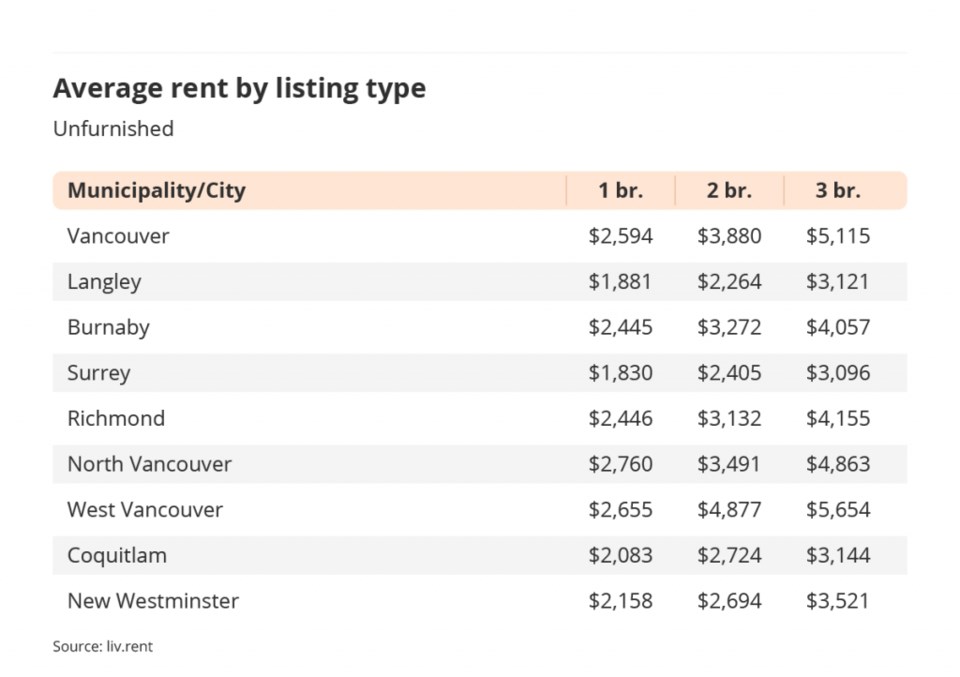 For furnished units, New Westminster saw a dramatic jump in prices, with average rental units rising an average of 22.14 per cent. Richmond's average prices for one-bedroom units were also significant, with a 12.08 per cent increase. North Vancouver saw an average increase of 7.57 per cent.
On the other end of the spectrum, average prices dropped an impressive -13.88 per cent in Coquitlam (-13.88%) this November.
In Vancouver, prices for a furnished, one-bedroom unit fell by an average of -4.74 per cent.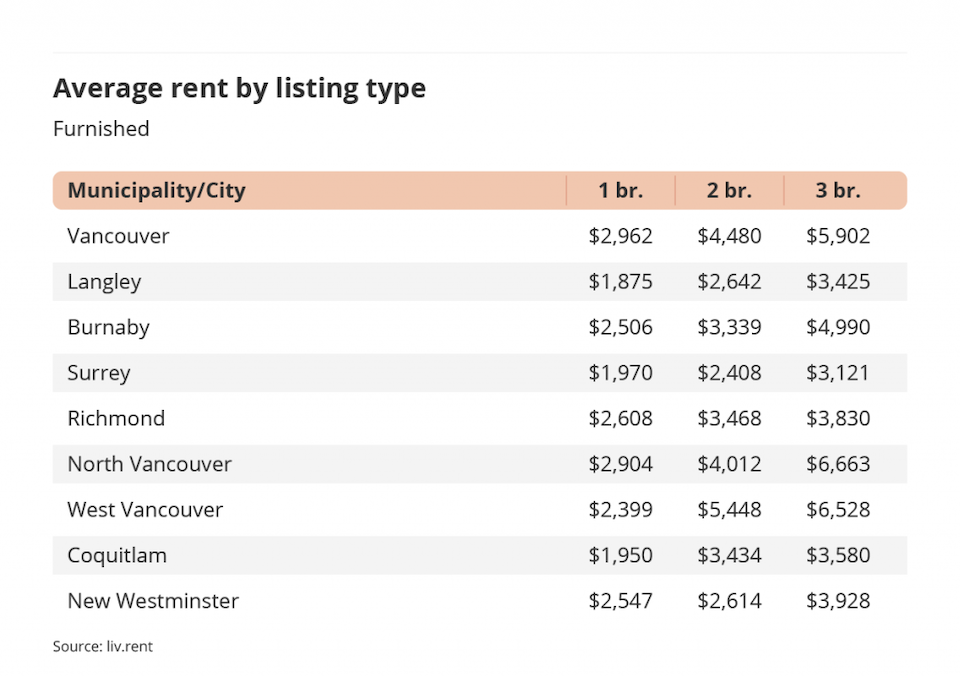 Vancouver rent by neighbourhood in November
This November, Shaugnessy became Vancouver's most expensive neighbourhood at an average of $2,719 per month for an unfurnished, one-bedroom unit, while the same type of unit rented for an average of $2,033 in Vancouver's cheapest neighbourhood, Renfrew.
Mount Pleasant had the second-highest rental prices, with average one-bedroom units renting for $2,701. Downtown Vancouver had the third-highest prices, with units averaging $2,676.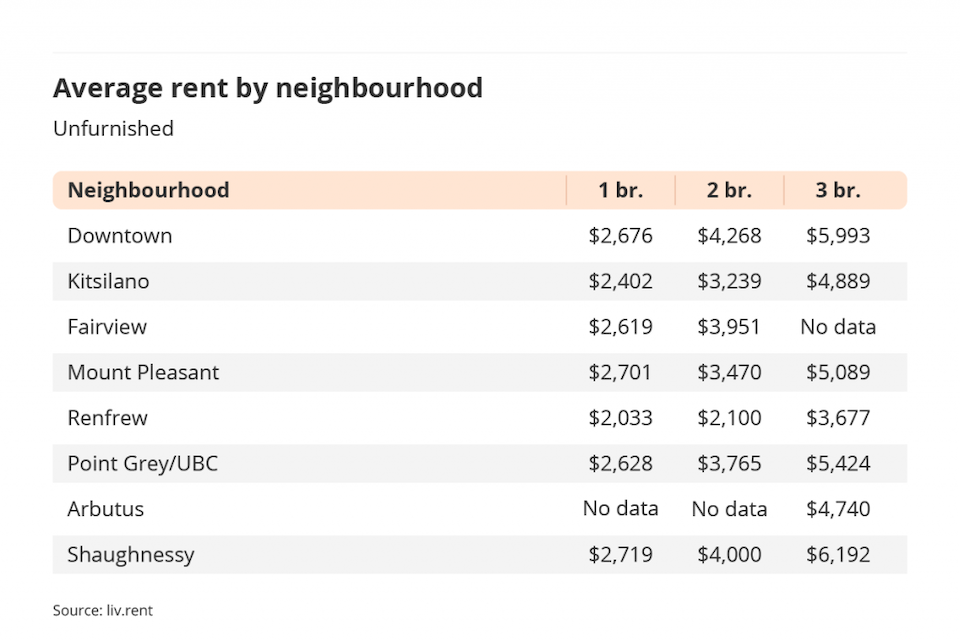 Across Canada, North Vancouver is now the most expensive city in which to rent an unfurnished one-bedroom unit, at an average of $2,760. West Vancouver isn't far behind, with units averaging $2,655.
Vancouver is in the third spot, with units averaging $2,594. Richmond rounds out the top four, with units averaging $2,446.