Hoping to score a cheap apartment for rent this fall?
Locals looking for bargain rental accommodations may find the pickings decidedly slim this September.
Metro Vancouver rental prices have increased month-over-month again, climbing $71 to an average of $2,247 for an unfurnished, one-bedroom unit, according to Liv.rent's latest rent report. Previously, prices climbed a whopping $147 in August across the region.
"September marks the start of the school year and typically sees the peak prices of a busy summer renting season," the online rental company explains. Combined with Canada's high interest rates, September is seeing the highest average rental costs of the year.
"It's difficult to say whether prices will continue to climb throughout the remainder of the year, but with students now largely settled, competition could relax slightly moving forward," adds Liv.rent.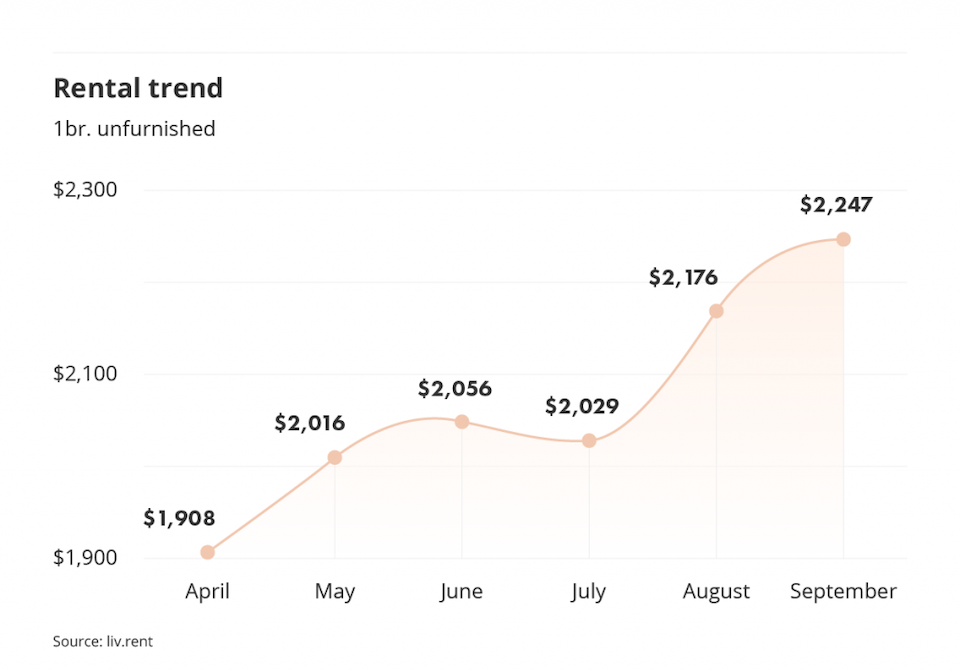 Metro Vancouver apartments for rent: Average rent by listing type
While September hasn't seen price increases as high as August's, there were some notable changes across Lower Mainland communities. For example, West Vancouver saw a staggering 26.35 per cent increase this month over last. An unfurnished, one-bedroom unit now costs an average of $3,312.
At the other end of the spectrum, Richmond has seen prices drop significantly, falling 11.88 per cent down to an average of $2,151.
Vancouver saw its highest average increase in months, with a 6.31 per cent gain this month over last.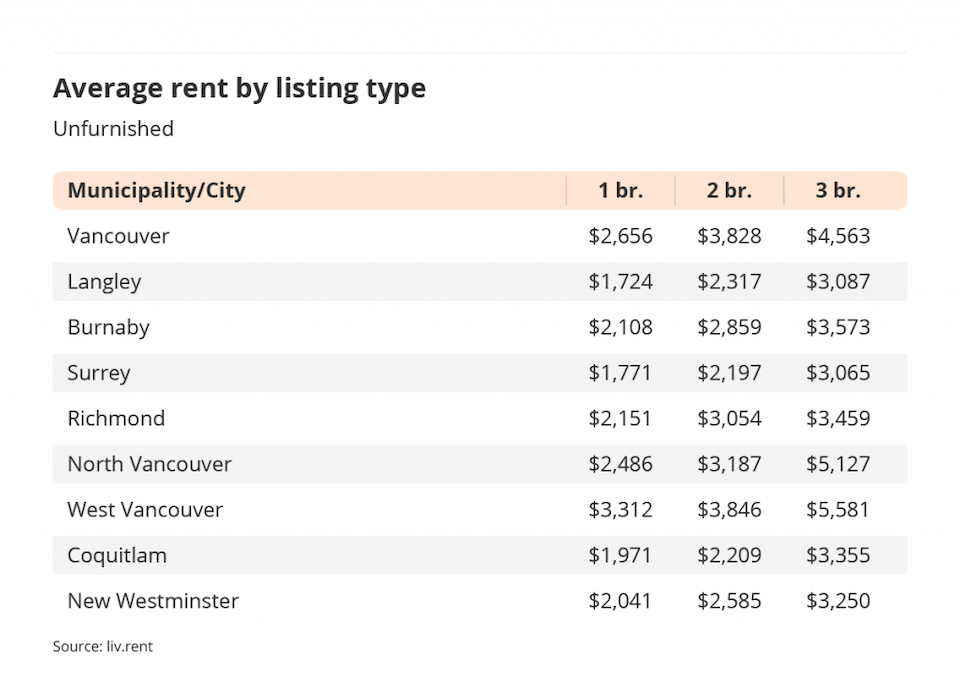 According to Liv.rent, furnished rental accommodation typically sees more volatile changes, with staggering increases and decreases over the past months. This month, prices in North Vancouver dropped by -14.33 per cent, marking the largest decline.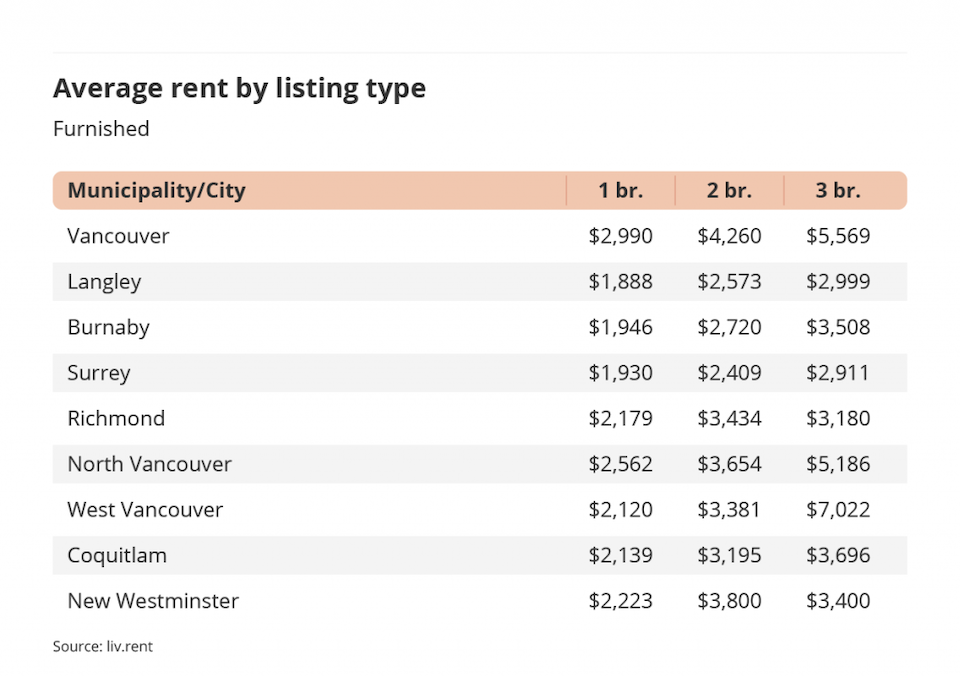 Vancouver rent by neighbourhood in September
Downtown Vancouver is the city's priciest neighbourhood this September, climbing to an average of $2,931 for an unfurnished one-bedroom unit.
The cheapest option in the city is drastically lower, with average rentals in Renfrew costing an average of $1,828.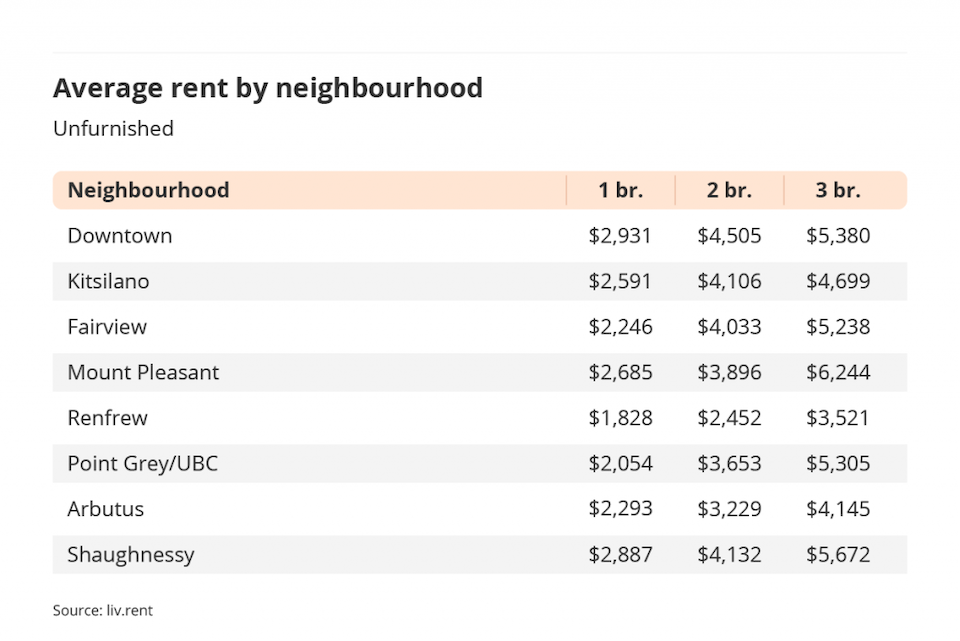 Across Canada, West Vancouver continues to see the country's highest average rental prices at $3,312 for an average one-bedroom, unfurnished unit. Vancouver follows as the second-priciest market with prices averaging $2,656. North Vancouver has also made it onto the list this month in third place, with a monthly average rent of $2,486.