The owners of a Downtown Eastside single-room-occupancy building say a well-viewed TikTok video featuring one of its renovated rooms for $2,000 per month was "unauthorized" and removed from the social media site.
The video, which attracted the attention Thursday of Conservative Party Leader Pierre Poilievre, features a young woman showing the inside of the 200 sq. foot furnished room located in the Lotus Hotel at 455 Abbott St.
Forum Asset Management, which is based in Toronto, owns the Lotus Hotel.
"The video was unauthorized and when we learned about it, was taken down immediately — no further comment," Greg Spafford, Forum's managing director of real estate management and head of the firm's real estate income and impact fund, said in an email.
The video was produced by reAngle Consulting Inc. and has since been removed from TikTok, although it is still live on the media platform formerly known as Twitter, where Poilievre retweeted a post Thursday from CBC journalist Justin McElroy.
"$2,000 a month to live in a 200 sq. ft. room in one of the most drug and crime-heavy neighbourhoods in Canada," Poilievre wrote. "Housing, after 8 years of Trudeau and the NDP."
NDP Leader Jagmeet Singh followed with this response: "None of this is an accident. Conservatives and Liberals have let rich investors use housing as a get-rich quick scheme. Now their greed is so out of control that a 200 sq. foot 'apartment' is going for $2,000/mth."
Glacier Media left phone and email messages Wednesday with reAngle but had not received a reply before this story was posted. The company's newest TikTok video features a 5,000 sq. foot home in Whistler, listed for $14.9 million.
McElroy posted the video in question Tuesday night, which attracted a torrent of criticism from people on the X platform. The post attracted 1.9 million views, as of Thursday afternoon. CBC and Global News broadcast stories Wednesday.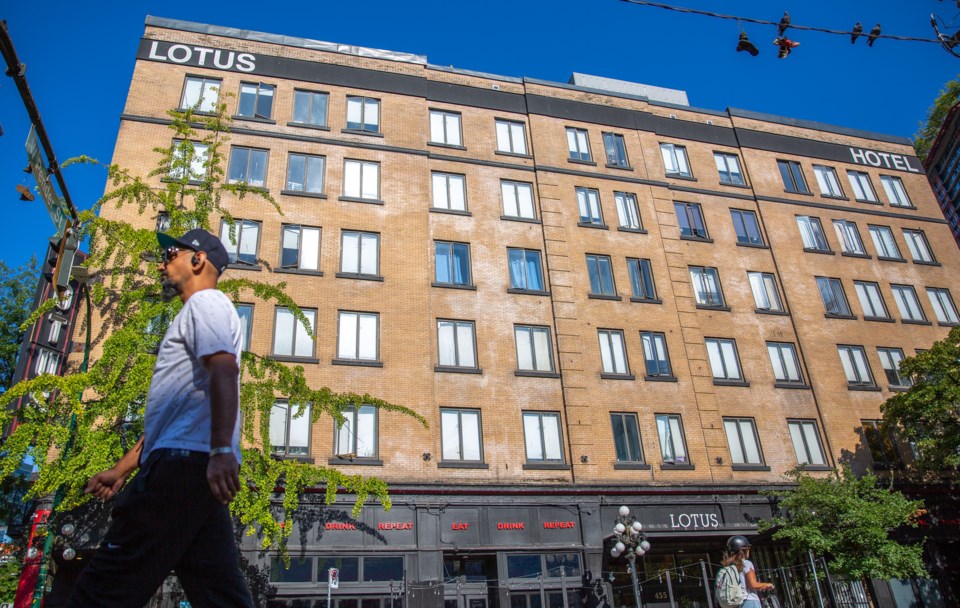 'It's been really good for them'
The video appeared on TikTok two weeks after Glacier Media reported that some low-income tenants of the Lotus were being repeatedly asked by Forum and a property management company if they were interested in moving out of their suites in return for payments between $15,000 to $25,000.
Three tenants interviewed for the story said they were paying less than $650 per month and did not want to leave, knowing how much it would cost to find another place in Vancouver's expensive housing market.
Rentals.ca, a website that lists rental housing across the country, recently posted a report showing that one-bedroom apartments in Vancouver were being advertised for an average of $3,037 per month in July.
As Glacier Media reported, three renovated furnished "studio apartments" in the 1913-era Lotus Hotel, which range in size from 145 to 172 sq. feet, ­were advertised in early August on the property management's website for $1,995 per month.
Another 10 "micro-suites," ranging in size from 159 to 201 sq. feet, were advertised for $1,700 and $1,800 per month, with all but three unfurnished.
Forum's Spafford said in an email two weeks ago that contact made with tenants about buyouts was "misrepresented by some tenants and there are others who have welcomed our approach."
He said the company, which purchased the Lotus a year and a half ago, checks in with tenants "two to three times" per year about buyouts. He described the offers as "generous," which he elaborated on in an interview.
"We have reached agreement with half a dozen tenants so far over the past year, where they relocated in Vancouver or elsewhere, and it's been really good for them," he said, noting one tenant moved in with his brother.
"It's a life-changing time for him. He has some money to travel, he's moving in with family, which is where he wanted to go. Other people are moving into assisted living and that money is helpful."
'Rapidly escalating rents'
The loss of SRO rooms for low-income tenants was highlighted in a Vancouver city staff report to council in May.
"Privately-owned SROs are being removed from the city's low-income housing stock at a rapid rate due to two intensifying trends: disinvestment in the most affordable SRO buildings, leading to unsafe conditions and building closures, and rapidly escalating rents in the better maintained buildings, both of which are contributing to the ongoing homelessness crisis in Vancouver," the report said.
The "critical issue" of tenant displacement from private SROs was highlighted in the report.
"The majority of the time, private landlords conduct light upgrades (paint walls, replace floors, etc.) at turnover that do not require an SRA [single room accommodation] permit but result in the ability to charge higher rents," the report said.
"To accelerate turnover, some landlords pressure long-term tenants to accept cash buyouts in exchange for mutual agreements to end tenancies, leaving tenants with few housing options in the long term."