Owners of a Downtown Eastside single-room-occupancy hotel say more housing supply is needed to combat the city's rental crisis — not rent or vacancy control, as pushed by housing advocates and Vancouver's previous city council.
Greg Spafford of Forum Asset Management, which owns the Lotus Hotel at 455 Abbott St., said tying existing rents to units when a tenant moves out or is evicted will not solve Vancouver's housing crisis.
"What Vancouver needs overall is just more housing — any type, any level, they just need more and more supply to become a balanced market," said Spafford, who is Forum's managing director of real estate management and head of the Toronto firm's real estate income and impact fund.
"That's where the energy should be focused, instead of trying to restrict rent on a few units in the Downtown Eastside."
Spafford was referring to the previous city council's adoption in 2021 of amendments to the Single Room Accommodation bylaw to tie rents at SROs to the suite, which would prevent landlords from spiking the rent when a tenant moves out.
A B.C. Supreme Court ruling in August 2022 struck down the amendments, saying the city did not have jurisdiction to implement the new rules, with Madam Justice Karen Douglas calling the move "unreasonable."
The City of Vancouver has appealed the decision.
"We're hopeful that the province values its turf and doesn't allow the city to oppose on it," Spafford said. "But we'll see where all that goes."
'Unaffordable to build'
The B.C. government did not participate in the court case but excerpts from the ruling show it opposed council's push for rent or vacancy control. The government's position was based on a recommendation from the B.C. Rental Housing Task Force, which listed reasons in its final report for rejecting such legislation.
The task force said it heard a strong desire from some renters and renter advocates to improve affordability by tying rent increases to the unit, not the tenant. They felt that this would help end wrongful evictions intended to raise rents beyond the allowable maximum, the report said.
But the task force also heard concerns from rental housing providers that a change of this kind would make it challenging for them to cover their costs, with some considering selling and, therefore, removing their property from the rental stock.
"Rental housing developers said that they would cease developing needed rental units if this change was brought in, as it would make their developments unaffordable to build," the report said.
"Concerns were also raised about the large amount of paperwork and bureaucracy that would need to be created to implement such a system."
Spafford said keeping rents low would require government subsidies.
"We have to get outside of the rhetoric of, 'Oh, we've got to keep rents low and all that' and think about what is the real problem — you need more housing, and you need to help people who need help with rent," he said.
"Real simple. Binary. You do those two things, and we'll have a great market."
Lotus hotel
Spafford spoke to Glacier Media this week to respond to concerns raised by some longtime, low-income tenants at the Lotus Hotel, who said they were being repeatedly asked by the landlord's property manager about accepting a buyout of their suites.
Those tenants said they pay $650 or less per month on rent. Renovated suites in the Lotus are advertised this week on Dennison Property Management's website for $1,700 to $1,995 per month.
Spafford confirmed the contact with tenants, but said it was meant as a check-in with residents to see what their interest level was in moving. Tenants said the offers have ranged from $15,000 to $25,000.
In the past year, Spafford said, Forum has reached agreements with half a dozen tenants, which was mentioned in a Glacier Media article posted Thursday. Spafford contacted Glacier Media after the article was published to say it was one-sided and made Forum out to be "bad guys."
"We're adding to the housing supply in this country when a lot of people aren't, and we're adding attainable housing to that," he said.
He pointed to student housing projects in Toronto and Winnipeg and being involved in a BC Housing-led initiative to renovate 13 SROs in the Downtown Eastside. An eight-storey affordable housing project on the Centre for Addiction and Mental Health campus in Toronto was another development Spafford highlighted.
"So we're contributing to positive outcomes for the country as a whole, and certainly not targeting the luxury end of the market," he said.
'Notoriously one of the worst'
The article, he added, triggered at least one person to leave a phone message Thursday at Forum's front desk that threatens staff in Toronto and at Dennison Property Management. Spafford said police have been contacted about the message, which he shared with Glacier Media.
He suggested Glacier Media should be focused on writing stories about how government policy at the senior and municipal levels is the cause of the housing crisis, with Vancouver "notoriously one of the worst."
"You should be doing an article digging into that side rather than kicking dirt on someone who's improving a heritage building [the Lotus] in the city, delivering attainable housing for residents downtown," he said.
"Yeah, we're not focusing on the most at-need demographic, but we're certainly giving needed housing to local students. And we're still housing the people who are there [at the Lotus] and have been there for a long time."
Since the first interview with Glacier Media, Spafford said he investigated a tenant's concern that Forum had made a 11:15 p.m. call to him on a recent night. Spafford said the number was traced to the Lotus' front door intercom, which means someone was buzzing the tenant to get into the building.
"That was something that I was absolutely confident we did not do — we do not do that," he said. "We'd fire people for doing that to people."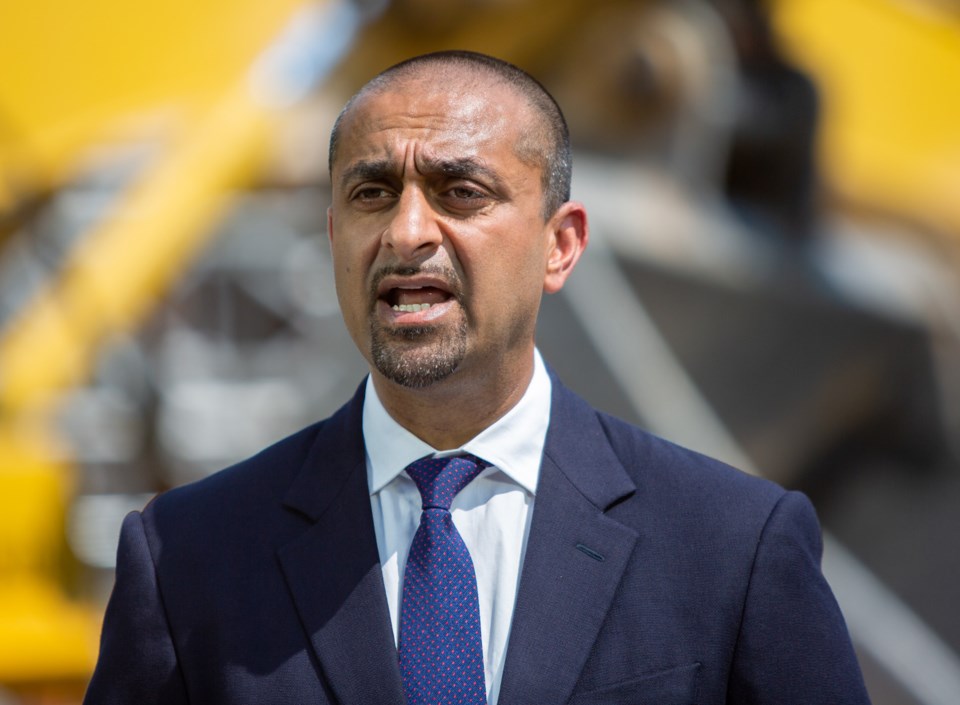 Housing minister's response
Glacier Media contacted Housing Minister Ravi Kahlon's office Thursday for an interview about tenants' concerns at the Lotus, but he was not available. Instead, his ministry emailed a statement attributed to him.
"I empathize with the tenants who feel that they have been repeatedly contacted by their landlord with offers of buyouts to leave their units," Kahlon said.
"The Compliance and Enforcement Unit [CEU] of the Residential Tenancy Branch [RTB] concluded an investigation in 2022 after issuing a warning against this property owner that the [Residential Tenancy] Act must be complied with, concerning tenants' rights regarding mutual agreements to end tenancy and the right of tenants to quiet enjoyment.
"The CEU is aware of these latest allegations and has started initial inquiries to determine if a new investigation will be commenced."
If a landlord continuously pressures tenants to sign a mutual agreement to end tenancy, this could be considered a form of harassment, the minister said. Under the Act, tenants are entitled to quiet enjoyment and freedom from unreasonable disturbance.
"If tenants believe their landlord is harassing or attempting to illegally evict them, they may wish to apply for dispute resolution through the RTB and ask that an arbitrator determine whether this would constitute a loss of quiet enjoyment," Kahlon said.
Vancouver city councillor Pete Fry said he was concerned that a Toronto real estate investment firm now owns a private SRO and is renovating suites that the city's most vulnerable and marginalized won't be able to afford.
"At the end of the day, we do need some kind of better supports for existing renters who are at risk of financialization of the stock," Fry said. "Folks talk a lot about adding more supply will help, but I'm not seeing a difference. We do see a lot of the new supply sort of perpetuate financialization of real estate."