The B.C. government has placed Vancouver, Victoria, Kamloops and seven other municipalities in the province on a "housing target" list in what is a legislative-driven push to get cities to build more homes — and build them faster.
Housing Minister Ravi Kahlon released the list at a news conference Wednesday in a Vancouver park, where he was joined by Mayor Ken Sim, Jill Atkey of the BC Non-Profit Housing Association and Thomas Davidoff of the UBC Centre for Urban Economics and Real Estate.
"While housing affordability is a challenge in communities across British Columbia, we selected these municipalities on an objective, thorough and measured process that factored in housing availability, affordability and unrealized potential in delivering more homes for people," said Kahlon, noting housing experts and economists were consulted in making the list.
The seven other municipalities are:
• City of Abbotsford
• City of Delta
• District North Vancouver
• District of Oak Bay
• City of Port Moody
• District of Saanich
• District of West Vancouver
Housing Supply Act
In November 2022, the government introduced the Housing Supply Act to give it the authority to set housing targets in municipalities, starting with those with the greatest need and highest projected growth.
The targets are supposed to encourage municipalities to address local barriers to construction so that housing can get built faster, including updating zoning bylaws and streamlining local development approval processes.
Final targets for each of the 10 municipalities will be released this summer, said Kahlon, who took reporters' questions on what happens if a municipality doesn't abide or meet the targets set by government.
"We need all communities to be participating in that work, and I expect most communities will be cooperating fully with this," said the minister, noting the government can bring in an independent advisor after six months to determine where barriers exist for a municipality to reach a target.
"And if we find that progress isn't being made, then we have the ability as a province to step in and make the decisions we believe are necessary to ensure affordable housing in communities."
A second group of eight to 10 municipalities will be added to the list later this year.
Sim welcomed Vancouver's addition to the housing target list, saying that as the biggest municipality in the province, it has a responsibility to lead by example. The mayor, as he has said many times, added that Vancouver can't do it alone when it comes to providing more housing for people.
"These challenges impact our region and province as a whole," Sim said. "And the reality is we need to build more housing faster. We need more social housing, more supportive housing, more rental housing, more affordable home ownership — basically, we need more of everything."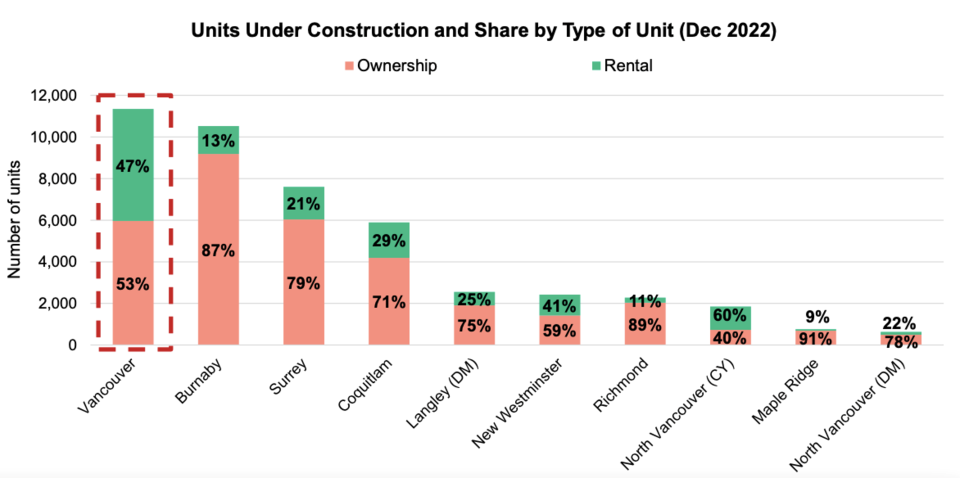 Vancouver's housing strategy
Vancouver's addition to the list comes one month after city council heard from staff that the municipality was far ahead of other B.C. cities in the number of housing approvals and those under construction.
A housing strategy update in April showed more than 11,000 homes were under construction in Vancouver, with 47 per cent of them rental. Burnaby has more than 10,000 homes being built, with 13 per cent rental, while Surrey has almost 8,000 homes under construction, with 21 per cent rental.
Sim noted that in the past six months, the city fully digitized the city's permitting process, streamlined application and review streams, is piloting "an innovative program on the missing middle" and exploring ways to expand the use of technology.
"And just yesterday," he added, "we voted to prioritize housing applications based on the highest number of net new units."
The B.C. government issued a release after the news conference with quotes of support for the housing target list from Port Moody Mayor Meghan Lahti, Victoria Mayor Marianne Alto and Saanich Mayor Dean Murdock.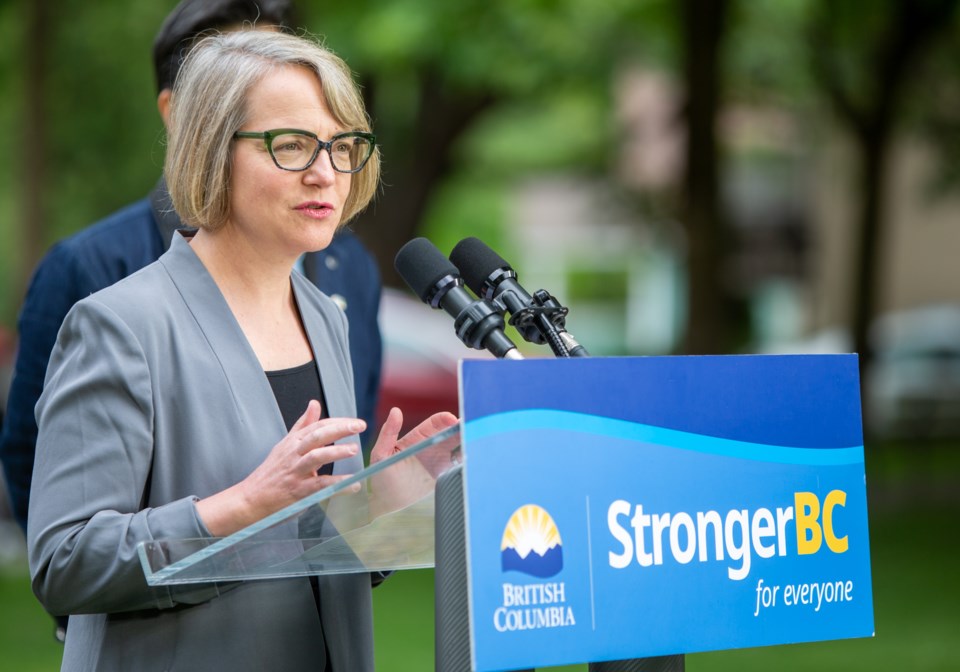 'Send a signal'
Atkey, the CEO of the BC Non-Profit Housing Association, told reporters from Guelph Park (known less formally as Dude Chilling Park) that the current system set up for a non-profit or co-op development to get approved takes too long.
"The rezoning process is expensive and in too many cases, approval is far from certain," she said.
"We don't know at the end of the day, whether the million dollars already spent on getting to a rezoning will be sunk after the public hearing. If the project is approved, all of those costs get added to the rent as people move into their new homes."
By establishing housing targets for municipalities, Atkey said she anticipated barriers will be reduced because co-op and non-profit housing will be part of the mix.
"Creating the right conditions for non-profit and co-op housing in these communities will allow municipalities to send a signal to provincial and federal governments that we're ready for your investment, and we can act on it quickly," she said.
"And that's going to be welcome news to everyone who's struggling to find an affordable home now in today's market and the generations that come after them."
Davidoff was one of the economists government consulted in determining the initial list of municipalities. He called the Housing Supply Act "fantastic," saying there are economies of scale municipalities can take advantage of with assistance from the province.
"And then the other side of it, of course, is every decision every municipality makes on housing doesn't just affect the locality, but it also affects the province because we need affordable housing everywhere," Davidoff said.
He said municipalities not on the list might have a desire to remain off the list. But, at the same time, he predicted "we'll probably see improved land use practices throughout the province" because of government intervention.
"This isn't going to lead to cheap housing in the next year by any means, but it will begin the process of improved land use and better affordability," Davidoff said.