Vancouver has landed at the top of a ranking that it has most definitely earned.
B.C.'s biggest city has been named Canada's "April showers hotspot," beating out every other city in the country for the amount of rainfall that is expected to fall in the month.
CasinoBonusCA.com created a shortlist of the top 10 areas in the country that will have the most rainfall and a list of the top 10 areas that will have the most "damp days."
The study calculated the cities in Canada that will most likely have April showers, calculating the average rainfall in April between 1980 and 2016 (the most recent accessible data).
With a whopping 98.5 millimetres of rain expected to fall this April, Vancouver beat out another B.C. city, Abbotsford, which is expected to receive 89.4 millimetres.
The report's authors note that "Vancouver's mid-latitude location means that large-scale wind patterns from the west to southwest bring abundant rain off from the Pacific Ocean," earning its popular moniker "Raincouver."
Abbotsford is another rainy city with "an oceanic climate, which means that it tends to have frequent cloudy conditions with precipitation."
The third-rainiest city is Saint John, New Brunswick, which is expected to receive 71 millimetres of rainfall this month. The area is prone to heavy rainfall thanks to Saint John Harbour, "where the Kennebecasis River and Saint John River meet at the Bay of Fundy," according to the study.
Halifax, Nova Scotia followed in fourth, expected to receive 62.8 millimetres of rain in April. Trois-Rivières, Quebec rounded out the top five, with the city expected to receive 62.3 millimetres of rainfall.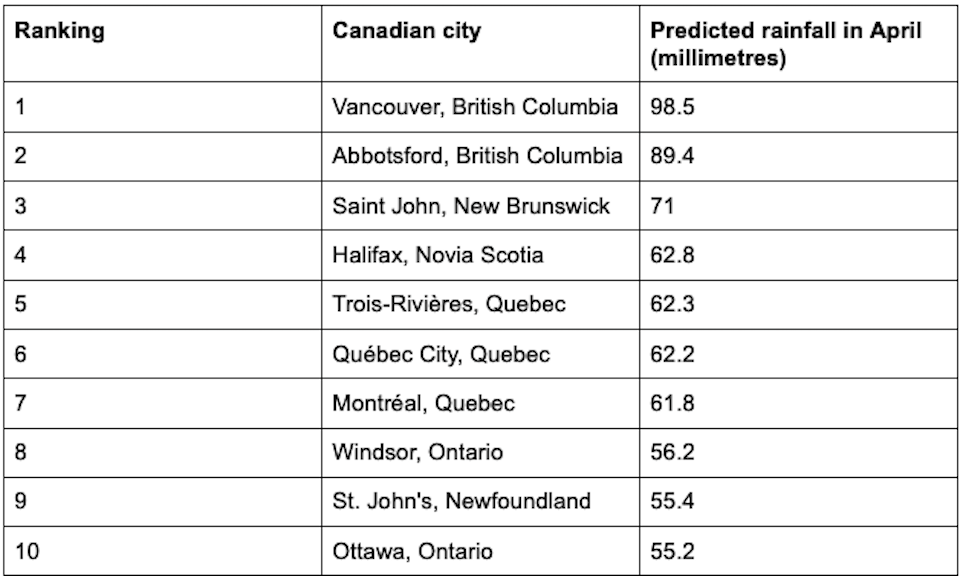 Damp days expected in the April Metro Vancouver weather forecast
When it comes to Canadian cities that are expected to see damp days, Vancouver didn't land at the top of the list.
Abbotsford tops the list of cities expected to see damp days in April, with 11.9. Vancouver isn't far behind, however, with 11.3 days of dampness expected.
Third, St.John's, Newfoundland third is predicted to receive 10.1 damp days in April.
"We would recommend taking the weather into consideration when making any plans this April which would be most pleasant in dry conditions, such as camping in Vancouver or Abbotsford. However, as long as you're prepared with the right gear and waterproof clothing, the rain shouldn't let you miss out on all the fun!" said a spokesperson for the study.
The Metro Vancouver forecast for the first weekend of April includes plenty of dismal, wet weather, including the possibility of snowfall at higher elevations in some areas.