If you've been eagerly anticipating the first hot, sunny weekend in Metro Vancouver, you are not alone.
But with elevated temperatures comes increased trepidation in the province.
In the wake of last year's heat dome — the deadliest weather event in B.C.'s history — sizzling daily highs may be a cause for concern.
And while elevated temperatures increase the risk of heat-related illnesses, The Weather Network notes that this weekend's hot weather will be "nothing like the heat dome of 2021."
A graphic that shows heat dome temperatures from the 2021 event shows that certain places, such as Abbotsford, felt as hot as 40 degrees at 9 a.m. with humidity.
While temperatures will still climb into the 30s at the hottest part of the day during this event, nighttime temperatures are expected to offer a respite, with temperatures dropping down to the mid-teens.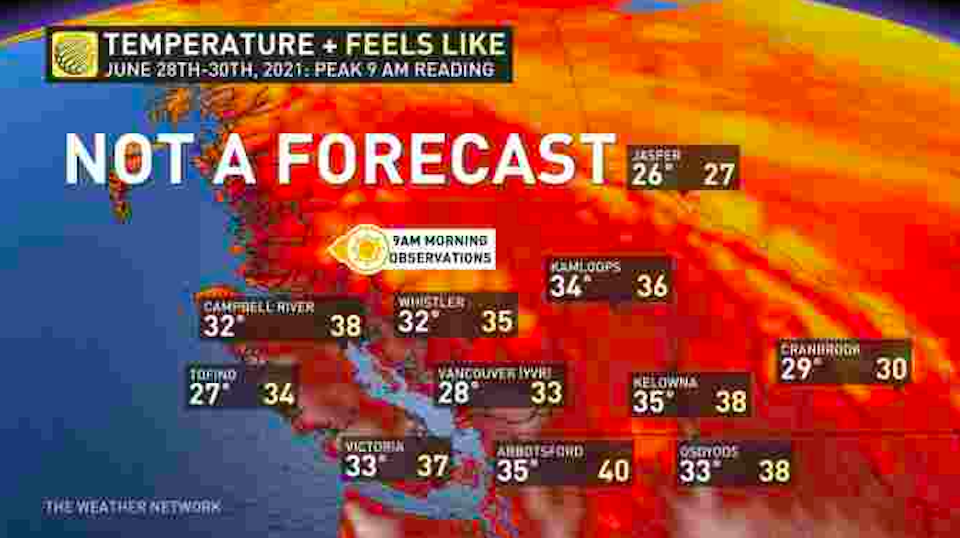 Metro Vancouver weather: Comparing the heat dome to this hot weather event
Despite being several degrees cooler than the 2021 event, the weekend heat could have significant implications across B.C. The soaring temperatures could "accelerate the snowmelt, which has been delayed," leading to flooding in parts of the province.
While the River Forecast Centre doesn't have any advisories in place for Metro Vancouver, there is currently a flood warning in effect for the Quesnel River. There are also flood watches in effect for the Thompson River and high streamflow advisories in effect for other parts of B.C.
Environment Canada also reminds people that "bodies of water still remain cool for this time of year and may pose a risk of hypothermia when exposed to cold water for a prolonged period of time."
Preparing for hot weather:
If you do not have air conditioning at home, find an air-conditioned spot close by where you can cool off on hot days. Consider places in your community to spend time such as movie theatres, libraries, community centres, or shopping malls.
Check that you have a working fan. If you have an air conditioner, make sure it works.
Shut windows and close curtains or blinds during the heat of the day to block the sun and to prevent hotter outdoor air from coming inside. Open doors and windows when it is cooler outside to move that cooler air indoors.
Have a look at Environment Canada's summer forecast for the Metro Vancouver region.