If you're dreaming of a white Christmas in Metro Vancouver, don't hold your breath.
While locals saw some varying amounts of the white stuff on the big day, the wintry wonderland was an anomaly. Typically, Christmases in the city are wet or dry; a frosty holiday is decidedly rare.
In a recent update, the National Oceanic and Atmospheric Administration (NOAA) called for a 75 per cent chance that La Niña will be present this winter and won't change to a "neutral" weather pattern until about February.
Typically, La Niña's impact on southern B.C. doesn't start to show until the late fall or early winter. But it does tend to produce cooler than normal temperatures and snowier conditions over the mountains.
Last year, for example, was a La Niña year in the Lower Mainland and there was a great deal of snowfall, particularly around and on Christmas Day. That said, it is only one factor that impacts local weather and doesn't provide a complete picture of the seasonal forecast, according to Environment Canada.
Rolf Campbell, a weather historian and weather forecaster, gathered statistics from Environment Canada and across the web to create an infographic that shows how rare snowfall is on Christmas Day in Vancouver.
The visual tool uses green trees to signify days that did not see any of the white stuff, and then snowflakes, partial snow, and full snow to signify varying amounts of snowfall on the days that did receive some.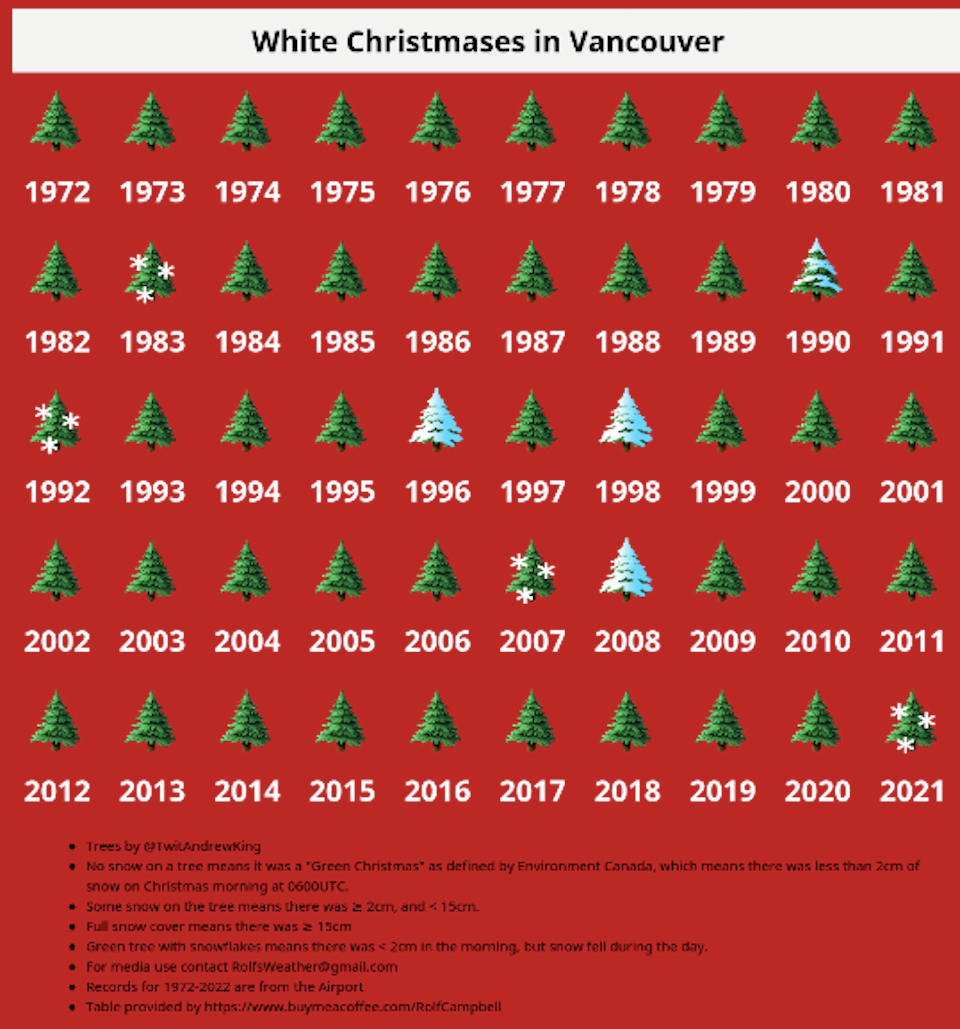 Will the Metro Vancouver weather forecast include a white Christmas this year?
Environment Canada analyzed 65 years of weather records for 45 major centres across Canada and calculated the probability of having a white snow-covered Christmas Day in the 65-year span between 1955 and 2019.
In some places, the odds of having a white Christmas are 100 per cent, such as in Kenora, Yellowknife, and Whitehorse. In Vancouver, the data showed that there was only a slim possibility of waking up to a frosty wonderland, with a nine per cent chance of snow on the big day.
When it comes to "perfect Christmas" conditions, however, the possibility of an ideal day is even lower. The national weather forecaster characterizes this "perfect" holiday as having 2 cm of snow on the ground or more in the morning and a measurable amount of snow falling in the air during the day.