Construction begins this week on the Granville Bridge to make the span safer for pedestrians and cyclists but there is no money in the current budget to install Vancouver Coastal Health-recommended suicide prevention fencing.
The fencing is in the long-term design plans for the 1950s-era bridge, but its estimated $16-million cost has kept it from being included in the current phase of the span's $50-million upgrade.
"We've been continuing to look at it and had some conversations with senior levels of government to see if there was a path there," said Paul Storer, the city's director of transportation.
"That's continuing to happen, but it's a big price tag, and we don't have any firm timeline on when we might be able to do that."
Storer said the bridge's railings likely couldn't be used to accommodate fencing and would need to be removed. Added to that is the length of the bridge and the number of on- and off-ramps that would also have to be outfitted with fencing.
"There will be fencing on that bridge at some point, but it's just a matter of when," he said.
In 2020, when the overall cost of the Granville Bridge upgrade was debated at city hall, council received a letter from Dr. Mark Lysyshyn, the deputy medical health officer for Vancouver Coastal Health, in support of fencing.
"This is an essential component of suicide prevention and part of Vancouver Coastal Health's injury prevention plans to install means prevention fencing on all high-rise bridges in the Lower Mainland," Lysyshyn wrote Sept. 2, 2020.
'Best practice in B.C.'
In recent years, he continued, incorporating fencing into bridge projects has become a best practice in B.C. Fencing added to the Ironworkers Memorial Bridge and Burrard Bridge have had "a considerable impact, with early evidence suggesting that means prevention has saved lives and significantly reduced health-care and emergency service costs," he said.
Lysyshyn noted the Granville Bridge was identified by the BC Coroners Service as one of the Lower Mainland's bridges subject to suicide and suicide attempts. Between 2007 and July 2019, there were 34 deaths by suicide, with many more attempts, he said.
Vancouver Police Department (VPD) statistics for calls to the bridge for suicidal persons show officers responded 135 times to the Granville Bridge between 2016 and 2022. Only the Lions Gate Bridge generated more calls during that period, with 284 answered by VPD.
Fencing was installed on the Burrard Bridge in 2016 as part of that span's upgrade. Police statistics show the number of calls from 2016 to 2022 totalled 77. The Cambie Bridge generated 119 calls.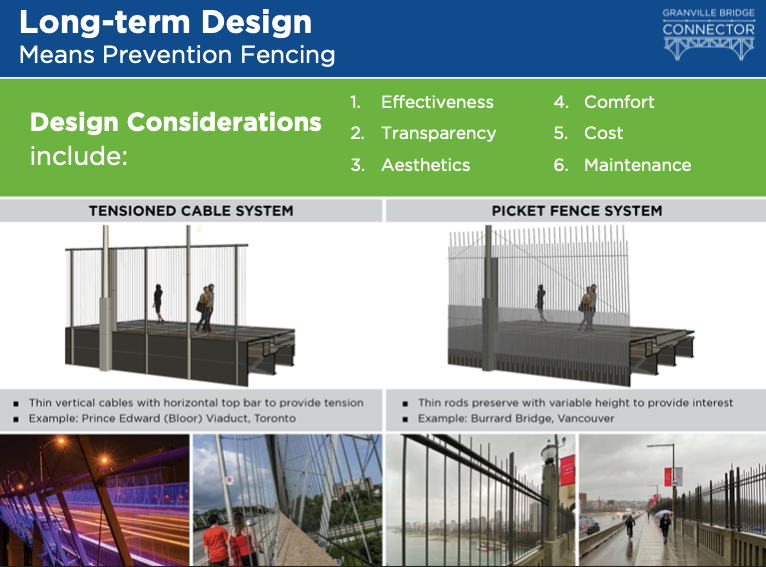 Crisis phones on bridge
Crisis phones were also added to the Burrard Bridge, with a direct link to the Crisis Centre of B.C., where Stacy Ashton is executive director and an advocate for suicide prevention fencing across all large bridges in the region.
"The whole purpose of the redevelopment of the Granville Bridge is for safety — safety for commuters, safety for bicyclists, safety for pedestrians, and part of safety is having bridges that are safe for people who might be in a mental health crisis," Ashton said.
While the police data shows people in crisis are still frequenting the Burrard Bridge, Ashton said the risk of someone dying is much less because of the fencing. Both Ashton and Storer said the fencing is not impenetrable by a determined person but it is there to work as a deterrent.
"It just makes it harder, and it creates delays between yourself and making a decision to die," said Ashton, adding that having crisis phones on the bridge doesn't always mean dispatching police. "In some cases, we can de-escalate over the phone."
Ashton pointed to a Toronto Public Health report from 2018 that found "means restriction interventions" such as bridge barriers were associated with a 93 per cent reduction in suicide deaths per year when implemented as a sole intervention.
Vancouver Coun. Christine Boyle said she has lost two friends to suicide from local bridges. In previous debates at city hall, Boyle has pushed for the fencing to be installed and has urged senior governments to contribute to the cost.
"I had some hope that the federal government might show up as a partner because it's actually a concern that we continue to hear from Granville Island, which is federal land," she said, noting the suicides that have directly affected the popular tourist destination. "It's unfortunate how badly it's needed, but it is badly needed."
Added Boyle: "It's not just an infrastructure project, it is part of the mental health crisis that we're in. So having it be funded jointly by multiple levels of government would be the ideal. But whatever the cost, it's important and it's needed. That's what I keep hearing."
Granville Island
Thomas Lancaster, director of Granville Island for Canada Mortgage and Housing Corporation, said the federal government does not have jurisdiction or authority over the Granville Bridge.
Lancaster said the federal government and the city have agreements on the pilings and where the footings sit for the bridge, and who is responsible for upkeep. But installing fencing, he said, is "absolutely the city's responsibility to do it."
"In fact, there is federal legislation that requires municipalities to keep up bridges in a safe way, so means prevention [fencing] is considered part of that safe upkeep of the bridge," he said, noting however that his agency has offered to co-design the fencing, if and when it gets funded.
Lancaster said he has a meeting scheduled later this week with Storer and Lon LaClaire, the city's head of engineering, to continue discussing the fencing, which he believes is necessary to help prevent further tragedies.
"It's a very serious problem," he said, adding that he believes the Cambie Bridge should also have the fencing, which is a recommendation city staff made to council many years ago when discussing upgrades to the Burrard Bridge.
Ashton, meanwhile, said the $16-million price tag for fencing on the Granville Bridge has to be put into perspective, referring to the $19 million of upgrades to the bridge deck and further $31 million to removing "the loops" at the north end of the span.
"They're putting in cyclists' lanes and cyclist barriers because when you have an accident or a death, you have many, many costs that come into play, not just financial but also personal," she said. "Somebody has just lost their father, or their brother, or their mother."
Last Thursday, VPD said they shot and killed a man on the Granville Bridge after responding to a call of a person "acting erratically." Police have not released any further information and the Independent Investigations Office is now the lead agency in investigating the incident.
Discussion related to suicide prevention fencing on the bridge comes as Vancouver council is set to approve Tuesday $2.8 million to hire 58 mental health workers, some of whom will be integrated with police-involved crisis teams.
If you or someone you know is experiencing thoughts of suicide, help is available.
In an emergency, call 9-1-1
In a crisis, call 1-800-784-2433
In need of support, call 310-6789 (no area code needed)
You can find a full list of resources on the B.C. government's website.