Police in Vancouver are hoping the public can help identify a pair of suspects who ransacked a downtown luxury retailer and bear sprayed a store worker in the face during the course of a "take-over style robber" last fall.
The Dec. 9, 2021 incident took place shortly after 7 p.m. at the Gucci store at 710 Thurlow St when two masked men entered the high-end boutique fired off bear spray in the face of one worker before proceeding to ransack the store.
The duo made off with about $20,000 worth of merchandise in "just seconds," describes the Vancouver Police Department.
The 33-year-old security guard was completely incapacitated by the attack and fled out an emergency exit to hide in a stairwell with three other employees until the robbers left, note the VPD. They were subsequently treated by paramedics.
Police believe someone can identify the robbers.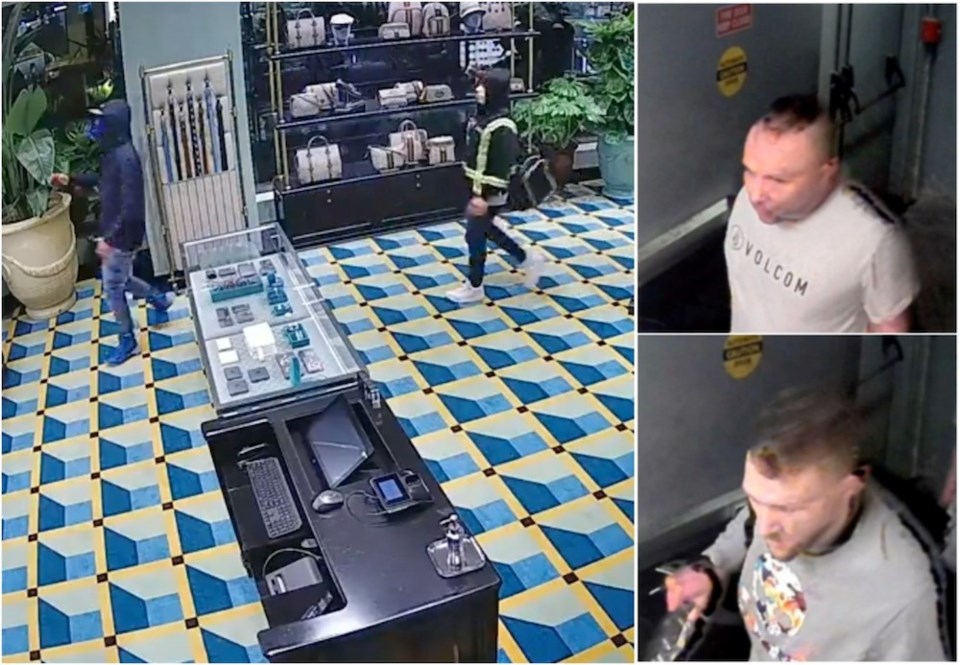 Though masked while inside the shop, images of the pair outside the store show them bare-faced.
"Although we obtained this video early in the investigation, for investigative reasons we've been unable to release it until now. But, we know someone out there will know who these men are," says Constable Tania Visintin of the VPD.
"The public has been instrumental in helping us solve a number of disturbing attacks in recent months, and we're once again asking for help to identify and apprehend some violent criminals," adds Visintin. "We need anyone who recognizes these men to call us right away and tell us what they know."