An officer with the Vancouver Police Department's (VPD) Mounted Unit found an unusual way to mount their horse this week.
The Mounted Unit shared a series of photos on its Twitter account on Friday, March 12 that shows one of its officers using a B.C. ambulance to mount their tall horse.
"Anyone ever use an ambulance as a mounting block before??? Points for creativity!" the unit wrote in the tweet.
In the comments below the tweet, the Mounted Unit states that the police horse is called Stanley and is 16.3 hands tall. While the officer could have mounted him without assistance, using some type of mounting block is "beneficial for the horse's back."
The Mounted Unit also noted that the officer is wearing upwards of 30 pounds of gear, which makes mounting the horse from the ground more difficult.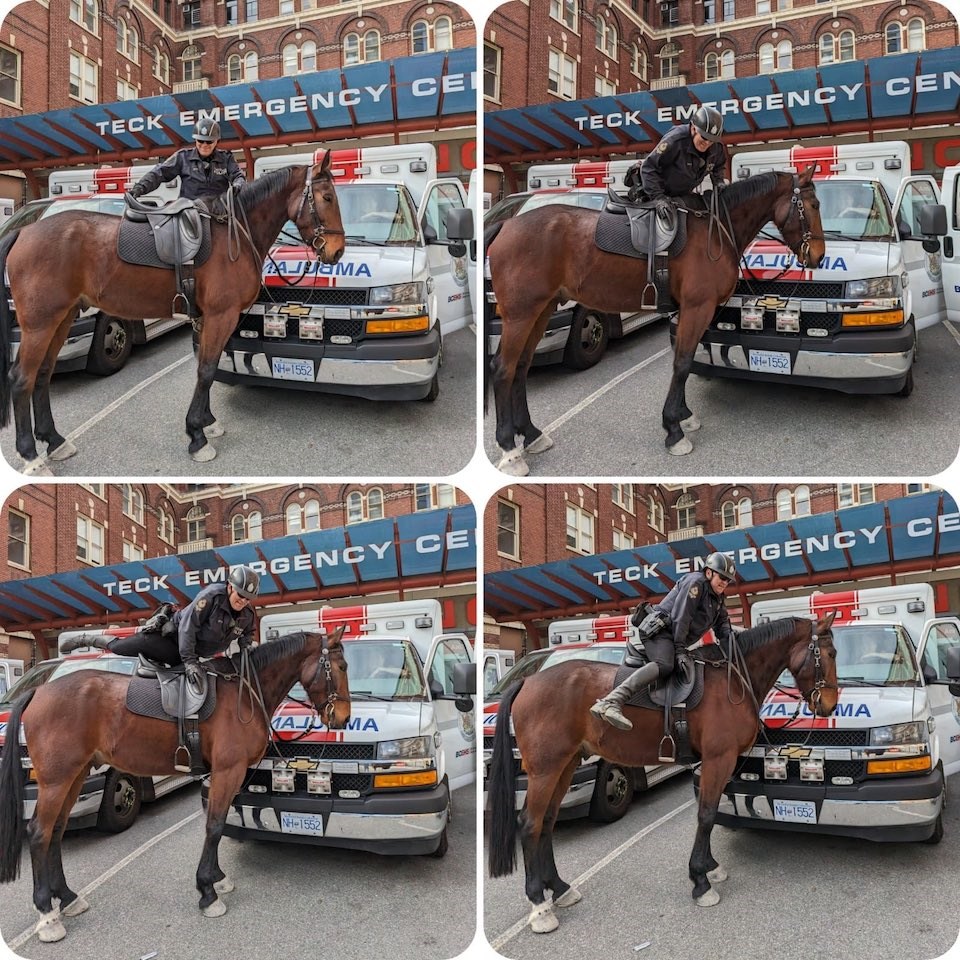 What makes a horse a potential VPD candidate?
It's been over a century since the Vancouver Police Mounted Unit began patrolling the city, and horses must meet specific criteria to be considered for the program.
The horses must be:
geldings
at least five years of age
16 hands high or better
dark in colour
of quiet disposition
Horses are brought in on a 60-day trial basis, during which the horse is subjected to nuisance training in the paddock, such as balloons, firecrackers, and obstacles. If the horse passes the tests, he is slowly introduced to the trails of Stanley Park, eventually moving to the more crowded areas, such as the Aquarium and the beaches.
If accepted, the horse is purchased and issued a badge number. A police officer is then assigned to complete the training of the new recruit.
Watch a video of a police constable using a tree stump in Stanley Park to mount her sky-horse.