Two temporary work-camp style housing complexes that B.C. Premier David Eby promised would open in Vancouver in March will not be moving in tenants until May and June.
BC Housing said in an email Thursday that "development processes that caused unanticipated delays" is why a site at Main Street and Terminal Avenue and another at 2142 Ash St. didn't meet the March move-in target.
"The modular units have been installed at Main/Terminal and are now being readied for occupancy, with residents expected to move in May," BC Housing said. "The second site on Ash Street is well underway, with occupancy expected in June."
In December 2022, Eby told reporters from the site at Main and Terminal that both complexes — which will cost $6.9 million and total 89 living units — would open in March. He described the housing as "work camp," the kind used in logging camps and other remote job sites.
At the time, Eby said the housing would go to people living in shelters so space could be freed up at those facilities for others living in tents on East Hastings Street and at the CRAB Park encampment.
That is still the goal, but the delays come as a city-led operation continues on East Hastings to end the encampment.
City officials have said there is not enough shelter space to accommodate everyone on the street but have qualified that statement by saying only 18 people between April 5 and 12 accepted shelter.
'They've done things a bit backwards'
Karin Kirkpatrick, the BC United MLA for West Vancouver-Capilano and her party's housing critic, said Friday that government and the City of Vancouver should have coordinated the enforcement on East Hastings so that shelter or housing was available.
"They've done things a bit backwards," Kirkpatrick told Glacier Media.
"I don't understand how the provincial minister of housing [Ravi Kahlon] can say to us in the legislature, 'Yes, there is housing for everyone [on East Hastings].' And the next day, you hear somebody from the city saying, 'No, we don't have enough places for people to go.'"
Kirkpatrick said the government has to be more careful about setting expectations with the public and that "the province really should know what their inventory is, where it is and how many people are going to need to access it."
Having the 89 units in place would have made a difference, although she pointed out a 98-unit temporary modular housing complex on Cambie Street is set to close in July, with BC Housing yet to say if the housing will end up in storage or open elsewhere.
How much shelter or housing is currently available in Vancouver is unclear.
But one week after Vancouver Fire Chief Karen Fry issued an order in July 2022 to clear the sidewalks on East Hastings, BC Housing warned city officials there wasn't enough housing to accommodate people on the street.
"Right now, space is tight in Vancouver, though we have a limited number of available shelter spaces that we are working with outreach partners to make available to people experiencing or at risk of homelessness, including those on Hastings Street," BC Housing said in a statement to Glacier Media in August 2022.
"We continue to very actively pursue all new opportunities to secure additional housing in Vancouver, but we were clear with the City of Vancouver and Vancouver Fire Rescue Services that, on short notice, we do not have access to large numbers of new spaces in Vancouver to accommodate the timing of the emergency order."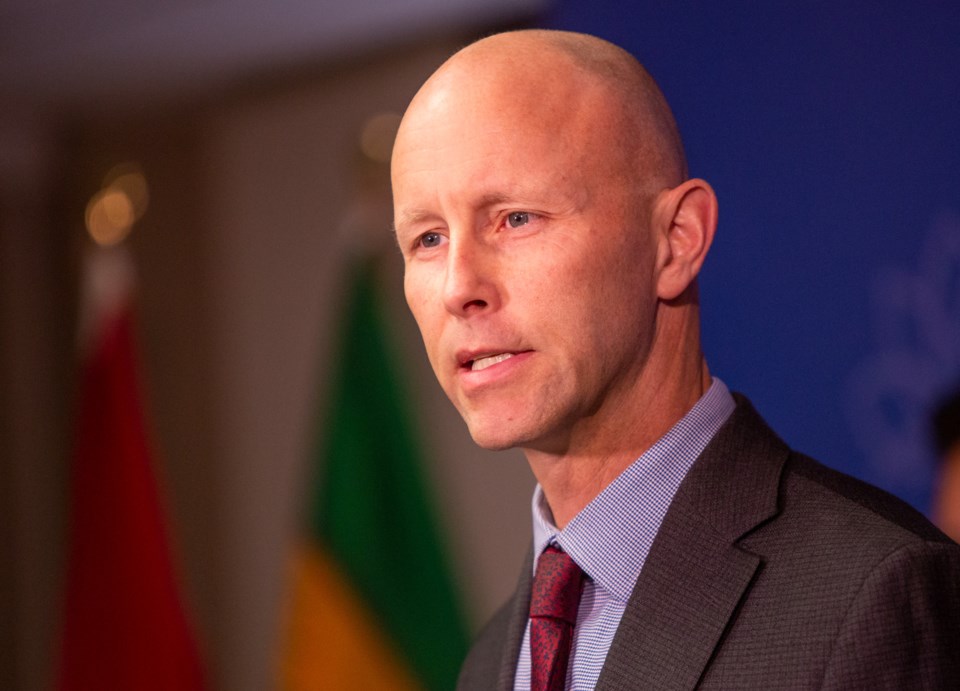 'Meant to be an urgent response'
Reporters heard from city manager Paul Mochrie last week that the number of available shelter spots didn't match the estimated 100 people living on East Hastings. Mochrie emphasized that clearing the sidewalks wasn't about ending homelessness but enforcing the fire chief's order related to public safety.
At a city council meeting Tuesday, Mochrie said he looked forward to the opening of the 89 units of work camp housing and another 230 renovated SRO units at three locations in the Downtown Eastside, including the 95-unit Gastown Hotel on Water Street.
The two other SROs are at 566 Powell St. and 162 Main St.
BC Housing said all 330 units will be open by the end of June.
"That is absolutely housing that we would be looking at to support folks camped out on Hastings Street as well the many other people that are in shelters and sheltering outdoors across the city," Mochrie said.
Unlike the city's other dozen modular housing sites, which have buildings with multiple storeys, the housing slated for Main and Terminal and Ash Street will be ground-level units similar to what is used in work camps, according to Eby.
"It's meant to be an urgent response," the premier said at the December news conference.
"We can move faster with that particular type of housing. It's available for us to respond quickly... we've got a bunch of people outside, we've got shelters at capacity, so we want to make sure that we're creating the space."
Both sites are adjacent to existing temporary modular housing buildings, which will remain.
The site on Ash Street is near the Olympic Village Canada Line station. The current building at Main and Terminal, which is recognizable for the Indigenous art on its outside walls, was the first modular housing project built in the city.
Chalmers Lodge cost $40.5 million
In recent days and months, the B.C. government has announced more housing will become available to get people off the street. This week, the government said it purchased the 115-unit Chalmers Lodge at 1450 West 12th Ave., a former seniors' care facility.
The price paid was $40.5 million.
"We are taking action to find homes for those who live in Vancouver's Downtown Eastside," said Housing Minister Ravi Kahlon in a news release. "With the West 12th purchase, this is another 115 units that will help break the cycle of homelessness for people on East Hastings and in CRAB Park."
People residing in single-room-occupancy SROs will get priority, with residents selected based on an "assessment of need with priority given to seniors," according to government. Similar to the approach for the 89 units of work camp housing, the idea is to free up space in SROs for people currently living on the street.
The 12-storey concrete building features bachelor suites with in-unit bathrooms, several lounge areas, a central dining room and office space for staff, and a commercial kitchen on the ground floor.
All former residents of the highrise were previously relocated to Rideau Residence in Burnaby. Renovations of Chalmers Lodge, which are estimated to cost $10 million, are expected to begin in the spring, with residents anticipated to start moving in by fall 2023.
The B.C. government says it has opened more than 1,400 new "supportive homes" in Vancouver since 2018 for people experiencing homelessness, with nearly 900 more underway. The government says it opened more than 800 affordable rental homes in Vancouver since 2018, with more than 3,100 more underway.
The government describes "supportive" as housing where tenants can access health services and other personal needs, including supplies for people living with drug addiction.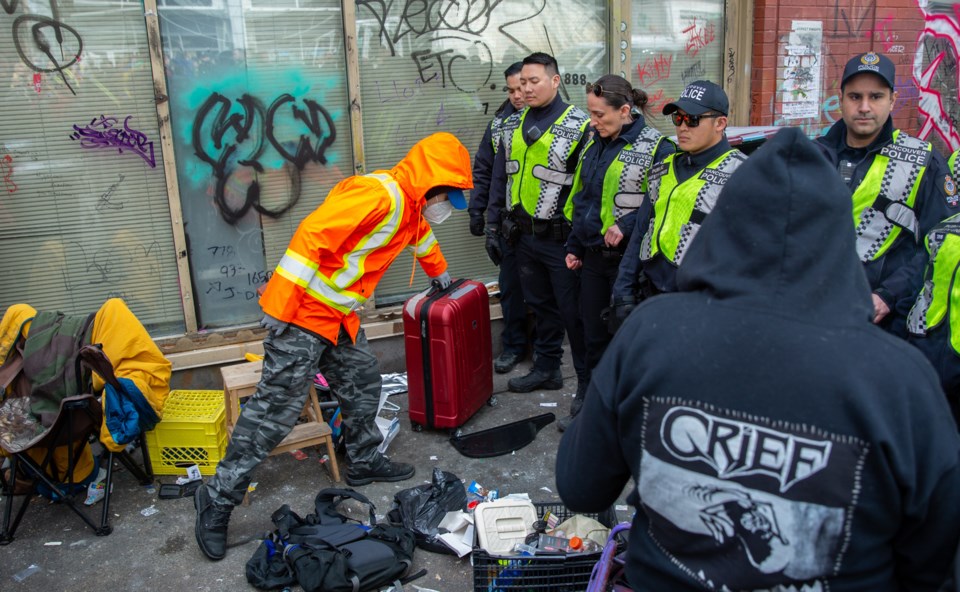 2,500 kilograms of garbage
Meanwhile, the City of Vancouver released an update Friday on the action to end the encampment on East Hastings. Much of the data and comments were reported by Glacier Media in this April 12 story.
Some additional information released Friday included:
• The Vancouver Police Department has recorded no stabbings or serious assaults in the encampment area since April 5, and there are indications that street-level assaults are trending down.
• Vancouver Fire and Rescue Services received 27 fewer overdose-related calls the week of April 3-9 than the previous week and 82 fewer than the two weeks earlier.
• City crews have removed an average of 2,500 kilograms of garbage from the encampment daily.
• Vancouver Coastal Health has confirmed the rate of visits and overdoses last week at the Insite supervised injection site on East Hastings and area overdose prevention sites were consistent with the same period in previous months.