No smoking, no drinking, no drugs and nobody over 5'4".
Those are the tenant requirements noted in a Vancouver rental listing ad on Craigslist for a bachelor's basement suite on 25th and Main Street. For $1,000/month the one-room, suite with den comes with hot water, high-speed internet and what looks to be headbashingly-low ceilings.
"Looking for long term /a quiet clean shorter then (sic) 5'4'' working/studying responsible and helpful mature ind[ividiual]," the listing reads.
The listing's nine images show a rusted half-range oven and chunks of drywall clinging to exposed studs with screws that are really just trying their best. At least the cabinet by the refrigerator (which has about a foot of clearance between the ceiling) has stained glass window panes.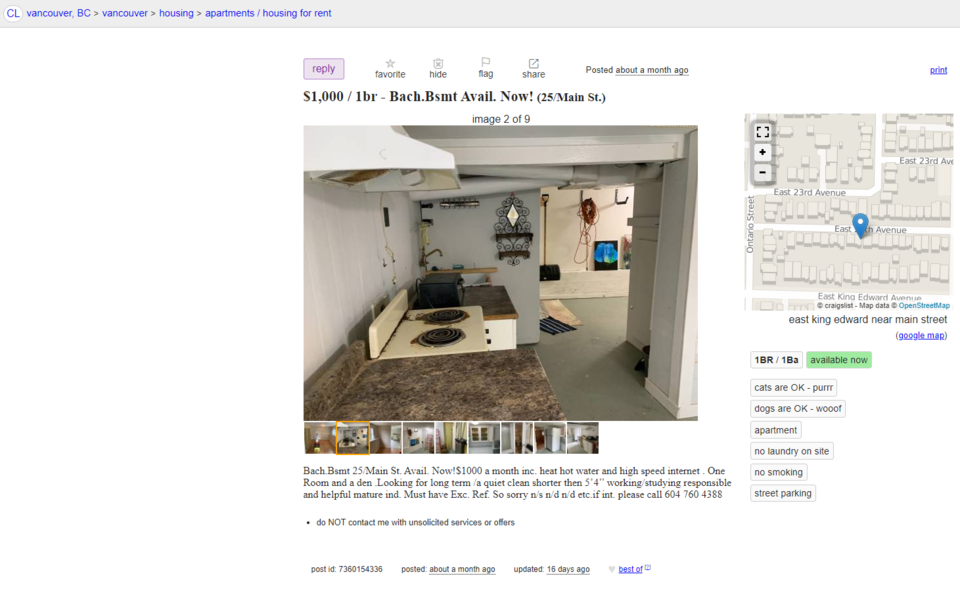 The listing does not, however, tell hopeful tenants if the lamp, sitting stridently upon two upturned milk crates is included. Nor does it indicate if the proverbial rats' nest of an extension cord hanging from one wall comes with the place.
Providing they meet the height requirement, tenants can have a pet.
There is no laundry onsite or street parking.
The listing has been up for about a month and was updated just two weeks ago; anybody still interested?