Last week the Pacific Salmon Foundation held their annual gala at the Vancouver Convention Centre West. If you're a regular reader you'll know that I'm a fisherman and a conservationist and that I was on the committee, bringing in support from some local businesses, the Canucks, and former Canuck defenseman Willie Mitchell (HERE is a list of all the wonderful businesses that answered my call).
The event was their largest ever with 700 people paying $200 for the ticket price which will go towards ensuring the future of this species in our province. It was a wonderful night with great food, live and silent auctions, and speeches sharing what the Foundation has been up to and will be embarking on in the future. This coming week there's another salmon event that's benefitting them, and it starts and ends at Granville Island.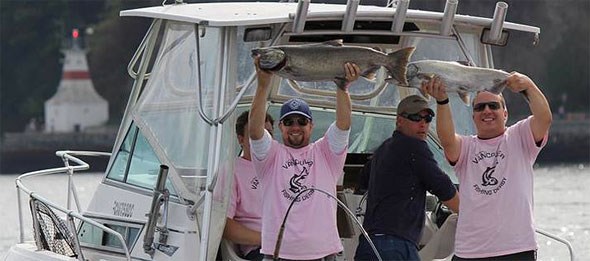 Run entirely by volunteers, the Vancouver Fishing Derby is happening this Thursday, May 8th, and you or your company can get in on the action by paying $2000 to take out a boat for the day, with a guide, and experience some fishing in our local waters.
If you're not interested in getting onto a boat how about buying a $40 ticket to their after party on Granville Island with all you can drink and eat?! TICKETS HERE.
Learn more about the derby and their goal to raise awareness at vancouverfishingderby.com.