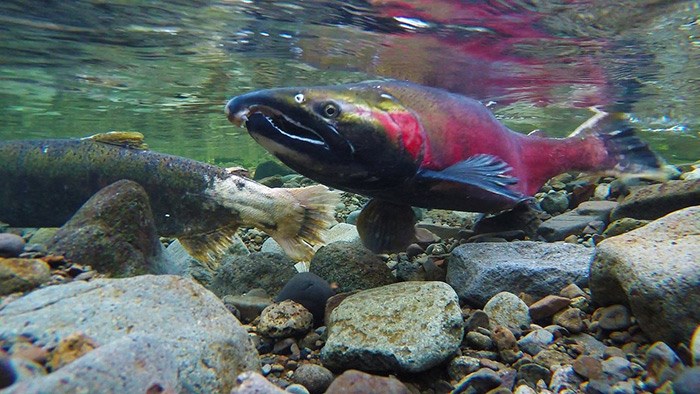 From late summer until early winter B.C.'s rivers turn into a viewing place for one of our province's natural icons: the salmon! Making their way back to their places of birth to spawn, when the spawning runs are at their peak they are a spectacular sight. Even when they're not, and there might only be, oh, a few hundred salmon swimming around, it's still a great reason to make your way to the edge of a river to check out this wonder of nature.
I've been a salmon hound since the 1980's when my father took me to see the Sockeye spawning in the Adams River and it blew my freaking mind and set in motion a lifelong obsession. Below you'll find 8 of my favourite rivers where you can spot all 5 species of Pacific salmon spawning. Make plans!
The Adams River – Salmon Arm
As mentioned above, this is one of our most well-known salmon spawning runs for a reason. For the first three weeks in October, you'll be able to see over 10,000 salmon making their annual journey upstream to spawn. Although 2017 isn't expected to be a record-setting year for spawning salmon here, the river promises beautiful views and if you time it right you'll still see a bunch of fish. The best place to view them is in Roderick Haig-Brown Provincial Park, named after one of our province's most well known fishing writers and salmon conservationists. Also, plan to visit the the 2018 Salute to the Sockeye Festival that a local non-profit puts on every 4 years when the runs are at their peak.
Capilano River Salmon Hatchery – North Vancouver
This hatchery is a favourite of both tourists and locals in the North Vancouver area, and is by far the most accessible place to see salmon in the Lower Mainland. Right up the road from the entrance to the Capilano Suspension Bridge, there's a large information centre connected to it that educates visitors on the entire spawning cycle and various viewing areas to see the fish in action. There's a working hatchery here, and the spawning salmon swim right into the tanks which have windows that you can peer into. Also adjacent are a bunch of trails to hike which give a fantastic view of the salmon spawning. During October and November, you'll be able to spot Chinook making their way upstream, and various other salmon species make their way through here all year long.
Thacker Regional Park, Hope
This park is 11 hectares located in Hope, BC near Kawkawa Lake. One of the main attractions of the region at this time of year, the river welcomes an abundance of spawning Coho, Pink and Chum salmon. Visit in October to catch the start of the spawning season and hike a short 1 km trail to a viewing point with information about the salmon cycle.
Weaver Creek Spawning Channel – Harrison Mills
This 3 km–long spawning channel is unique in that it was created by the federal government in 1965 specifically to accommodate the spawning salmon in the area. The idea was to build the channel as an undisturbed extension of Weaver Creek to protect the salmon from natural elements as they lay their eggs. Visitors can spot up to 45,000 spawning Chum, Sockeye and Pink salmon. Sockeye spawn between October 6th and November 1st, so plan a trip out at this key time.
Mamquam Spawning Channel – Squamish
The crazy thing about the Mamquam River is that it's practically right in the middle of the town of Squamish. Squamish is a favoured outdoor recreation region and it's also a fantastic place for watching Coho, Chum and Pink salmon spawning between August and November. If you walk along the main trailhead toward the river (which is unmarked), you'll eventually reach the river's edge, where you'll find an interpretive sign explaining the spawning cycle. Keep walking along the shoreline and the spawning channels will soon come into view. Also, make your way down to where the river lets out into the Squamish River and that's where the main action can be found. 2017 is a strong return year for Pink salmon, so visit late in summer and you'll see thousands of them, like in the video below.
Harrison River – Harrison Mills
The Harrison River is truly a salmon spawning dream. As one of the largest salmon-producing channels in the Fraser River area, Harrison River has all five species of salmon as well as a large population of sea-run Cutthroat trout. From late summer through autumn, you'll be sure to spot some incredible salmon spawning action: Sockeye in August to September; Chinook in October to November; Chum between the end of September and the third week of October; and Coho at the beginning of October.
Chapman Creek – Sechelt
Located on the Sunshine Coast, Chapman Creek Nature Trail is a 1.5- to 2-hour walk along the water's edge to an important spawning channel for Chum and Coho salmon. The trail itself can be biked or walked and also leads to a small waterfall and hatchery, which breeds Chum, Pink, Coho and Chinook salmon in addition to Cutthroat trout.
Tynehead Hatchery, Surrey
This 2.5 acre hatchery is located in Tynehead Regional Park along the Serpentine River in Surrey and carries four different species of salmon on an annual basis. The Serpentine Enhancement Society relies fully on volunteers to actively replenish and restock all of the locally endangered species of fish in the area by releasing over 250,000 salmon (Steelhead, Coho, Chum and Chinook) into the river.
Beyond salmon you'll find loads of other interesting nature and wildlife around our province. Ready to explore more of British Columbia? Visit explorebc.ca for more info.