Our day trip up Squamish Valley Road off the Sea to Sky started as you might expect, with a roadside pony sighting. Not just a pony enclosed behind a fence like you may expect, but one randomly wandering the countryside. Little did we know that it wouldn't be the most unexpected creature we'd stumble upon that afternoon.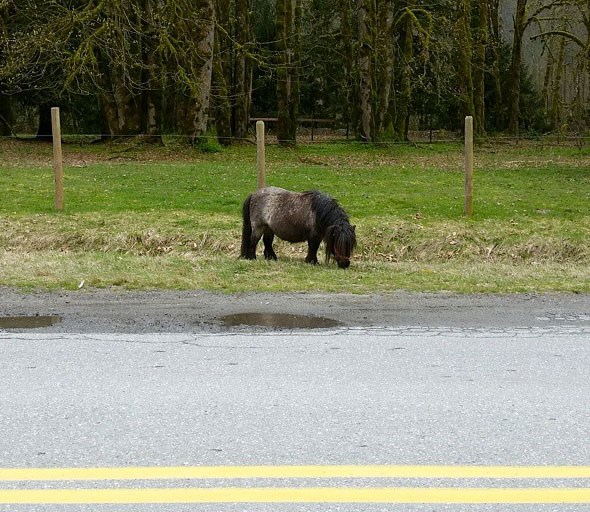 We've been exploring this area just North of Squamish for a few years now, starting with a camping trip to Alice Lake 10 years ago, then graduating to Cat Lake and finally - most recently - finding our way down all sorts of logging roads and exploring the tributaries to the Squamish River.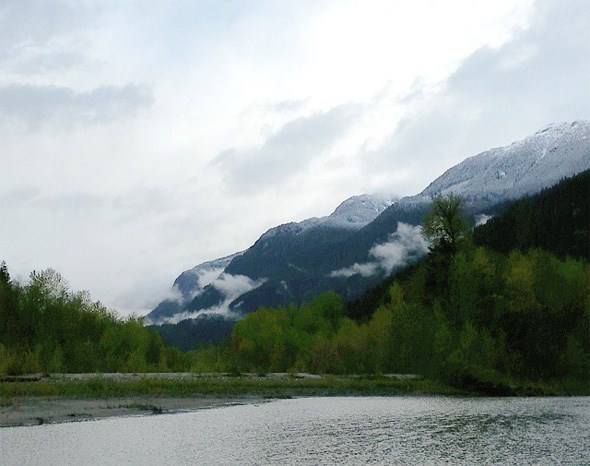 While exploring we've seen eagles, bears, deer, many squirrels, a lynx, a roadside pony, Stellar's jays and every species of salmon, but on our way back on this particular trip we came across something we'd never seen here before. In fact we didn't even know it inhabited the area. Elk!
When we first saw them I thought we had come across a few deer, and I pulled our Highlander over to the side of the road and shot the photos below. The first one was actually shot out the window of them lurking in the trees, and the second one I shot after I had exited the vehicle to get a closer look.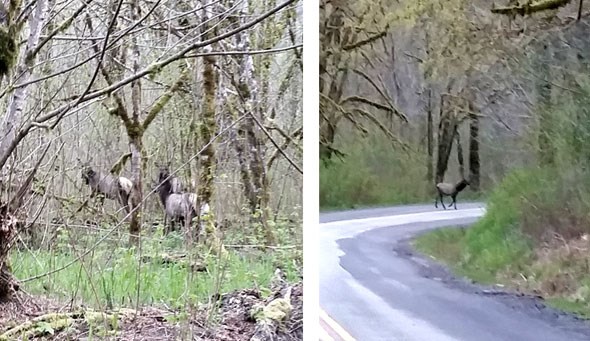 My wife and I both grew up in BC and know the local wild animal populations pretty well (her better than I), so we each had our own opinion of what these were. After a brief debate as to whether or not they were Mule deer she had pulled up a photo of a Roosevelt elk on her phone, confirming what she had suspected. These weren't deer; they were elk! As I mentioned, we had no idea they were here previously, and in fact they weren't here when we visited the area for the first time, those ten years back. Here's a video somebody captured of them last year...
https://youtu.be/augwxy2WOTI
These elk were once quite plentiful in the area but about 100 years ago were entirely wiped out by hunters and poor wildlife management. In 2006 the Squamish First Nation, the Habitat Conservation Trust Foundation, the province of B.C. and many volunteer groups worked together to transplant 26 of them from Powell River, with the hopes that they'd repopulate. A couple years later they brought in another 8 from Sechelt and the population has since grown on its own to 60 animals. HERE is the full scoop on the effort and how it came to be and below is a video of some of them being released. It's hard to put into words just how fortunate we felt to see these things, and how great of a story it is that man has managed to help them return to the area after being responsible for their departure so long ago.
https://youtu.be/CGtB0Nb5z4c
I'll leave you with this photo of my son doing what looks like smiling, but is actually him yelling at me. I was about to get back into the vehicle after effectively chasing the elk away (by accident of course) and he stuck his head out the window to tell me there was one right behind me. He's a joker like that so I thought he was kidding, and it turned into one of those moments where you know something is behind you, but you don't want to turn around. Eventually I did and, sure enough, there was one of those 60 elk from the population staring at me.