The cinematic public art installation UNINTERRUPTED has been captivating audiences and receiving rave reviews from under the Cambie Bridge all summer long.
Recently, they introduced an online interactive piece that adds to the experience. We chatted with Rae Hull, one of the Producers of UNINTERRUPTED about how a piece of art can not creates an awareness of salmon conservation, but can also inspire change.
1) Last month you launched an Interactive Journey section on the website as part of UNINTERRUPTED's commitment to create additional public awareness about the importance of Pacific salmon. Was the idea of creating awareness and encouraging eco-activism a part of the UNINTERRUPTED plan from the start? 
Rae Hull: From the moment she saw her first actual salmon migration, director Nettie Wild wanted to create an emotional connection between an urban audience and the incredible natural wonder of the wild salmon migration - which is exactly right - always give people a reason to care first.  And anyone who has seen UNINTERRUPTED can attest to the beauty of how that idea has been realized.
Noodling about the website really got underway as Betsy Carson and I, the producers of UNINTERRUPTED, set about the task of making the whole project possible. So you start talking to people and two things quickly emerged. First, it felt essential to create a connection between this unique piece of public art and the larger "salmon" network - i.e. scientists, researchers, First Nations, communities, local streamkeepers - all of whom do fantastic work everyday on behalf of wild salmon. They're the experts when it comes to saving wild salmon and their habitats - we're just shining a spotlight into the heart of why their work is so important. If we can create more public awareness - and caring - then we've helped a little.
The other part of the website rationale is that it helped anchor the whole concept in something potential funders and stakeholders were more familiar with. The online platform actually became the more traditional element of the project because you can imagine, it's quite the pitch - explaining to people that you're going to send a ballet of cinematic salmon swimming across a city bridge.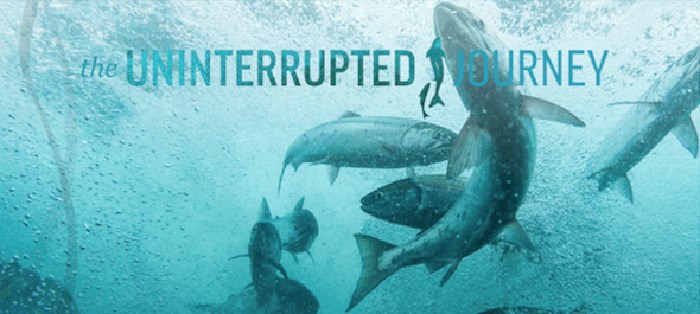 2) What's in the Interactive Journey?   
RH: As part of the Interactive Journey, you get to play your cards to find out the hazards that salmon face on every leg of their journey and how many - or how few - actually make it.  You even get to find out which species of salmon is the best match to your personality.
We've made it a little playful but essentially we take people on the journey of wild salmon and tell stories along the way about hatching in streams - many of which are in our "backyard" in the lower mainland -  swimming downstream larger rivers - then heading out to the ocean and back again for that intense final leg upstream which is the part of the journey that is spectacularly revealed in the show under the Cambie bridge.
When I say 'we' - a quick shout out here to the three Vancouver companies, Agentic Digital, Denman Digital and Mika Creative that we hired, and who I was fortunate to work with on all the web elements. 
3) Part of the Interactive Journey is to reward those that complete it, by projecting their name on the Cambie Bridge. How has the online engagement been so far? Are there lots of names going up on the Bridge on show nights?  
RH: Well, to tell the truth more people start out the journey than end it - which is just like the salmon! It only takes about 10 minutes but we have designed it so you need to complete the journey to get your name on the bridge. It's our commitment to encouraging people to understand a little more about wild salmon. You can also get your name on the bridge by volunteering or connecting with a streamkeeper group. About ten or so people a day actually complete the interactive journey - so there are hundreds of names by this point projected on the Cambie Bridge before and after the show.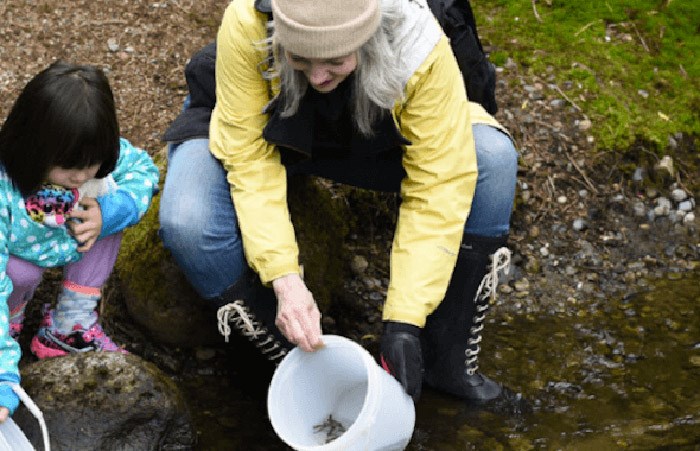 4) There's also a community calendar on the website that highlights those important community organizations in Vancouver and across the Lower Mainland that welcome volunteers to help in their efforts to restore and protect salmon habitat. Encouraging eco-activism is another piece of the UNINTERRUPTED puzzle and I'm wondering how much you personally learned about all of the incredible work that these groups do. 
RH: It's humbling to see the commitment people have - and the results they're achieving - whether that's cutting-edge scientific research or the work of community groups that have actually restored streams and shorelines, sections of rivers, transformed highway culverts to make them salmon-friendly - it goes on. We tell some of their stories on the website - and one of the best aspects of this work is that it's really easy for just about anyone to get involved. It doesn't take a lot, even just a few hours a month, and chances are there's an organization in your neighbourhood or close to you that could use your help. Just go to uninterrupted.ca and under connect outdoors you'll find listings for both events and organizations.
5) I hear that you've had record attendance numbers in the past week. It seems like everyone is celebrating the end of Summer with a trip to UNINTERRUPTED! For those that have yet to see the show, give us your best pitch on why they should come and join you under the Cambie Bridge for this incredible art installation. 
RH: The other night, Betsy and I were watching from the back and we overheard the conversation of a group of women.  One of them had clearly talked the rest into coming down and they weren't at all sure what to expect.  Once the show started  we could hear them catch their breath - and see them pointing to various spots on the bridge as images came up because Nettie, along with editor Michael Brockington and technical director Anthony Diehl have made a canvas out of pretty much the whole underside of the bridge. When it was over we didn't hear anything - and then two words -" incredible" and "inspiring".  So there you go - from the mouths of the audience themselves.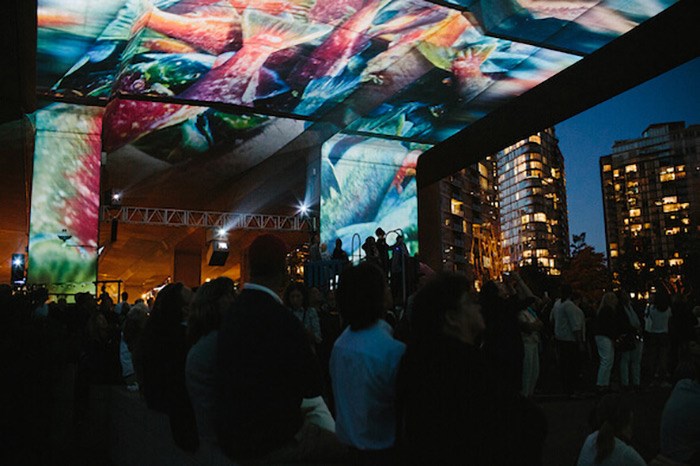 UNINTERRUPTED screens for FREE Tuesday – Saturday at 9:00pm. Its final showing happens September 24th (BC River's Day). Learn more at uninterrupted.ca