Vancouver-based Pacific Salmon Foundation is dedicated to the conservation and restoration of wild Pacific salmon and their ecosystems. We work to bring salmon back, stream by stream through the strategic use of resources and local communities. We're an independent non-governmental organization that guides the sustainable future of Pacific salmon and their habitat. Our organization is a catalyst that connects and motivates people, communities, organizations and businesses to restore and regenerate Pacific salmon populations in British Columbia and the Yukon. Each month V.I.A. provides a platform for us to bring you something awesome concerning salmon in British Columbia!
If you've been over the Burrard St. Bridge lately you may have noticed some colorful new banners adorning both sides. They're a salute to more than 35,000 volunteers who have slapped on gum boots to work in B.C. salmon streams during the last 25 years. Vancouver-based Pacific Salmon Foundation erected the banners on September 1 to celebrate the organization's 25th anniversary. The banners will fly throughout September. If you have ever fished for salmon, you have already helped give money for the work of these volunteers.
The bright green and red banners depict a coho salmon from B.C. painter Mark Hobson's painting "Return to Fresh Water." The image was displayed on the 2005 federal Salmon Conservation Stamp and is emblematic of the Foundation's ability to support volunteers. The Salmon Conservation Stamp is a postage-stamp sized decal that must be purchased annually by anglers if they wish to keep Pacific salmon caught in saltwater off Canada's west coast. Funds from the stamp have formed the cornerstone of the Foundation's core granting program. Since 1989, the Foundation has combined about $6.1 million in stamp funds with about $4.1 million in private-sector donations towards 1,329 wild Pacific salmon conservation projects in British Columbia.
The Foundation began in 1987 with a start-up grant from the Minister of Fisheries and Oceans, Tom Siddon. Siddon's goal was to establish an independent salmon conservation organization that would complement federal investments with private-sector donations.
Vancouver lawyer and former Olympic gold medalist George Hungerford was elected the first chair of the organization by a board of directors that represented a cross-section of salmon-related interests. Over the years, the Foundation board has included representation from commercial and recreational fishing, resource companies, conservationists and First Nations. The Foundation has also formed partnerships with the federal and provincial governments, numerous municipalities and other non-profits. Under Hungerford's leadership, the Foundation developed a volunteer concept with the Foundation acting as an umbrella organization that could engage, support and coordinate with community volunteers on salmon conservation and enhancement projects.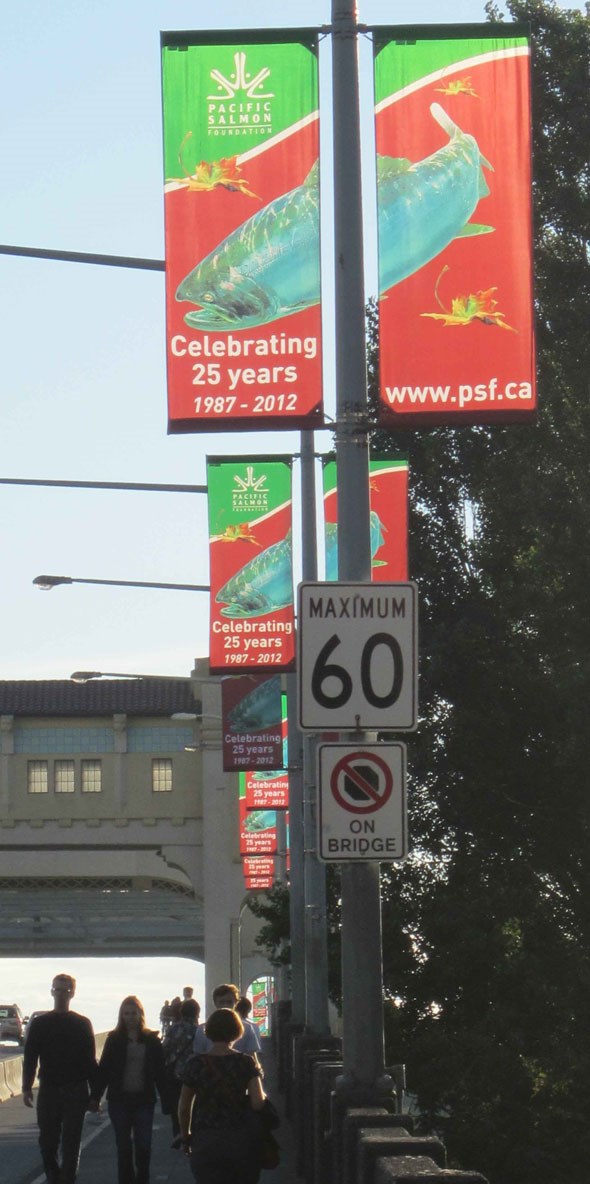 Most people don't realize that more than 300 volunteer community groups called streamkeepers have quietly shaped this province to protect salmon. When you walk beside a stream corridor, often what looks like natural wood debris has been deliberately placed there by community groups to provide shelter for young salmon. Piles of rocks form pools so salmon can easily access culverts, and what looks like natural vegetation has been planted there to provide shade.
Since 1987, the Foundation has granted $34 million to various Pacific salmon projects with impressive results, including one million square meters of stream and estuaries rehabilitated including planting of native plants, more than 11 million young salmon produced through conservation hatcheries and 76,790 trees and shrubs planted in areas near banks and rivers.
The community volunteer model works because people like to give back to their communities, and corporations like to make a positive impact where they do business. For every dollar the Foundation grants out, local individuals and businesses match with eight more. The result is a total of $127 million invested into salmon projects through funding from the Foundation and leveraging by local communities.