Google "chanterelles in BC", "chanterelle season BC", "chanterelle picking" or anything close to those terms and you'll see this article of ours listed as the first or second link. For the past couple years that piece about foraging on Galiano Island has received a lot of traffic this time of year when these wonderful mushrooms start popping up as the wet weather returns to the coast. This past weekend I returned with my family to the island to hunt for some and while we may have been a couple days early to get a decent haul, we found ourselves in a number of other situations where local food introduced itself. How to catch little Shiner Perch off a pier is the main thing I want to teach you here but I have a couple other things to share first!
Not long after you get off the ferry you'll start to see unmanned roadside stands where people are selling eggs and flowers etc, on the honour system. Come fall and this pumpkin stand below pops up in front of Glenn Gulch Farm! The price is 40 cents per pound and the process to buy one is that you weigh them on that scale on the right, then put your money in the little red box a little to the right of it. That's it.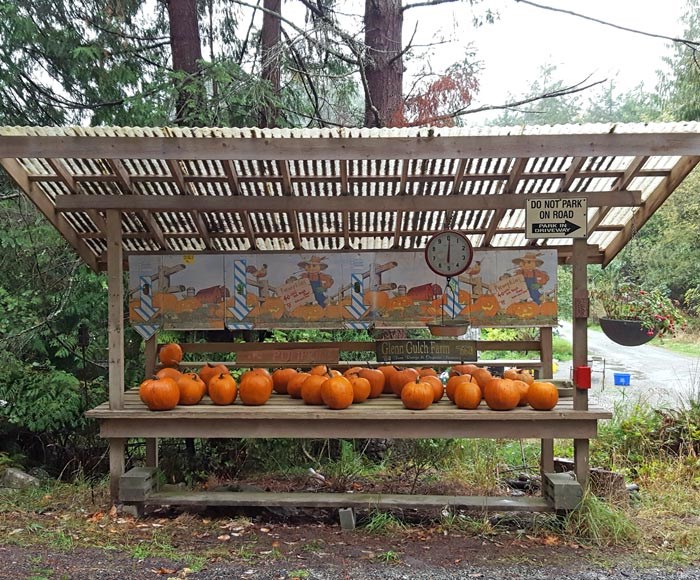 When we go to Galiano we stay at Bodega Ridge Resort, a place that I fell in love with back in 2011 and have written about in great detail ever since (they maintain an amazing feed of Gulf Island photos and videos on Instagram - worth a follow at @BodegaRidge). On their property they've got a number of different heirloom fruit trees and right now 'tis the season when they're ripe and you can pick em right off the trees and at em. There are apple trees literally steps from each of their rental cabins and the fruit is there for the taking for guests.
Go for a walk in the woods and you just might come across a deer skull like this one my wife found! For a moment I considered adding it as a hood ornament to my Highlander, but I (very) quickly reconsidered.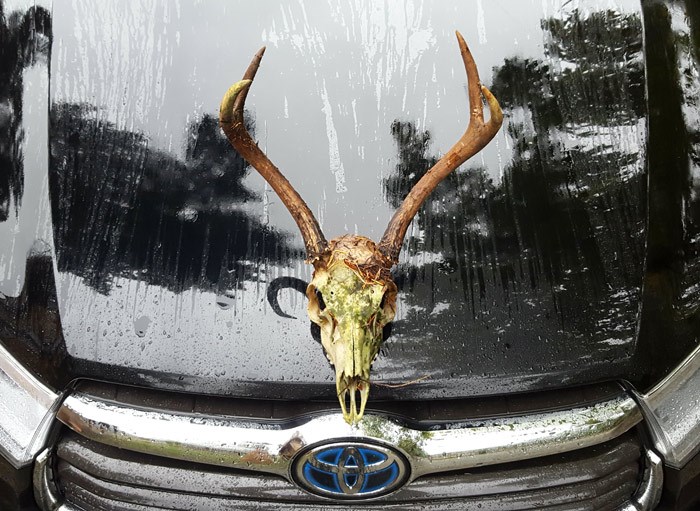 So, the fishing! What you want to do first is find a place with a pier. Literally any pier on the Pacific Ocean in British Columbia will be a good place to fish for little Shiner Perch (a variety of Surf Perch). For some reason or another they tend to congregate around piers. On Galiano we go to the government wharf that's near the north end of the island. As you can see below it's a popular spot, the entry is way at the back where the white building is. (yes that's my Highlander Hybrid in the foreground and yes Toyota is a proud sponsor of this series, helping us take you on these adventures with us!).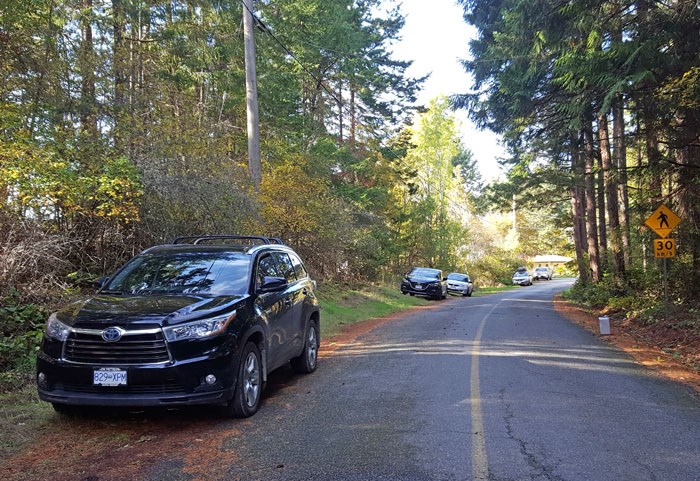 All you'll need is a small length of fishing line (3 metres) and a super teeny tiny hook. Think of the smallest hook in the world, then downsize that by 50%. Pacific Angler on Broadway has them, and they cost about 4 bucks for a pack of 10.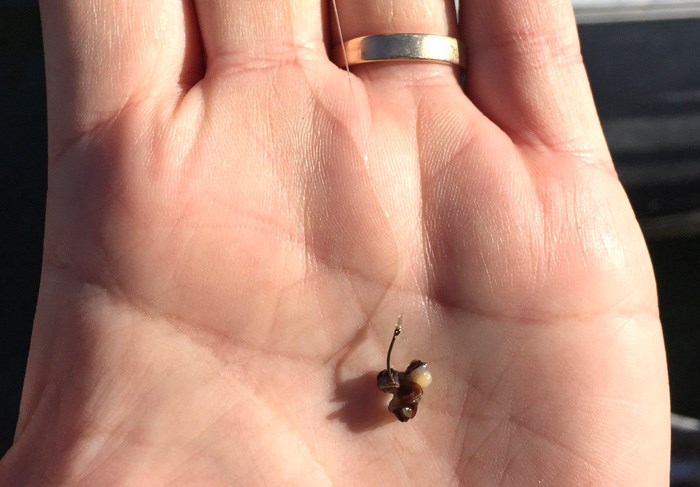 Tie the hook to the line, then the line to a little branch and you're almost ready to fish. The only thing you need to do before you give the line to your kid is put some bait on it. One thing that works super well are the mussels that you'll find clinging to most piers. Pry them open and take out the black organ-looking thing you can see outlined below (I know, this is gross). Put that on your hook (as shown above) and it's like a magnet for the little fish. They can't resist it.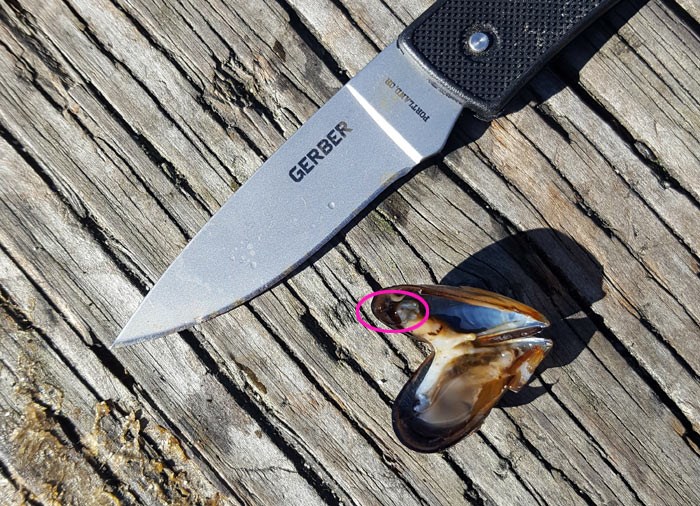 Get your kid to drop their line over the edge of the pier and within a minute you'll have one of these little fish.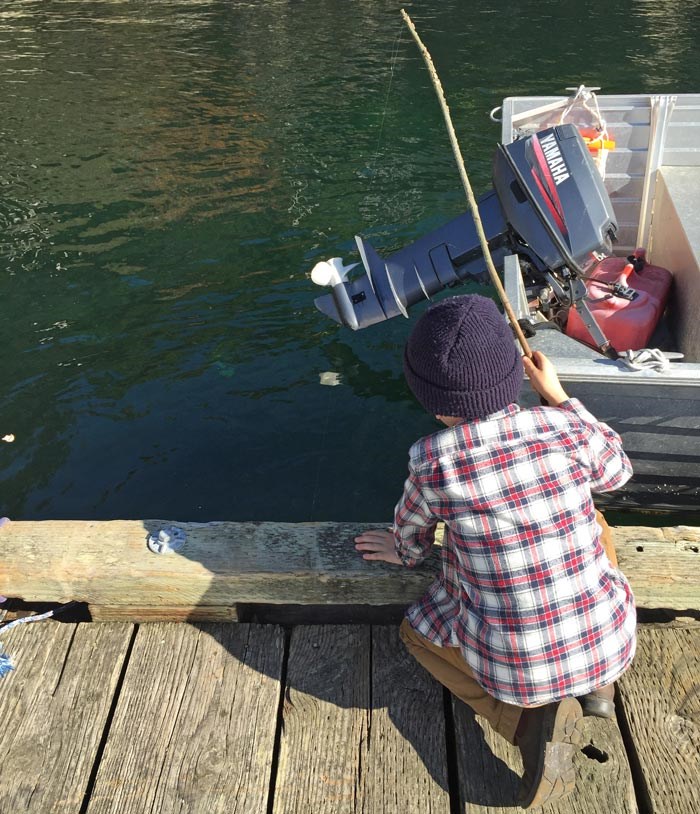 Shiner Perch are beautiful little things, and one of the beauties of catching them is that it's just for fun; you throw them back after taking the hook out of their mouth.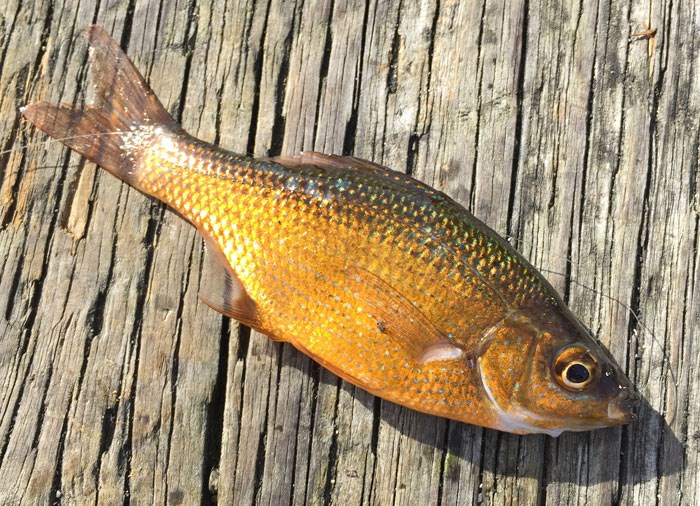 This is something you can do for hours with kids (or without!), and is really a made in BC type of fun when traveling. Kids under 16 don't need a license, but if you're an adult and are planning on fishing get a tidal license here. It's $5.51 for a single day or $22.05 for an entire year.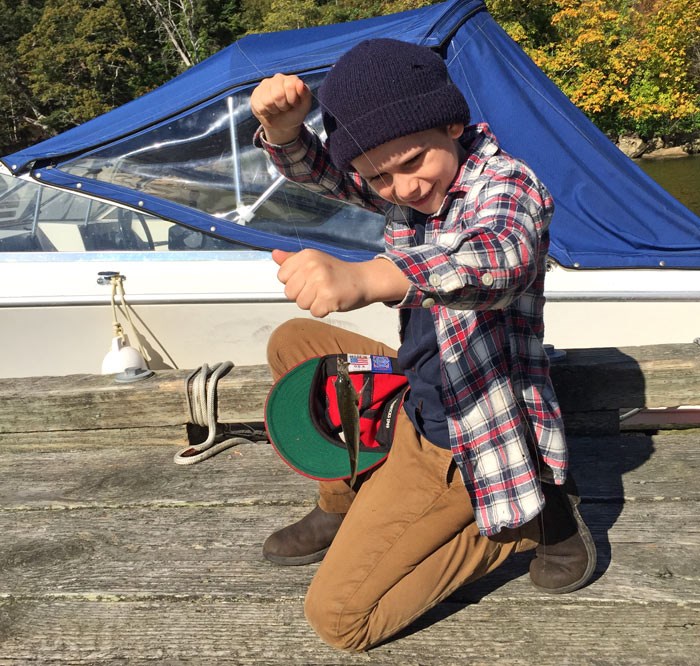 Have fun out there!