Vancouverflora #002:
Cornus kousa
Kousa dogwood
Are those strawberries growing in that tree? No, but they are edible!
Fall is in full swing and Vancouver trees are showing incredible leaf colour - but wait until you see the fruit! According to the UBC Botanical Garden, Vancouver is having a banner year for fruit (UBC Botanical Garden and Centre for Plant Research). Some examples of fruiting trees you can find around town are Crabapple, Hawthorne, and Sorbus (Mountain Ash and Whitebeam).
The Kousa dogwood is a particularly fantastic fruiting tree you should keep your eye out for. At a distance you might mistake it for an Arbutus unedo (Strawberry tree) which has similar sized red fruit that also appears in the fall. However, unlike the Strawberry tree, the Kousa dogwood is deciduous and is a fair bit larger, averaging between 15-30 ft.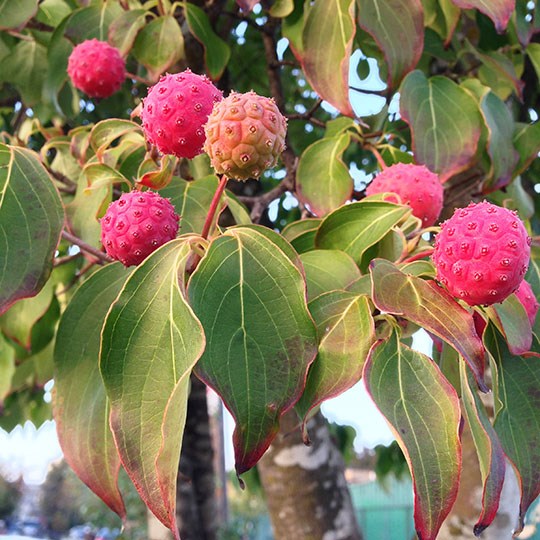 This dogwood is a lovely small tree often planted for it's ornamental appeal. In addition to its pretty fruit, it has showy flowers that appear in late spring!  Once the flowering is finished, the fruit begins to grow and persists into fall. Looking to scout these out? There is a procession of Kousa trees planted along the City boulevard on Ash Street between 20th ave and 21st ave.
If you are planning to try one of the Kousa berries, a word of warning, you may not enjoy them as much as snacking on ripe raspberries. They are sweet, a little like a mango, but their skin has a mealy texture and they have large annoying seeds. If you are a real urban-homesteader, consult the internet for recipes on making home-made wine or fruit jelly!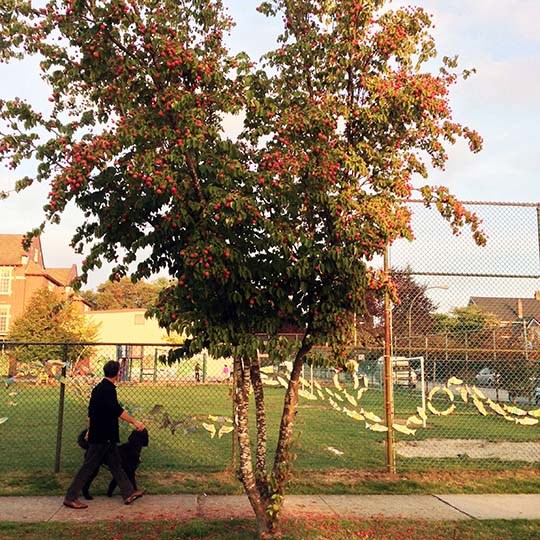 (Note: Be careful when picking fruit from trees you are not familiar with, not all fruit is edible!)
-
Laura Macdonald is a UBC-MLA graduate and Landscape Designer for a Landscape Architecture firm in Vancouver. She has actively been photographing and helping map the remarkable plant life in Vancouver. To help add to the gallery of local flora hashtag #Vancouverflora and follow on Instagram and Twitter @Vancouverflora.