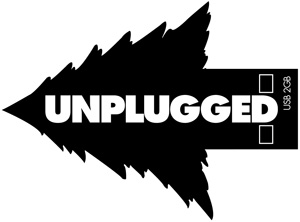 THE HOWLING WIND AND SEA WILL SET YOU FREE. Or at least it will provide a major distraction from everything else in your life as you seek to set sail in Howe Sound. But it's not your typical sailing experience. No, this is a human-powered adventure. For this week's outdoor excursion, I take you to arguably the best kiteboarding spot in Canada for a beginner lesson. PLACE: The Spit (CLICK FOR MAP) LOCATION: Squamish, BCHave suggestions for UNPLUGGED this fall? Tweet me @amberturnau.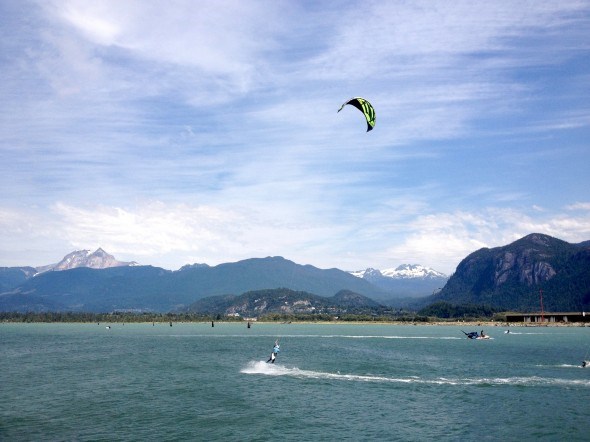 After a drive through the town of Squamish and out onto a winding logging road, I arrived at The Spit; greeted by the characteristic thermal winds what whip through the Howe Sound every summer. In fact, it's not uncommon for the wind to reach 20 knots or more, which is like standing in a wind tunnel.
As the wind worked itself into a frenzy, creating a hectic and chaotic atmosphere, my first thought was: "Sweet baby Jesus, how am I going to learn how to kiteboard in this?"
But, it was Kite-0-ween, and boarders were out in costumes, hucking big air and having a blast. The vibe was light and fun and people weren't taking things too seriously, so it helped calm my nerves a bit.  But, only a bit...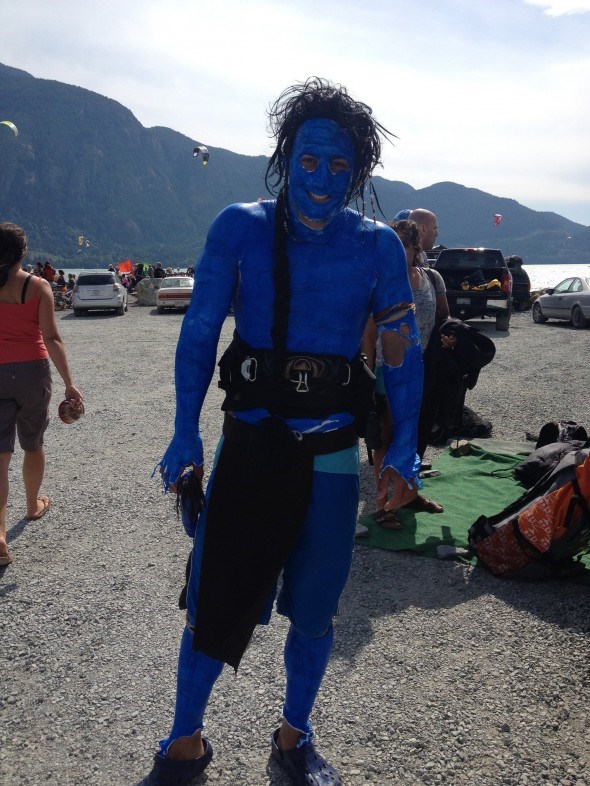 I met up with my instructor from Vancouver Kiteboarding School who helped kit me out with my wetsuit, harness, helmet and booties. She gave me a run through of all the equipment and how it all worked as we set up our kite on the spit amidst dozens of kites.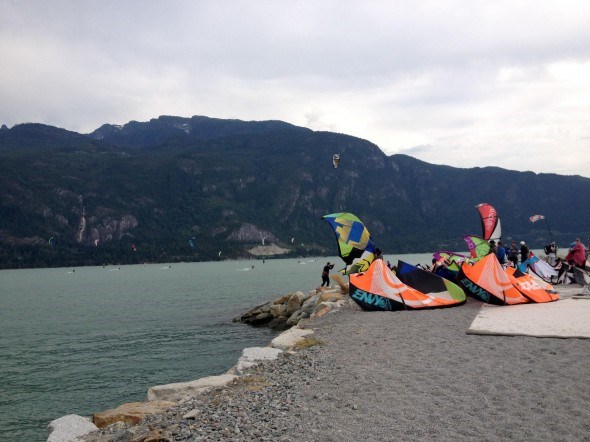 While the area just 50 meters off The Spit was filled with kiteboarders whizzing past a mile-a-minute, we took a Zodiak about a mile offshore to get away from the crowds.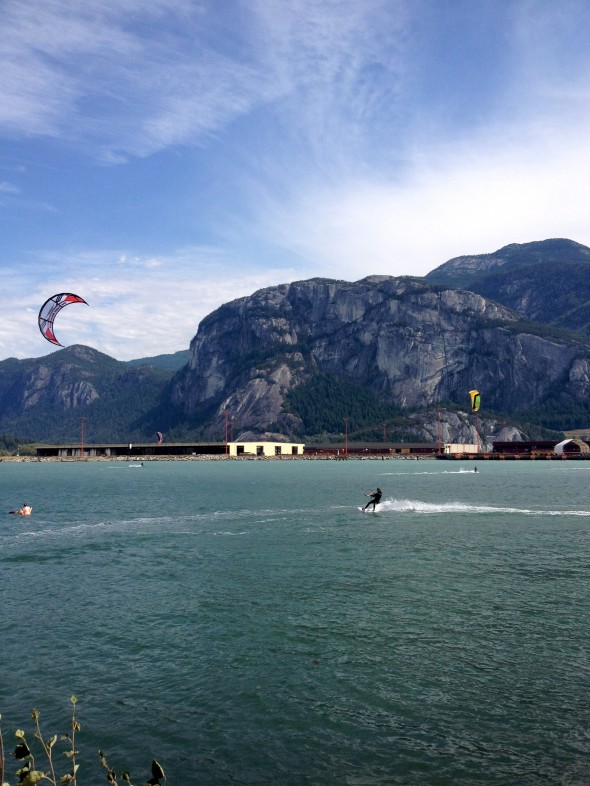 At first, we practiced maneuvering the kite without the board. The kite, it seems, had a mind of her own. Just a small tug on one side or another and she was off, flying wildly and dragging me with her. Even at 7 metres, she's still considered a "baby", but that didn't stop her from having her way with the wind - and me.
"It's not everyday someone learns how to kiteboard in a storm," said my instructor, a Czech Republic native who chases the snow and the wind in alternate seasons.
With practice - and a few shouts from the Zodiak - I managed to get the kite part down. Next, it was time to strap on the board. With other board sports, you have some sort of velocity to help you stand up: gravity, wave power, or a speed boat. With kiteboarding, all you have is the wind and your own strength. One tug and you could technically be off and running.
I'd like to say that I managed to get up and stay up during my 2-hour lesson, but that would be a lie. But, I certainly did fly - straight up and then back down into the water...repeatedly.
One thing's for sure: kiteboarding is one of the gnarliest sports out there and it's totally addictive.
Check out the VKS kiteboarding video to get a glimpse of the sport and be sure to give it a try!
http://vimeo.com/24788733
View VIA UNPLUGGED in a larger map
Have suggestions for UNPLUGGED this fall? Tweet me @amberturnau.
Full Disclosure: I received the kiteboarding lesson for free, courtesy of Vancouver Kiteboarding School. I was not paid by them to write this article.