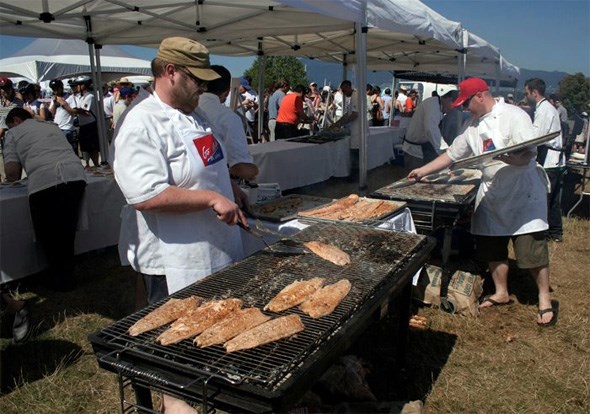 Chef Robert Clark grills pink salmon samplings for the public. Clark is the co-founder of Oceanwise, former executive chef of C Restaurant and new owner of sustainable seafood shop The Fish Counter.
Finish your weekend on a high note at the Pacific Salmon Foundation's Pink Salmon Festival this Sunday, August 25  from noon to 5PM at Hadden Park - Kits Point (1905 Ogden Avenue). The Festival will feature pink salmon samplings by donation prepared by some notable local celebrity chefs and sustainable food advocates.
Robert Clark (co-founder of Oceanwise and former executive chef for the Kambolis restaurants), "Rockin' Ronnie" Shewchuk and Garrett Schack will prepare pink salmon three different ways. The festival is open to the public and pink salmon will be available by donation.
Attendees can also look forward to plenty of free family-friendly fun with an educational and ecosystem-based   message. A few highlights include the return of Evelyn Ross's Nylon Zoo, which engages kids in interactive and eco-system-based story telling. Also enjoy, music, face-painting, educational displays and the science tent where you can ask all of your burning salmon questions to Foundation president and leading salmon scientist Dr. Brian Riddell. With 9 million "pinks" forecasted to flood the Fraser River in August, attendees can feel good about enjoying a sustainable seafood choice.