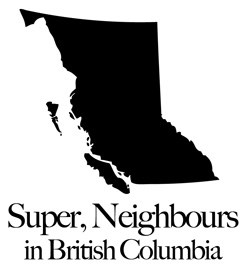 Welcome to the latest series of Super, Neighbours blog posts where we highlight incredible travel destinations in British Columbia!
In this series of 5 parts I'm taking you to Feast; a 16 day long celebration of food in Tofino beginning in May and culminating in June. Featuring "Stay and Dine" packages as well as $29, $39 and $49 "Dine About" set price menus and tons of chef demos and events, the goal of this annual event is to "celebrate the abundance of available seafood and the sustainable 'boat-to-table' practices commonly employed by the area's restaurants and the Tofino-Ucluelet Culinary Guild".
In PART 1 I gave a quick tour of the South Terminal of YVR that you may not have ever been to before (it's tiny and so awesome!) then took you on a flight to Tofino on Orca Airways. In PART 2 I shared the experience of staying in the penthouse of Long Beach Lodge Resort where some of our Olympic athletes might be staying soon.
This is my favourite part of this trip: fishing with Blake from Cleanline Sportfishing! If you've been following this travel series for a few months then you might remember my last trip to Tofino when Blake was my guide for an unforgettable adventure where we flew into a remote lake on a floatplane then drifted down a river for a few hours fishing for steelhead. HERE is a link to that story, which I called "the ultimate fishing excursion". And it was; it was the ultimate freshwater excursion. Blake took me out on the ultimate saltwater excursion for this post here!
Here he is on his ultra-clean, modern, ship-shape vessel, Off the Hook, where it's moored in the heart of Tofino. He picked me up early in the morning from the resort and drove me to the dock because he's nice like that.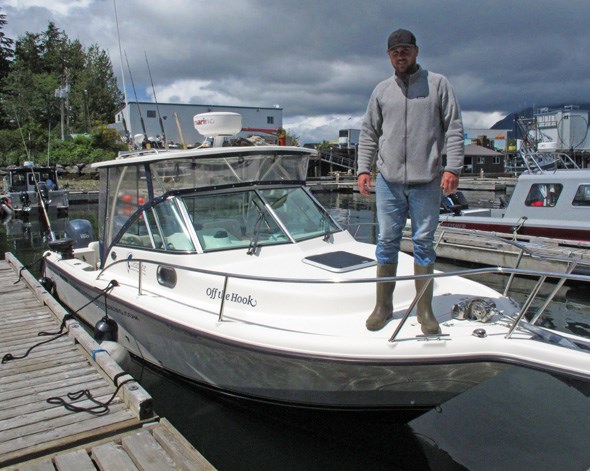 Here are a couple of the fish that I hauled in. One word: WHOA.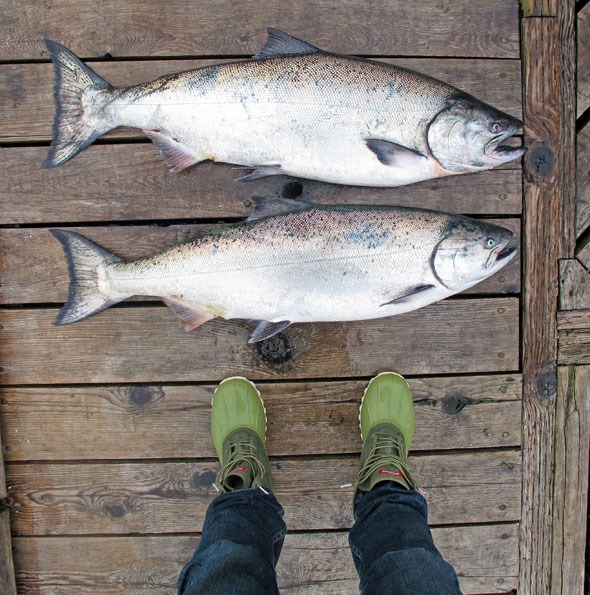 We pulled up a couple of traps and brought in crabs as well. That white thing Blake's holding is a measuring device to make sure they're legal size.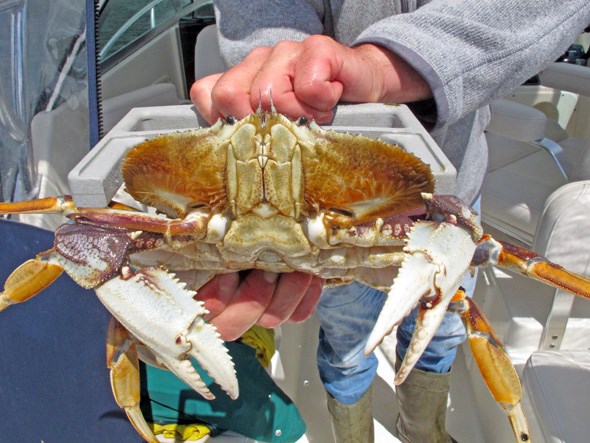 But I've already gotten way ahead of myself here; let's start at the beginning when we pulled out of the slip where Blake keeps Off the Hook. That building behind the trucks is Trilogy Fish Company, a place that sells seafood as well as packs and processes it for commercial and sportfishermen when they come in off the water with their catch. As I've already given away that we had a successful trip I guess it's not a spoiler to say that we'll be returning to Trilogy later in this series when they take care of my catch for me.
My goal for this trip out was to simply catch a halibut, as I'd never caught one before and it's my favourite type of fish to eat. In order to catch them you head way out (I think we went 7km off the coast) and then you basically stay in one place and drop lines straight the the bottom and let the motion of the ocean bob your hooks up and down attracting fish.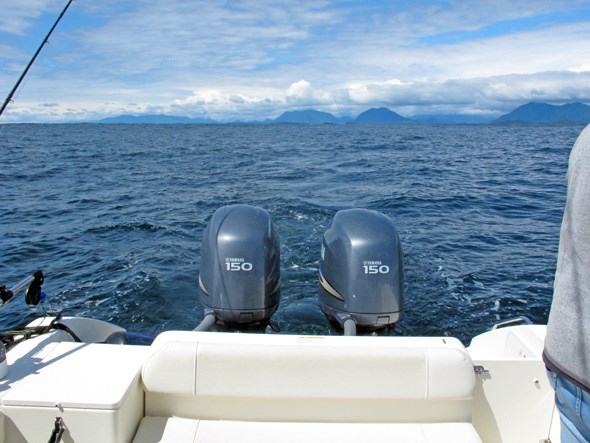 It didn't take long before I caught this beauty that weighed in at about 11 pounds. The experience of reeling it in is like nothing else I've experienced and is kinda like bringing in a salmon but with more effort involved, and less bending of the rod as you use ones that are quite stiff. I'm still new to fishing on the ocean so it often feels like I could lose the fish at any moment but with an experienced guide like Blake setting things up and then giving tips at whatever junction I need him to there are very few speed bumps. This trip was a success top to bottom, thanks mostly to him as well as some wonderful luck we had.
As I get deadly seasick I was happy when, after bringing this guy in, Blake asked if I wanted to troll for salmon for the remainder of the charter as opposed to bobbing up and down on the swells trying to get more halibut. The waves were about 6 feet tall, and we were just rolling over and over on them. I'm honestly getting queasy just thinking about it as I write this, and I love fishing for salmon, so it was an easy decision to pull up the lines and try our hand at some different fish.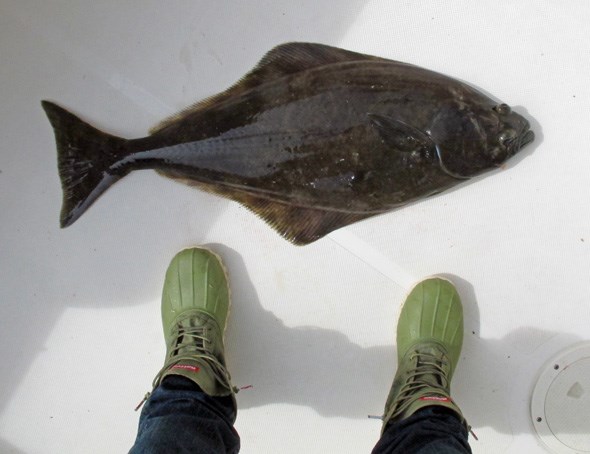 Here's one of my favourite fishing views; out on the Pacific with a line out, feet up and our beautiful province as a backdrop. Reeling in food to feed the family is almost secondary to just getting out there on the water and turning off my phone. Surprisingly though, there's service until something like 11km out onto the ocean near Tofino, so we were getting 3G service the entire time we were out. I uploaded a few photos to Instragram and practically before we got back to shore one of my followers had booked a trip with Cleanline because they loved what they saw. Are you following me on Instagram? I'm @VIAwesome on there. You should follow @CleanlineTofino as well.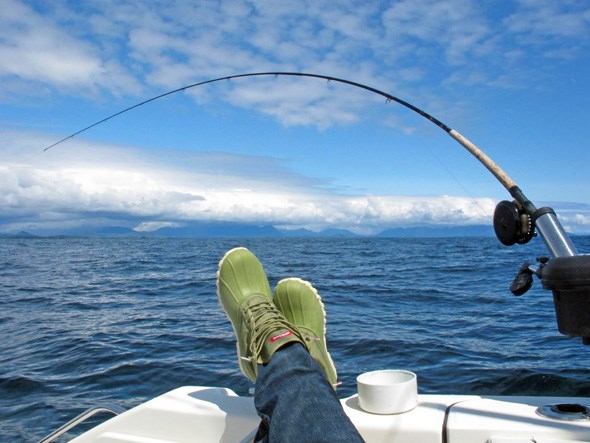 It wasn't long after we put out the salmon lines that I brought in this 20 pounder! This was the biggest fish I had caught to date.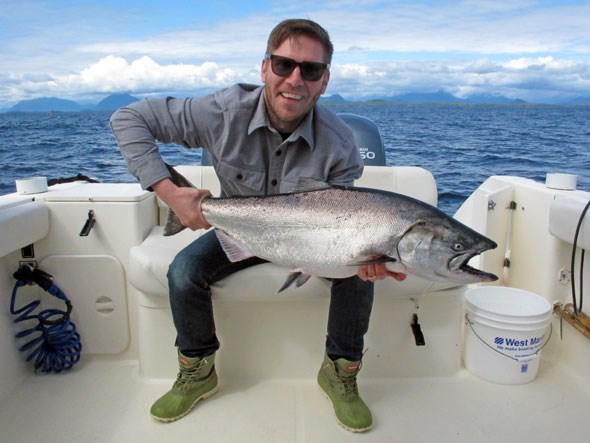 And by "to date" I mean until the next morning when Blake twisted my arm and took me out again mere hours before I was getting onto my return flight; the one on the right is a 23 pounder!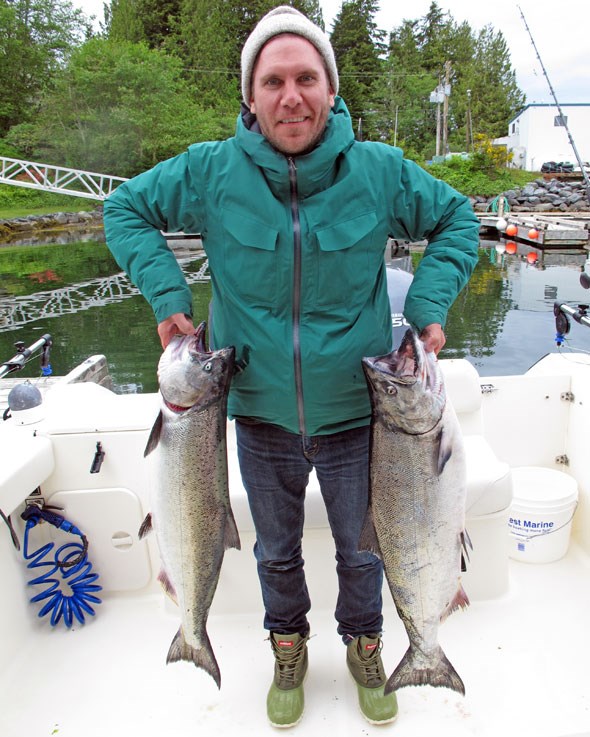 All told in a little over 24 hours we spent about 5 hours on the water and we caught 7 salmon, 1 halibut and we pulled up 10 crabs. As I said in the beginning my hope was to simply catch a halibut, so to say I was overjoyed with our haul would be an understatement. If you're planning to go to Tofino and want a great afternoon or morning out on the water, it's Cleanline all the way. HERE is a direct link to their saltwater/offshore charter info.
After returning to the dock Blake weighed the fish and then cleaned them for us. Here he is with a salmon and that halibut.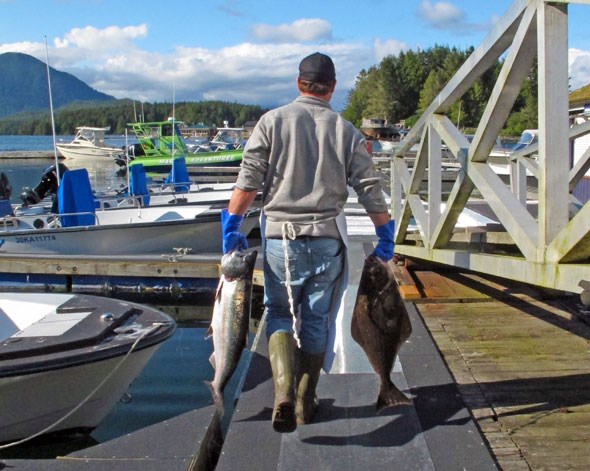 After they were clean we went over and met John Gilmour of Trilogy Fish Company in his facility and cut a couple slabs of fish off (salmon on the left, halibut on the right) then left the rest with him to process and package up. I can't wait to show you what he did with all of it, seriously, it's incredible. But wait I must, as we quickly headed out the door to RedCan Gourmet where Chef Tim May was to cook our catch for us!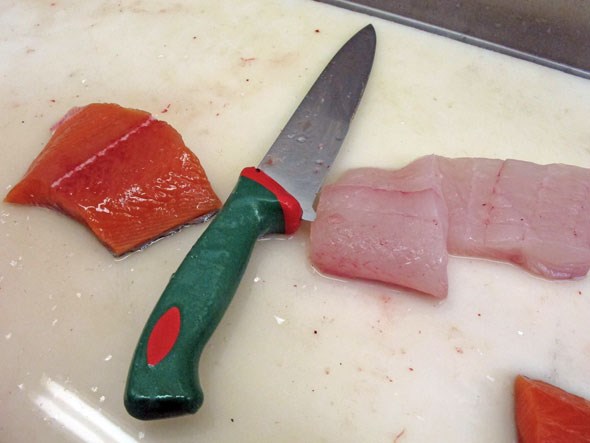 Stay tuned for Part 4 when we take these slabs of the most freshest of fish to RedCan and Chef Tim makes quick gourmet work of them!