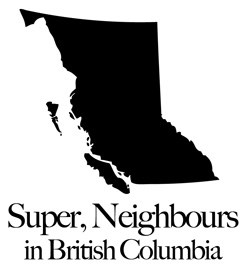 Welcome to the latest series of Super, Neighbours blog posts where we highlight incredible travel destinations in British Columbia!
In this series I took you on a trip to Tofino to stay at the iconic and lovely Wickaninnish Inn. The first post was about GETTING THERE via BC Ferries and a wonderful drive, the second was about THE ACCOMMODATIONS and storm watching, the third was a DINNER at The Pointe Restaurant (which yesterday was named "Best Resort Dining 2012" by Vancouver Magazine!) with the Inn's co-founder, Charles McDiarmid.
Last week in my CreativeMornings/Vancouver talk I came out publicly as a sportfisherman, tying creativity in with the Pacific Salmon Foundation, the Fraser River Sturgeon Conservation Society and a backyard trout project I'm helping Bodega Ridge Resort with. This fourth and final post about my trip to Tofino came about thanks to another person involved in the world of sportfishing who makes a living creatively: Blake Klopfenstein from Cleanline Sportfishing.
When I was first put in touch with Blake through our mutual friend, photographer Jeremy Koreski (who shot the amazing photos below), I was super keen on going out onto the ocean and catching a halibut. My favourite type of fish to eat, and one that I've never caught myself, I had big dreams of coming back from Tofino with 50 pounds of meat for my family to live off of for the next 8 months. But instead of heading out onto the high seas, Blake pitched something else at me: a Wilderness River Drift Experience.
Yes, it's as wondrous as its title suggests and, yes, this photo below captures much of the awe that I felt as we were about to land on this remote lake on Vancouver Island in a 1955 de Havilland Beaver floatplane. As the lake is in a protected park that only a few people are granted permission to access by the local first nations and BC Parks, I'm not even allowed to tell you the name of it because they don't want people flying into it. There are no halibut up here but I wouldn't trade a thousand pounds of them for the memories I brought back from this adventure.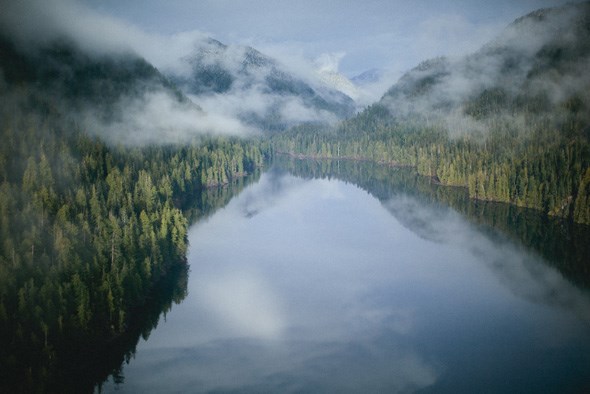 All photos: Jeremy Koreski
We landed on this unnamed secret lake and waved goodbye to the Beaver and watched it disappear over the mountain as it headed back to Tofino. Then? Just silence. Blake set up the raft at the mouth of the river leading out of the lake and Jeremy set up his underwater housing unit that he uses for "over/under" photos. I can't tell you how fortunate I am that Jeremy came along with us to shoot. If you're unfamiliar, he's known internationally as one of the best surf photographers in the game, as well as one of Patagonia's roving field photographers. View his work at JeremyKoreski.com.
After we were all set with the raft, we set course on an 8 hour drift down the river, getting out and wading in the water flyfishing for steelhead at different points and at time throwing a line from the raft. In this photo I have an 8 pounder on the line. I didn't land any during the trip but not matter; it's catch and release in these waters and a major part of it is just being out there and experiencing the drift, breathing in the air and absorbing the beauty of this place that few will ever see.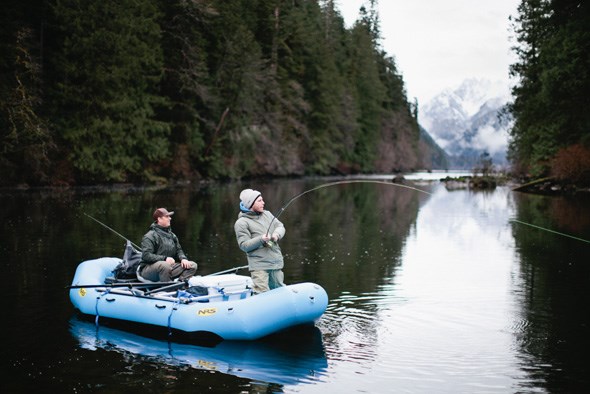 Some of the best 8 hours of my life, to be certain.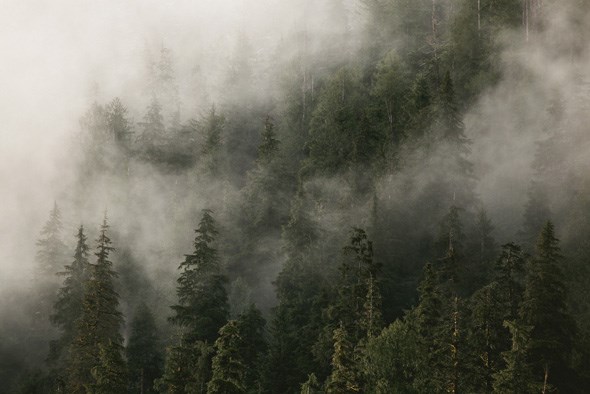 Here's Blake and one of those "over/under" shots where you can see where the steelhead lurk as well as our view. It was actually snowing at this point, but we were dressed for the weather; Jeremy and Blake were head to toe in Patagonia and I in my trusty Arc'teryx.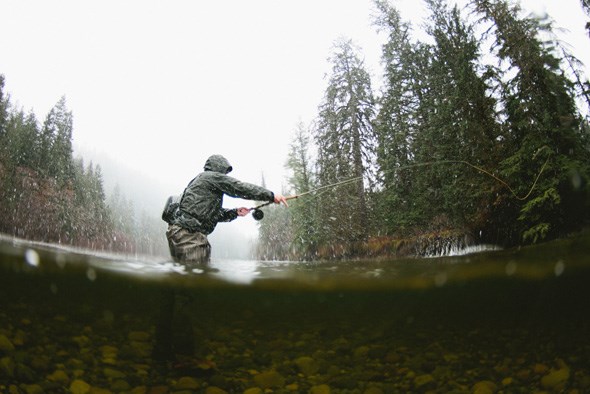 At the end of the day we were spit out into the ocean by the river, and we had a chance to pack up the boat, finish the fishing lunch that The Red Can Gourmet had generously packed for us and to talk about the incredible experience we just had on that river.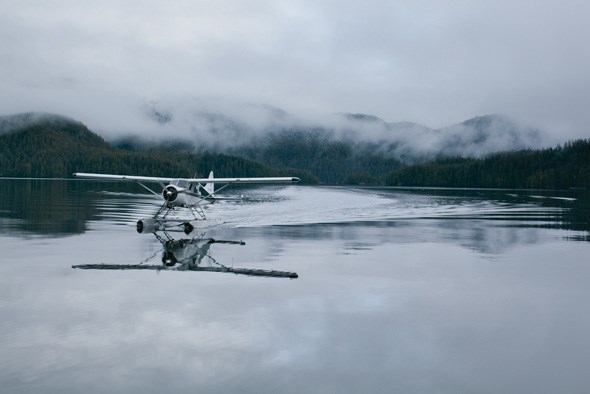 Whether you're an experienced fisherman or someone interested in dipping their toes in and being exposed to the natural beauty of a secret forest on Vancouver Island, I can't make a recommendation for a better trip than this one when you're visiting Tofino.
Special thanks to acclaimed chef Tim May at The Red Can Gourmet for supplying us with an incredible lunch, Lana at Tourism Vancouver Island for helping with the charter, Jeremy Koreski for the photos and of course a huge thank you to Blake at Cleanline Sportfishing for taking me on an unforgettable trip.