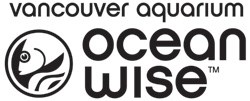 Vancouver Is Awesome is a proud sponsor of Vancouver Aquarium's Ocean Wise™ program, created in 2005 to address overfishing, the single biggest threat facing our oceans today. What started as a local conservation initiative has grown into a nation-wide program with over 480 partners spanning coast to coast.
With the leadership of passionate ocean ambassadors, the Aquarium has been able to turn the tides to help conserve our oceans and the aquatic life that depend on them. In this series we introduce you to some of these Ocean Wise ambassadors in Vancouver.
Words: Charlene Chiang, Vancouver Aquarium
Chef Eric Pateman | Edible Canada
Proud Ocean Wise partner since 2011
Why is Ocean Wise important to you?
As a native Vancouverite (fourth generation), the oceans have been imperative to my life and, now as a father to three young girls, I want to ensure they are there for future generations as well. Seafood is a defining part of Canadian food culture, so the health of our oceans is paramount. Ocean Wise will ensure the long term viability.
What is your favourite Ocean Wise seafood and how do you like it prepared?
Dungeness crab, boiled in ocean water and served with fresh lemon and clarified butter – so simple and so good!
When did you discover your love of food?
When I was five years old, my grandmother has a picture of me with a waiter's towel over my arm serving my grandfather lunch (with a menu I had written), so I think it is safe to say it has been most of my life. I started in my first professional kitchen position when I was 12 years old!
What would you consider to be your favourite kitchen gadget?
My Shun knife…my important item in my kit, followed closely by my bare hands – best mixing tools ever!
Which ingredient could you not live without?
Sea salt or bourbon (but I don't think Bourbon counts as an ingredient).
Sweet or savoury?
Always savoury – I don't really have a sweet tooth at all (especially given that I am dairy free and gluten free, which would make the sweets challenging, so it is a good thing).
What's the most amazing dish you've ever tasted?
In San Sebastian, Spain – sautéed wild mushrooms with sea salt, olive oil and a raw egg yolk.
Which establishment do you most frequent in Vancouver?
Sardine Can for Spanish tapas; Sushi Sen for Sushi (in Squamish where I live) and Union for fun cocktails and bites.
If you could turn back time, which unsustainable seafood choice would you bring back from the brink?
Monkfish or rockfish.
What would be your perfect last supper?
Any meal I get to prepare with my wife and three little girls helping me – probably something that involves seafood like side stripe or BC spot prawns as they are their favorite. And, of course, there would be lots of "working" wine (or Bourbon), and hopefully it would be in an oceanfront house in Tofino! ?
With whom would you enjoy it?
My wife Gail and daughters Mieko (5), Aya (4) and Kira (1).
***********************
About Ocean Wise™
The Ocean Wise symbol next to a seafood item is the Vancouver Aquarium's assurance of an ocean-friendly seafood choice. With over 480 Ocean Wise partners at more than 3,100 locations across Canada, Ocean Wise makes it easy for consumers to make sustainable seafood choices that ensure the health of our oceans for generations to come. www.oceanwise.ca
Follow at @vancouveraqua and @ocean_wise