The only news for Metro Vancouver renters seems to be bad news this year, as a new report shows average apartment prices continue to climb in the region.
While they've climbed a somewhat modest amount this month-over-last, the Lower Mainland already sees the highest rental prices in the country.
Liv.rent, a rental platform based in Vancouver, has released its June 2022 Metro Vancouver Rent Report, which notes that rent is up another $40 this month over last.
"The changes weren't as massive as May's large moves," notes the company, but locals can now expect to pay an average of $2,056 per month for an unfurnished, one-bedroom unit in Metro Vancouver — an all-time high for the region.
Vancouverites, who already pay the highest rent of any major Canadian city, saw the average price of an unfurnished, one-bedroom unit rise 4.9 per cent to $2,367 this month, too.
Apartments for rent in Metro Vancouver: Market volatility
While some Metro Vancouver cities saw modest increases for unfurnished, one-bedroom apartments, a few saw sizable increases, such as New Westminster with an increase of 8.42 per cent.
When it comes to furnished units, however, June's market was decidedly more volatile. For example, Richmond saw a staggering 16.62 per cent rise in average prices, while Langley saw an impressive 10.94 per cent increase.
There were also some significant drops in rental prices, too. West Vancouver saw average prices fall -30.07 per cent, while New Westiminster's dropped an average of 18.83 per cent and Burnaby's an average of 14.57 per cent.
This month, both West Vancouver and North Vancouver have overtaken the City of Vancouver for the most expensive one-bedroom, unfurnished units. That said, the price for an unfurnished, one-bedroom in the city has still increased by $110 since May.
New Westminster offers the cheapest average listings this month, with $1,829 for an unfurnished, one-bedroom unit.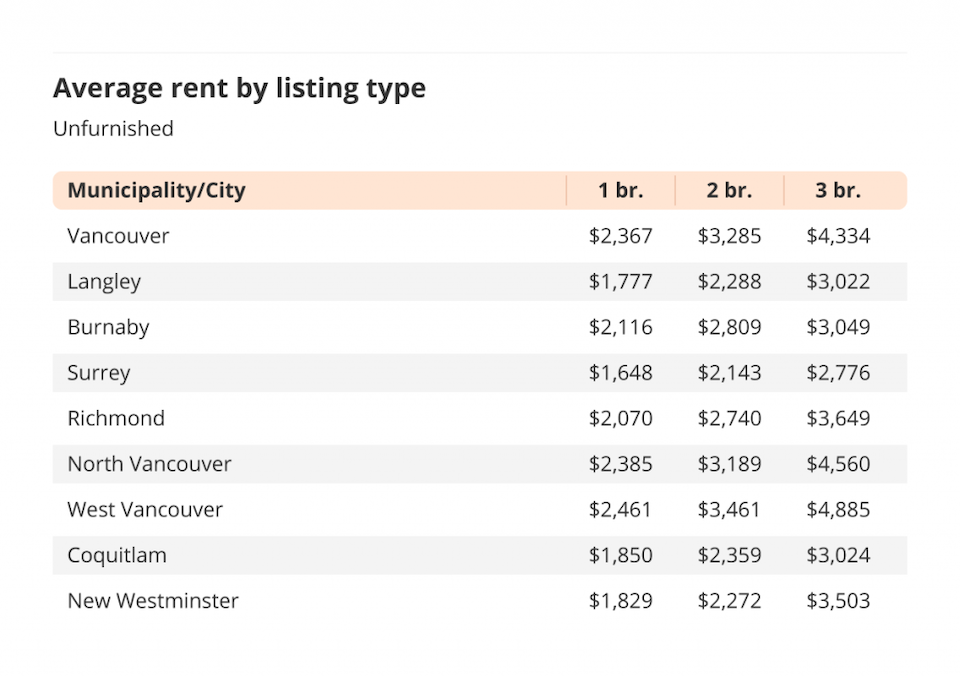 Vancouver neighbourhood rental prices
Downtown Vancouver is still the city's most costly neighbourhood to rent in, with listings averaging $2,554 for an unfurnished, one-bedroom unit.
Shaughnessy follows in second, with listings averaging $2,448. In the third spot, the Mount Pleasant neighbourhood's listings average $2,181.
Fairview offers the best bang for your buck this June, but prices still average $2,181, according to Liv.rent.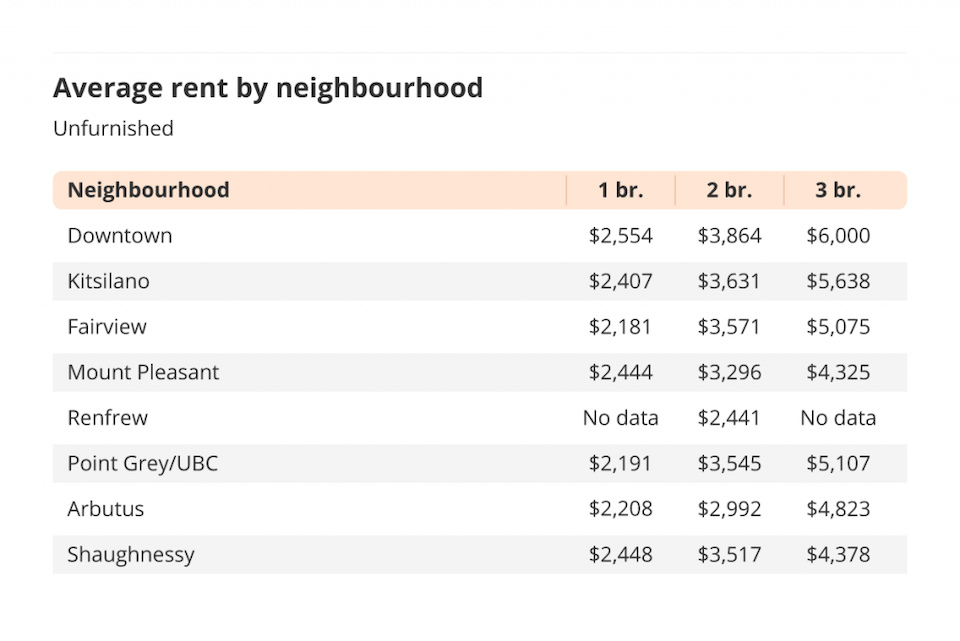 Across Canada, Vancouver remains the most expensive major city to rent an unfurnished one-bedroom unit, with listings averaging $2,367 this month.
Average rent in Toronto is the second-highest in the country at $1,945, while Victoria has risen to the third spot, with rent averaging $1,930.