Increases in B.C. real estate prices have been so large that the value of 2018's top 100 real estate deals in the province jumped 61.1% to an average of $65.4 million from $40.6 million in 2017.
Over the past five-year period, the average deal on the top-100 list grew 67.9%; most of that growth occurred over the past year, because in 2015 and 2017, the average value for the top 100 largest real estate deals declined. That erased some of the gains made in previous years. Since the low in 2016 of $30.7 million, the average deal value has grown 113.2%.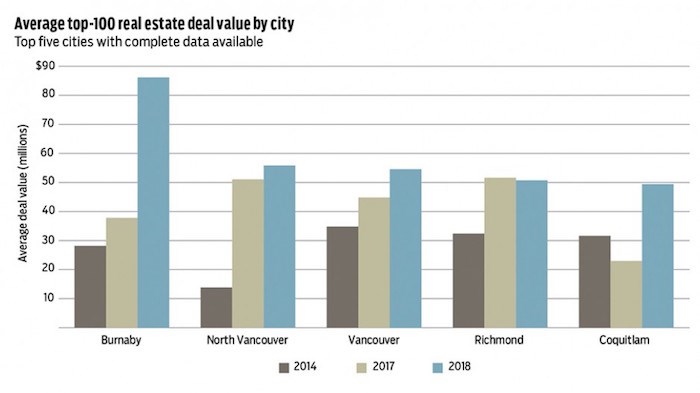 The median real estate deal value grew 117.7% in 2018 to $30.4 million from $14 million in 2014. This suggests that smaller real estate deals grew more than larger deals on the list.
Vancouver is consistently home to the lion's share of top-100 real estate deals, but for the past two years, it has not broken into the top five cities when it comes to the average deal value.
In 2018, Burnaby had the largest average deal value ($86.2 million), followed by Tsawwassen, West Vancouver, Langley and North Vancouver.
Vancouver was sixth, with an average deal value of $54.6 million. However, with the exception of North Vancouver and Burnaby, the cities in the top five gained their position as a result of having a single high-value real estate deal in the top-100 list.
Burnaby was the big winner in 2018. It increased its average top-100 real estate deal value by 205.9% from $28.2 million in 2014. Despite this large increase in average deal value, Burnaby had the same number of deals (10) in the top 10 as it did in 2014.
Even though it had fewer top-100 deals, North Vancouver recorded larger growth than Burnaby in its average deal value, increasing 303.2% to $55.8 million in 2018 from $13.9 million in 2014.
Vancouver's average top-100 real estate deal value was 63.3% that of Burnaby, the region's leader. Vancouver's average deal value increased by 56.7%, to $54.6 million in 2018 from $34.8 million in 2014.