This week, Illustrated Vancouver returns to its roots for a very special transit treat, received by email from of all places, Vienna. What you're looking at is a very early rendering of a SkyTrain Station, commissioned by the Austrian architecture firm Architektengruppe U-Bahn in 1982.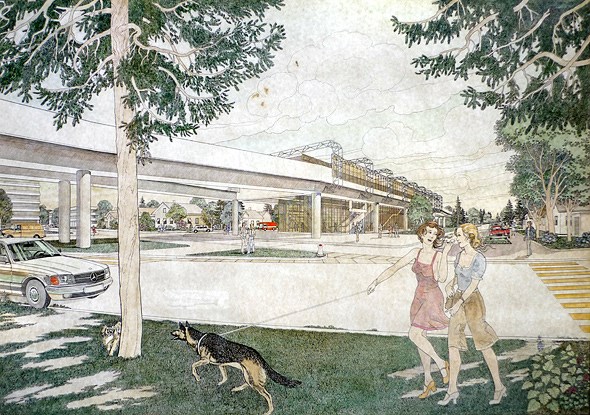 The drawing shows an early view of an Expo Line station, which from my estimate, appears to be Patterson Station (although the actual placement of that station today spans the roadway). Also received by email is another drawing depicting Nanaimo Station.
I simply love how various Germanic subtleties work their way into this drawing - the two lovely Edelweiss girls, the German Shepherd pursuing the Pomeranian, the brand new Mercedes SEC Coupe, and to draw your attention back to the focal point of the illustration, a little red van in the centre of the page that looks very much like a German fire truck to me! I instantly swooned when I saw the drawing!
These two drawings predate the name "SkyTrain" and would have been referred to as ALRT Stations. Their design was a joint venture between Architektengruppe U-Bahn of Vienna and Allen Parker & Associates of Vancouver. In the bottom right of the second drawing, I can just make out the name M. Stein, '82.
There are more early station renderings I'd like to dig up. Last month, the Buzzer posted two early Canadian renderings of Main and Broadway Station. I've since learned that those they were drawn by local Vancouver illustrator Ronald J. Love, and I plan to feature more of his work in the future.
But for now, I'd like to offer a very special thanks to the architect in Vienna who sent us this 29 year old nostalgic look back at a Vancouver, imagined.