Is Lululemon founder Chip Wilson actually trying to get the City to approve a 9,000 square foot helipad being built on the water in front of his home at 3085 Point Grey Road? If you came across this sign outside of his $57.6m mansion and you weren't really paying that close attention you might think that's the case, but no. The answer is no.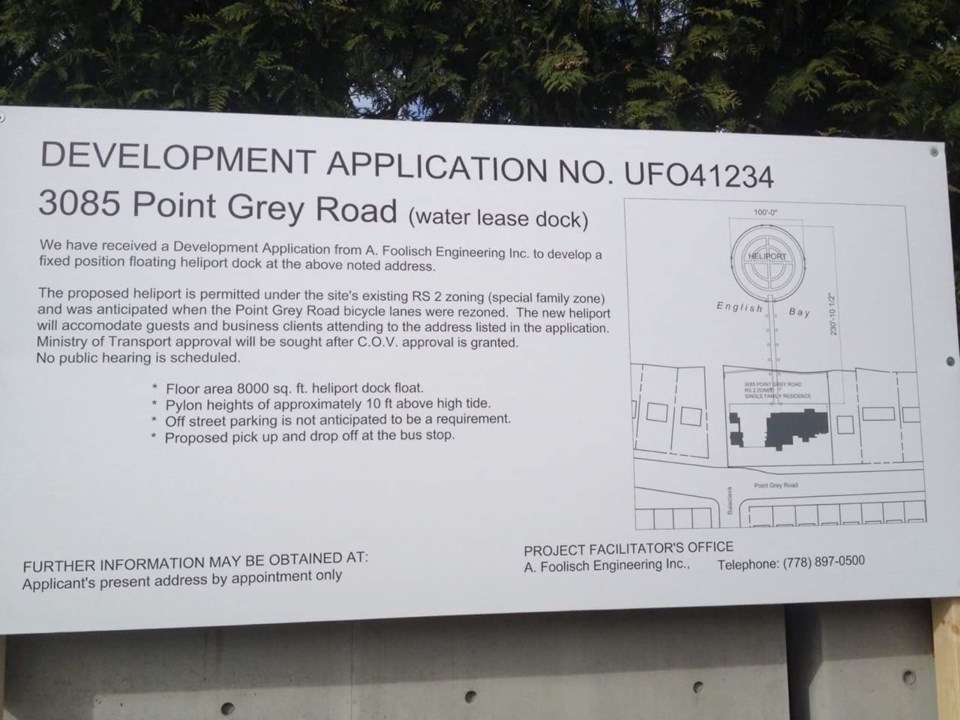 Click image to zoom
This sign, which looks to be like those official ones that the City of Vancouver puts up whenever someone applies to rezone a property to put in a tower, or do something that the public might want to have a say in, is part of an elaborate hoax. I spotted it on a friend's Facebook timeline today and the comments that were generated around this sign, clearly a fake, got me inclined to post it here and explain it away, should you have seen it with your own two eyes and been outraged.
The facts:
- There's no such firm as "A. Foolisch Engineering Inc" in Vancouver, but whoever made this sign hopes you;re foolish enough to believe there is, or that you won't read that closely.
- If you call the number provided on the sign, it says they're out of the office until April 1st. April Fool's Day.
Again, Chip Wilson is not trying to get a helipad approved for his home so that his rich friends can fly in and out as they please. It's not clear if this is Chip's doing or if some joker from the outside has put up this sign to stir the pot, but it's pretty funny regardless.