A year and a half ago I REPORTED on the Opsal Steel building and how this longstanding rickety relic on 2nd Ave, near the Olympic Village, was slated for development.
As I've been seeing some activity around the property lately, I called Bastion Development last week and inquired on when they were beginning construction and if we might be afforded a quick tour to take some "before" photos inside the building. I was told they were beginning work in the spring and that, sorry-blog-we've-never-heard-of, it's too dangerous for them to bring anybody inside. Fair enough. Though they weren't going to afford us the same opportunity that I imagine they would a publication they had actually heard of before, I still wanted to take a look at it before they tear it down/move it. I didn't want to go so far as doing something like THIS, so you can understand the joy I felt this morning on my commute to the V.I.A. office as I passed by and saw this open door exposing a view inside from the sidewalk on the Quebec Street side...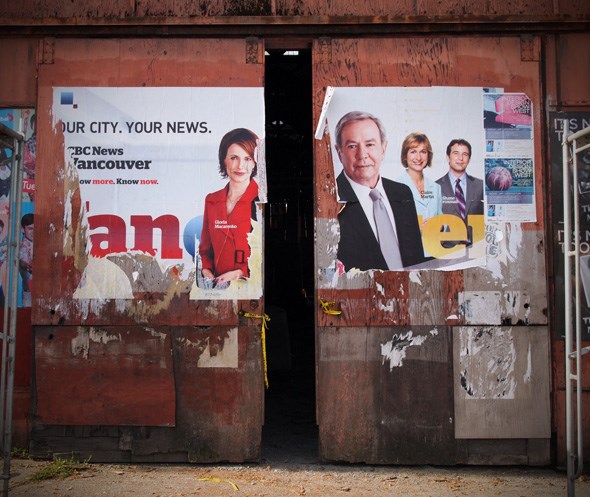 What lies behind Gloria Macarenko and Tony Parsons (besides Claire Martin and Shane Foxman)? Read more to see the video I shot...
http://www.youtube.com/watch?v=7IQ2dlWIlc4
It's hard to tell but there are a ton of old rusty chains and pulleys and mechanisms and stuff in there amongst the forklifts and other new equipment they've brought in. It's super interesting if architecture and history grab you at all. You can go down and take a peek if you feel so inclined, just be sure to stay on public property (the sidewalk) as it is a construction zone and it is dangerous. Oh, also, the building is wide open save for a fence on the alleyway side, so you can take a look inside from that angle as well...

"Do not entre"
The guy on the right is actually in charge of safety down there, I asked him if they were planning on putting anything up so you couldn't see through that fence and he said he didn't think so. So get down there and take a peek, but be safe!