Omer Arbel finds form in the intrinsic qualities of materials and the processes he has at his disposal to manipulate them. His practice has evolved to intimately combine the fields of industrial design, architecture, manufacturing and materials research. The approach of the practice demands a high level of collaboration between craftspeople and designers, and as such has shied away from conventional manufacturer-designer or contractor-architect relationships. Instead, the practice does as much as possible in house: manufacturing as much as possible of its own designs, and building as much as possible of its constructed environments.
Accolades include several Red Dot and iF Awards, a Yellow Pencil Yearbook Entry, the Ron Thom Early Design Achievement Award, a World Architecture Festival Shortlist and, with Corrine Hunt, the commission to design the 2010 Olympic and Paralympic Medals. Arbel leads OAO (Omer Arbel Office), a multidisciplinary design practice and he acts as Creative Director for the Design and Manufacturing company Bocci. Both companies have achieved near instant critical and commercial success, and position Arbel as a young voice within the international design community.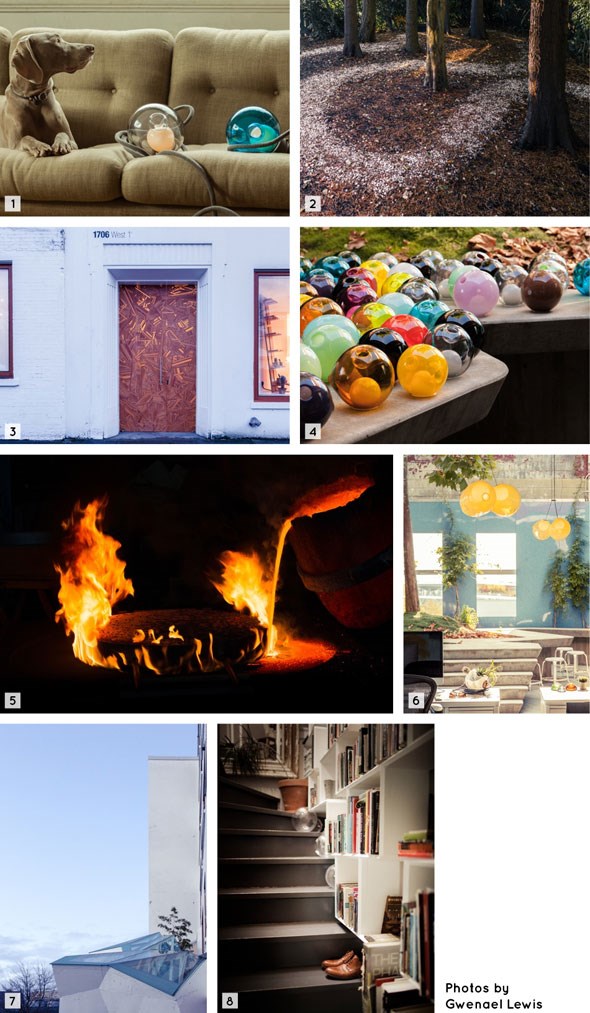 THE PROOF
1. Bowie on the sofa.
2. A path through the trees in the front yard.
3. The entrance to our building.
4. Selecting colours for the chandelier we are working on for the entrance of the Victoria and Albert Museum.
5. Casting 19's at hasting's brass foundry in East Vancouver.
6. The courtyard at our office.
7. The stair we built on the outside of our building.
8. The stair and library at home.
THE QUESTIONS
1. What neighborhood do you live in?
Hastings Sunrise.
I hate that there are banners on street lamps attempting to rebrand it 'the east village'.  why would anyone want to bulldoze over the name 'hastings sunrise'… a name for our neighbourhood that is not only poetic, but also derived from this place and its history?? And for what? To replace it with a name of a neighbourhood in new york !? Ridiculous.
2. What do you do and where?
I design objects and buildings at our studio on 1st and Pine in Vancouver.
3. What are you working on?
A 30 meter tall chandelier for the entrance of the Victoria and Albert Museum in London; a flat-pack aluminum chair; a house renovation in Connecticut; A vacation home in Washington State; A high end toothbrush; some open ended experiments with gasses and others with cast iron.
4. Where can we find your work?
The products can be found in lots of places; in Vancouver, Inform Interiors or Livingspace.
The buildings are harder to see because they are mostly private residential spaces.
5. Who are your role models?
They change over the years… these days, David Bowie and Carlo Scarpa.
6. What keeps you going in this industry?
I never need anything to "keep me going". I am doing what I am supposed to be doing, so there are never any doubts or any shortage of energy.
7. If you had a chance to start your career all over again, how would you do it differently?
I wouldn't make any changes.
8. What advice do you wish someone would have given you when you were young?
Don't worry so much, everything will be all right.
If you were going to recommend a creative to VIA, who would it be? (optional)
Lee Henderson.