A recent ad on Craigslist is raising eyebrows on social media.
The ad, for the second bedroom in a two-bedroom unit in a character home a few blocks from the beach, starts off with an appealing price for the location ($900 to live in a "Kitsilano Beach House" per the title).
But it quickly veers into the problematic as the tenant already living there, a "60-year-old mature male" explains who he wants to share the home with.
"Available for international born person, preferable from Asia or South America. Prefer mature female over 30," states the ad.
Along with the very specific requisition for a woman over 30 born on one of two continents, the potential roommate is looking for someone who won't make an impact on the living space, it seems.
"Must be non smoker, quiet, neat, tidy, non party, non loud person. Also important you don't work from home. No pets, not even a goldfish or pet alligator," are among the requirements.
If applicants meet all the requirements, though, the price has wiggle room.
"Flexible on price for the right person, 900.00 per month including all utility's [sic] is a guideline," reads the ad.
At the same time, he's not very impressed with the home he's renting a room in.
"The house is very average, the neighbourhood is where you want to live," writes the man.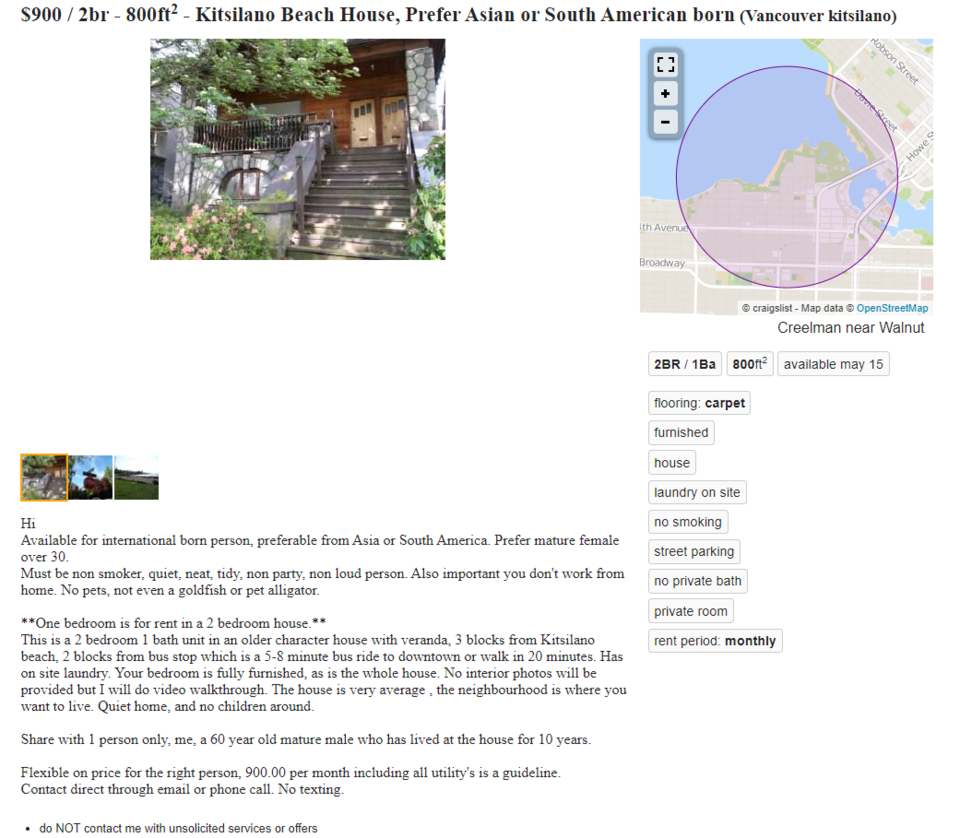 Protection from Discrimination
So is this kind of specificity about who can rent a unit legal?
The B.C. government states that "a landlord cannot refuse to rent to a tenant based on their race, colour, ancestry, place of origin, religion, marital status, family status, physical or mental disability, gender, sexual orientation, age or lawful source of income."
That said, for those sharing a space, the new renter can make requests.
As a BC Human Rights Clinic spokesperson told Glacier Media there are reasons for that, as some women don't want to share bathrooms with men or vegetarians may not want to share a kitchen with a meat-eater.
Find out more information about tenancy discrimination.
With files from Elana Shepert and Jessica Barrett