Vancouver Heritage Foundation is a registered charity supporting the conservation of heritage buildings and structures in recognition of their contribution to the city's economy, sustainability and culture.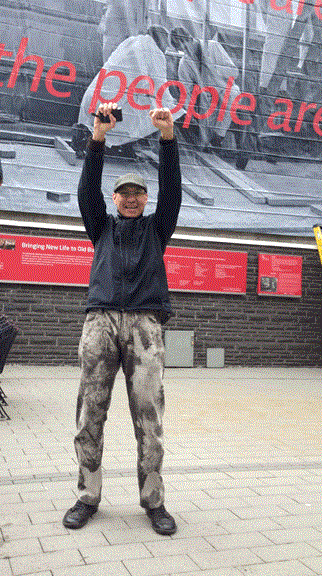 Help us celebrate local artist Paul de Guzman who is our 2013 artist for the WALL. Paul was selected from a list of very impressive candidates to create and install on the 30' x 40' concrete wall above JJ Bean at 700 Hamilton Street, the CBC Outdoor Stage. Paul's work utilizes an archival image and text from the CBC Archives. Titled "the people are the city..." the work comments on the social responsibilities of architecture to build communities and contribute to our historical memories.
We'll be celebrating Paul's achievement with an official launch on Wednesday April 17th from 12pm to 1pm, at the CBC Outdoor Stage. Paul will speak about his work and the process of creating for such an expansive space, plus we'll have tasty treats for all. Stop by on your lunch break and support public art in your city!
The WALL is a public art initiative made possible by a partnership between VHF, CBC Radio-Canada and JJ Bean Coffee Roasters. A portion of all sales from the JJ Bean CBC location kiosk, goes to funding The WALL art installations.  So every time you purchase delicious JJ Bean beverages from this spot, you are helping public art which beautifies and enlivens our city.