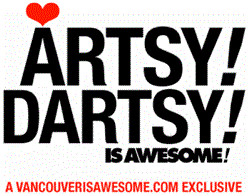 Greetings Vancouver is Awesome readers! We here at Artsy-Dartsy are proud to be new contributors to VIA.A brief background on us: We are Linus and Denise. So pleased to meet you! We love art and design, hence we started a website called Artsy-Dartsy.com to help people like us find out about art and design events in our awesome city of Vancouver!
This week there are tons of great events happening. For the full listing please head to Artsy-Dartsy.com.
This week, Artsy! Dartsy! recommends going to the first solo exhibition by Vancouver artist Khan Lee. The exhibition will include recent sculpture, including a large kinetic work, a sphere made of one million pennies and a specially commissioned three-screen film and video installation called "Shot".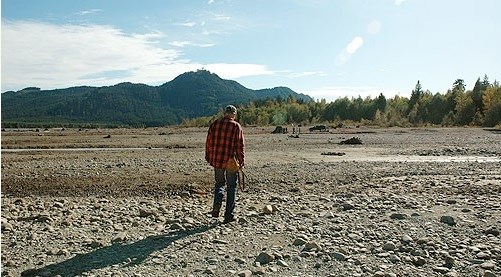 "Shot" consists of one 35 mm film loop and two digital video projections. The images show three angles of sharpshooter who fires a rifle directly into the lens of a 35mm film camera, which records its own destruction. "Shot" is about the end of cinema in the digital era. The piece is rich in references to the history and future of cinema, and embodies metaphors that mirror the relationship between viewer and screen.
The artist will also show an ever expanding work of kintetic sculpture called Inflation which consists of a full roll of 2mm poly tubing that is gradually inflated over the course of the exhibition until it completely fills the front window of the gallery.
The third element in this rich and engaging exhibition is a series of small sculptures that are the products of his daily studio practice. While very small scale, these works often deal with the idea of excess and repetition.
Khan Lee has a background in architecture and media arts. His experiments with materials and technologies have resulted in performance, sculpture and media works. He is an active member of contemporary art collectives Instant Coffee and Inter-Mission and works as a photographic printer in the studio of Jeff Wall.
Opening Reception: Friday, Nov 13, 8pm, Centre A
Other Notables: 4 different lectures and discussions on going at Emily Carr University. These are all free and open to the public. For design and architecture lovers we recommend Alex Schweder's lecture at ECU or Akihisa Hirata's lecture at UBC - both are on Thursday, Nov 12.
Please see Artsy!Dartsy! for details on more opening receptions.