Yesterday we shared THIS unsolicited proposal from Tony Osborn Architects about where they feel a great opportunity could lie for the future Vancouver Art Gallery, which is currently floating the idea of a new space a couple of blocks away. Previously we shared THIS creative proposal from Michael Green Architecture about a multi-site future for the VAG. Preceding both of those was another multi-site PROPOSAL produced by Bob Rennie (whose Most Awesome interview you can read HERE), and I've been meaning to share his idea with you.
This morning Bob sat down with Rick Cluff on CBC's Early Edition and they talked about the possibility of having the gallery move into the post office building on Georgia, which was just recently sold as Canada Post will be relocating their facility out to Richmond. They discussed opportunities for affordable residential as well as Bob's insight on philanthropy, the economy, and development within that economy.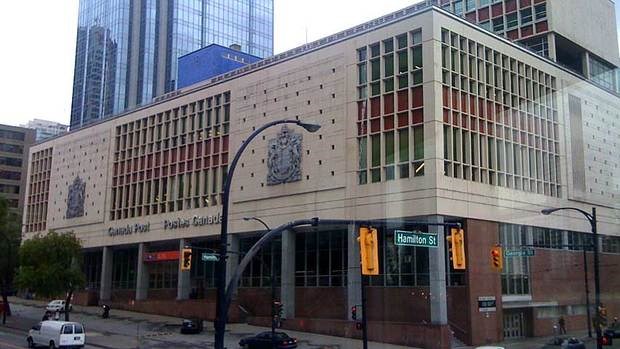 Photo: CBC
What I love about all three of these proposals is that, beyond the walls of the institution, many people's voices about the future of this city-owned entity are being raised. I'm not going to say that I agree nor disagree with any of them but I will say that wherever the VAG winds up taking residence, and in whatever form, it's just really cool to see its future being an issue at all. The director of the museum and its board, a large group of visual arts professionals RALLYING, collectors, journalists and likely a great many of YOU talking about it. That is awesome.
Have a listen to Rick Cluff and Bob Rennie's talk from this morning below...