Whether they're guiding ships, protecting land, or warning crews of hazardous coastlines, lighthouses have always suggested that adventure is just around the corner.
With lighthouses scattered across the province, it's easy to understand why BC has always been synonymous with a sense of exploration. So, if you're looking for adventure this season, simply follow the light and explore BC's most famous lighthouse destinations.
1. Lighthouse Park at Point Atkinson in West Vancouver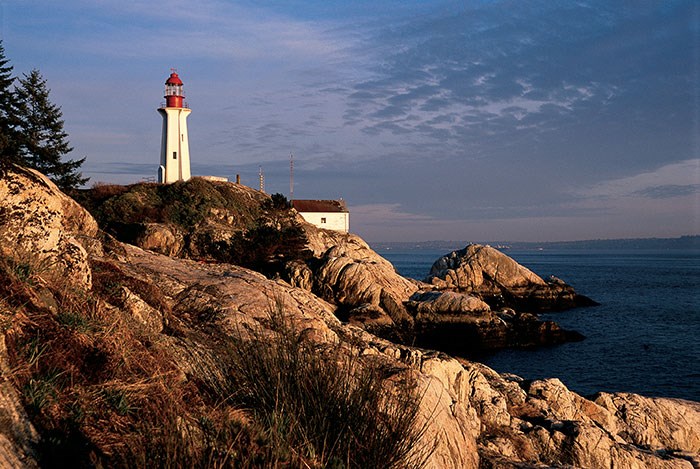 Point Atkinson's history dates back to 1792 when George Vancouver first surveyed BC's southern coast. It is Captain Vancouver who named the West Vancouver peninsula Point Atkinson, which went on to receive its first lighthouse in 1874. The lighthouse was one of three public works built by Federal government in return for BC agreeing to join Canada in 1871. The original lighthouse featured a steam-powered foghorn and was surrounded seventy-five hectares of untouched forest to ensure the lighthouse had a dark backdrop to standout against. This forest (now Lighthouse Park) serves up some prime photo material as it's home to Vancouver's last standing first-growth Douglas Fir trees, some of which are almost 500 years-old!
Location: West Vancouver, BC
Distance from Vancouver: 21km – 30 minutes driving.
Highlights: Old-growth rainforest and ocean views.
2. Fisgard Lighthouse National Historic Site in Victoria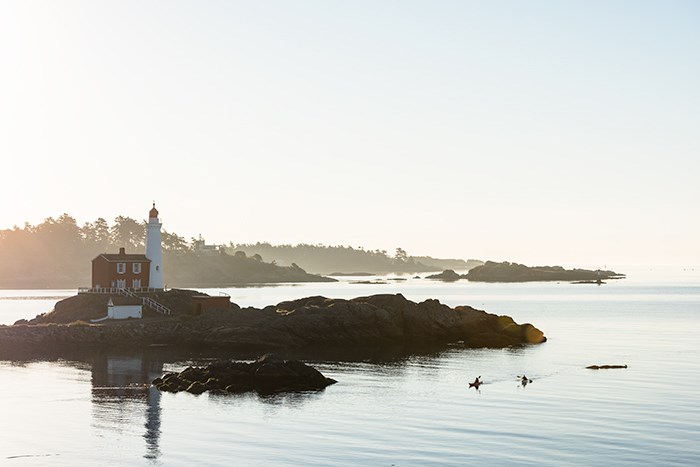 One of the coolest things about lighthouses is that each of them reveals a unique piece of BC's history. Victoria's Fisgard Lighthouse dates back to 1860 and is Canada's oldest West Coast lighthouse. It was built by the British to guide ships into the Esquimalt harbour and remains in operation to this day as a base for the Royal Canadian Navy. Fisgard is also part of the Fort Rodd Hill National Historic Site, which you can visit for free as part of Park's Canada's year-long celebration of Canada's 150th.
Location: Victoria, BC
Distance from Vancouver: 121km – 3.5 hours (driving + ferry).
Highlights: The former lighthouse keeper's residence is open to the public and contains exhibits about the site's history.
3. Sheringham Point Lighthouse near Sooke, BC
By the early 20th century, there were over 240 documented shipwrecks just off the coast of Vancouver Island. Following the tragic sinking of the SS Valencia steamship in 1906, the Canadian Government ordered that 12 more lighthouses be built in the area, one of which was Sheringham Point. The original lighthouse was illuminated by oil lamp and was rotated by a clockwork mechanism of pulleys and weights that had to be re-wound by hand every 3 hours. Sheringham Point features gorgeous rocky coastline and in the transition zone between Cedar-Hemlock and Coastal Douglas-fir forests. The area is known for bird watching, whale sighting and even the odd black bear and cougar.
Location: 20km west of Sooke, BC
Distance from Vancouver: 168km – 4.5 hours (driving + ferry).
Highlights: Wildlife galore! Unique vegetation and rugged coastlines that include small coves and rocky beaches.
4. Amphitrite Lighthouse in Ucluelet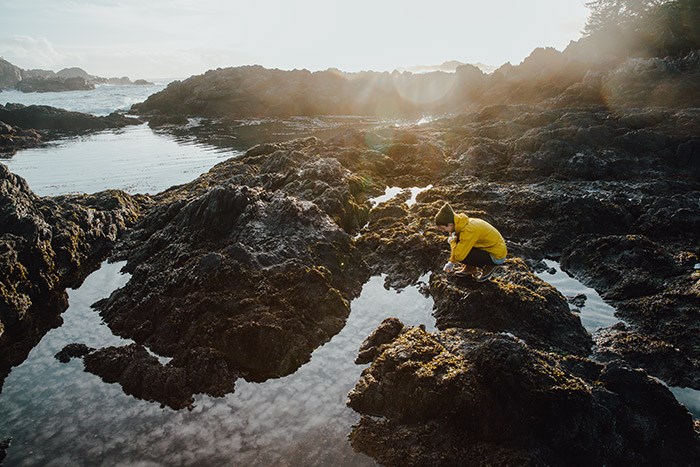 Over 300 species of birds migrate through the Ucluelet Peninsula that's home to Amphitrite Lighthouse. In fact, it's estimated that over 20,000 animals of various species (including whales), pass through the Amphitrite Lighthouse grounds each spring. The original lighthouse was built in 1906 but was replaced in 1915 with the structure that still stands today. The 100+ year-old lighthouse looks over Barkley Sound and Broken Group Islands and accessible via the Wild Pacific Trail, which loops around the lighthouse's peninsula near Pacific Rim National Park. The whole loop takes about 45-60 minutes to complete.
Location: Ucluelet, BC
Distance from Vancouver: 261km – 5.5 hours (driving + ferry).
Highlights: Tons of wildlife, gorgeous sunrise/sunset views and storm watching from October – April.
5. Active Pass Lighthouse on Mayne Island
Active Pass Lighthouse, located on Georgina Point on Mayne Island, was built in 1885 to warn ships of the jagged reefs and rough waters they'd face as they approached Active Pass. While the lighthouse is no longer active, it remains a protected landmark and a highlight of the Southern Gulf Islands and part of the Gulf Islands National Park Reserve. There's plenty of wildlife to be discovered at Georgina Point, including eagles, sea lions, otters and even whales. If marine life is your thing, be sure to check out the tidal pools during low tide. Visit Active Pass and the rest of the Gulf Islands National Park Reserve for free by ordering your Parks Canada Discovery Pass.
Location: Mayne Island, BC
Distance from Vancouver: 68.7km – 2.5 hours (driving + ferry).
Things to Photograph: Tidal pools and marine life.
6. Cape Mudge Lighthouse on Quadra Island
Standing over Discovery Passage's infamously rough waters, Cape Mudge Lighthouse has been guiding ships and their crews to safety since 1898. The lighthouse was erected to guide the increasing amounts of marine traffic during the Klondike Gold Rush and it remains active today as an automated weather-observing system. Cape Mudge has it's own unique history; it was near this land that the first contact was made between European explorers and the local First Nations. If you'd like to stay overnight, we reccomend the Tsa Kwa Luten Lodge, which is run by the We Wai Kai Nation. Cape Mudge lighthouse can be seen from Tsa Kwa Luten Lodge's oceanfront lighthouse cottage, adjacent from the lighthouse.
Location: Quathiaski Cove on Quadra Island.
Distance from Vancouver: 245km – 5 hours (driving + ferry).
Highlights: Big waves, wildlife and First Nations artwork.
7. Pilot Bay Lighthouse on Kootenay Lake
With the safest harbour in the area, Pilot Bay has always served as a marker of safety for Kootenay Bay. Local volunteers have since restored the Pilot Bay lighthouse, which was originally constructed in 1904. The lighthouse once guided those transporting supplies between mining communities by water and still serves as a beacon of comfort for those working in logging and mining camps around Kootenay Lake.
Location: Kootenay Lake
Distance from Vancouver: 706km – 9 hours (driving)
Highlights: Calm water and mountain views.
There's still so much left to be discovered! Visit BCexplorer.com and see what's out there! #ExploreBC