They say traveling is about the journey, not the destination.

But those people clearly haven't been here.

Regarded as the "B.C. Hotel of the Year 2023 " and ranked among the "Top 25 Spas in Canada," Kingfisher Oceanside Resort & Spa is a multi-award winning resort close to Vancouver that offers wellness seekers and special getaway lovers an immersive and one-of-a-kind relaxing experience.
Guests can stay in suites with unparalleled ocean views, savour refined cuisine at the on-site restaurant, and avail themselves of professional spa treatments. After the Autumnal Equinox, the resort unveils distinctive seasonal dining opportunities. This year as well, The Ocean7 restaurant will reopen the Sky Domes, an enchanting culinary addition to the experience that contributes to the resort's year-round offerings, including the renowned Pacific Mist Hydropath®.
The Pacific Mist Hydropath® is a signature spa service of the Kingfisher. It is located in the resort's Pacific Mist Spa, which boasts a full-service spa facility that offers a range of wellness services, including a wide list of massages, skin care, body treatments and esthetics.
At the core of the Pacific Mist Hydropath® lies the concept of hydrotherapy, an ancient practice that utilizes the healing properties of hot and cold water to promote wellness and relaxation. The Hydropath circuit takes guests on a multisensory journey through a sequence of therapeutic water features, each designed to deliver specific benefits.
In an era where the pace of life can be overwhelming, Kingfisher Oceanside Resort & Spa offers a sanctuary of calm and serenity. It reminds us of the importance of self-care and taking a moment to reconnect with ourselves. Whether seeking relief from stress, relief from physical discomfort, or simply an opportunity to indulge in tranquility, the resort aims to provide an experience that resonates on a deeply personal level in a retreat-like atmosphere.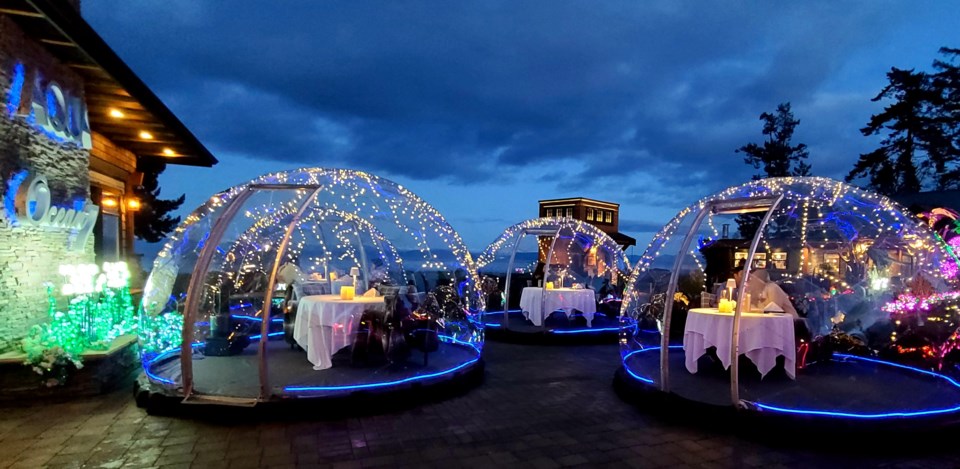 In the Fall and as the light stretches, the Kingfisher's enchanting Sky Domes open their doors, inviting visitors to indulge in a private culinary journey.
Here you can savour the delights of Executive Chef, Richard Benson and Mixologist Julie Ferris's exquisite creations from the on-site Ocean7 restaurant, which specialize in West Coast seafood, grain-fed meats, and fresh organic produce from local sustainable growers and suppliers. Sit back, enjoy your special experience, and take in the panoramic vista of the strait of Georgia, no matter what the weather. During the winter, visitors experience the magic of the gardens where the landscape comes alive with a breathtaking light display that transforms the surroundings into a dazzling wonderland.
So, whether you're looking to be close to nature, bond with loved ones, friends, or are just for a respite from your day-to-day, Kingfisher Oceanside Resort and Spa offers something special for all visitors looking to indulge in a short-trip away. Sometimes it's about the journey, but Kingfisher is all about the destination.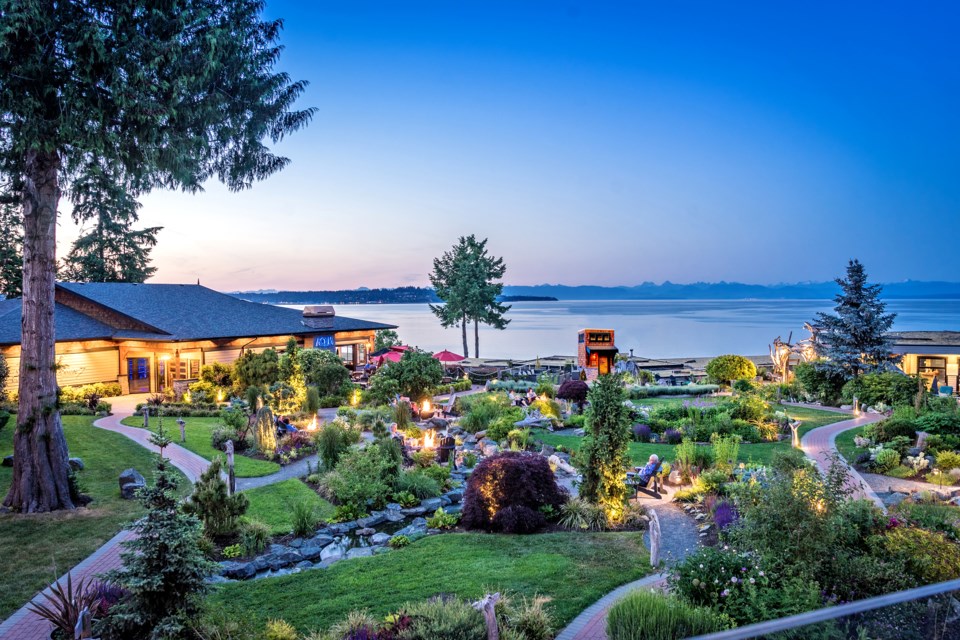 Situated on the eastern coast of Vancouver Island, Kingfisher Oceanside Resort & Spa is conveniently located approximately 15 minutes from Comox, making it easily accessible via Highway 19A as well as direct flights from Calgary, Edmonton, and Vancouver. With such a short trip, it's easy to steal a weekend away. You can even take advantage of the resort's current mid-week special, aptly titled Relax, Refresh, Renew, which includes a 2-night stay, plus credits for the spa and the resort's exceptional restaurants. Kingfisher is also offering a 3-night Rainy Day Getaway special this Fall that you can learn more about HERE.
Kingfisher is a proud partner of Wellness Travel BC.