Nordic sports have become a popular outdoor activity for Vancouverites in the winter months when they want a break from the busy mountain resorts.
With an abundance of groomed trails, lots of space to distance, and a pace that is much less intimidating than downhill skiing on crowded slopes (and not to mention kinder to your wallet), cross-country skiing is what every skier is raving about.
By now, you've probably ventured to your local Nordic destination several times. Perhaps you're looking to switch it up with a road trip to explore some new terrain and see what the province has to offer.
For some fresh new ideas, here are 5 great regions for cross-country skiing, snowshoeing, and more for your next Nordic adventure here in beautiful British Columbia
SMITHERS
Located at the halfway point between Prince George and Prince Rupert in northwestern B.C., the town of Smithers offers some of the most scenic trails in Canada.
Set in the forest on the shoulder of Hudson Bay Mountain, the 52 kilometres of trails at the Bulkley Valley Nordic Centre have something for cross-country skiers of all ages and skill levels. There's also 11 kilometres of dog-friendly trails, skating on the lakes, snowshoeing in Babine Mountains Provincial Park, and backcountry ski touring at Hankin-Evelyn.
CARIBOO
For two of the best Nordic skiing experiences in the Cariboo region of B.C.'s central Interior, look no further than 100 Mile Nordics in 100 Mile House (5 hours north of Vancouver) and the Williams Lake Cross Country Ski Club at Bull Mountain (about 1.5 hours further north from 100 Mile House).
Visitors can explore groomed and LED-lit trails in the daytime and the nighttime at both skiing destinations. The trails are immersed in nature with winter wildlife roaming freely, including from birds and foxes to bobcats and lynxes.
PRINCE GEORGE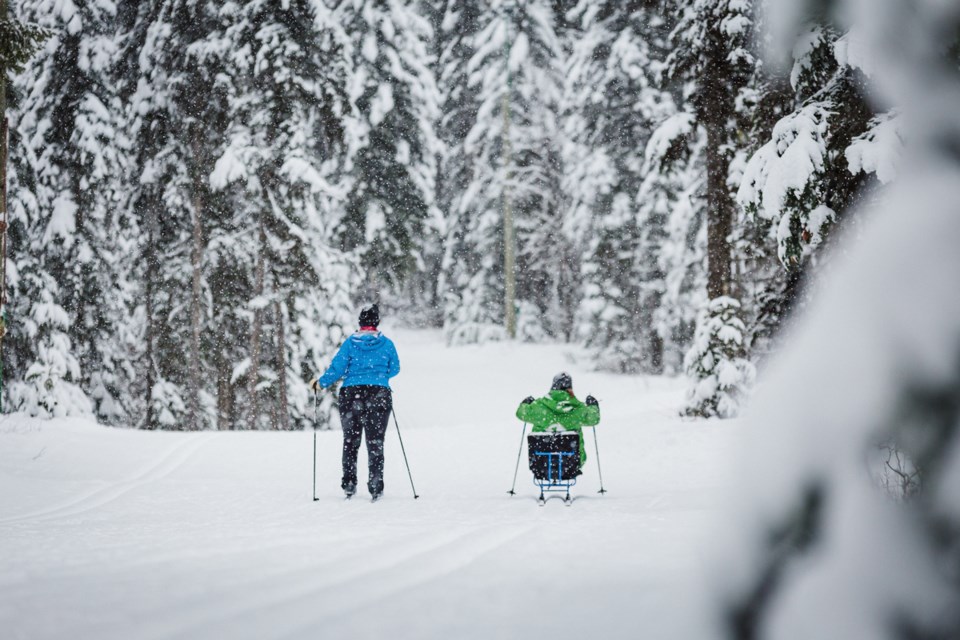 Prince George, B.C. Photo provided by BC Nordic.
Up in Northern B.C., Prince George's best kept cross-country secret is Caledonia Nordic Ski Club.
Often referred to as Otway by locals, this ski area offers 55 km of fresh trails with a balanced mix of difficulty levels, several of which are suited for beginners and novices. Advanced cross-country skiers will appreciate the turns on the runs of Cranbrook Hill.
Otway's vast network of ski and snowshoe trails will take you deep into pristine forests and lead you to rewarding views of the beautiful Nechako River Valley, allowing you to step away from civilization and immerse yourself in nature.
MOUNT WASHINGTON
Enjoy the snow on an island in the Pacific on Vancouver Island at Mount Washington Alpine Resort.
The crown jewel of Mount Washington's nordic area is the 55 km of cross country ski trails, groomed for both skate and classic style skiing. In fact, the mountainous area often records the deepest snowpack in all of Canada.
Eight dedicated snowshoeing trails offer a progression from easy strolls through open meadows and old-growth forests along the Old Cabin Loop to the demanding climb up to a scenic ridgeline on Great Big View. Dogs are welcome on the aptly named Snow Paws trail, and Marmot's Mess is the trail for fat biking adventures in the snow.
PENTICTON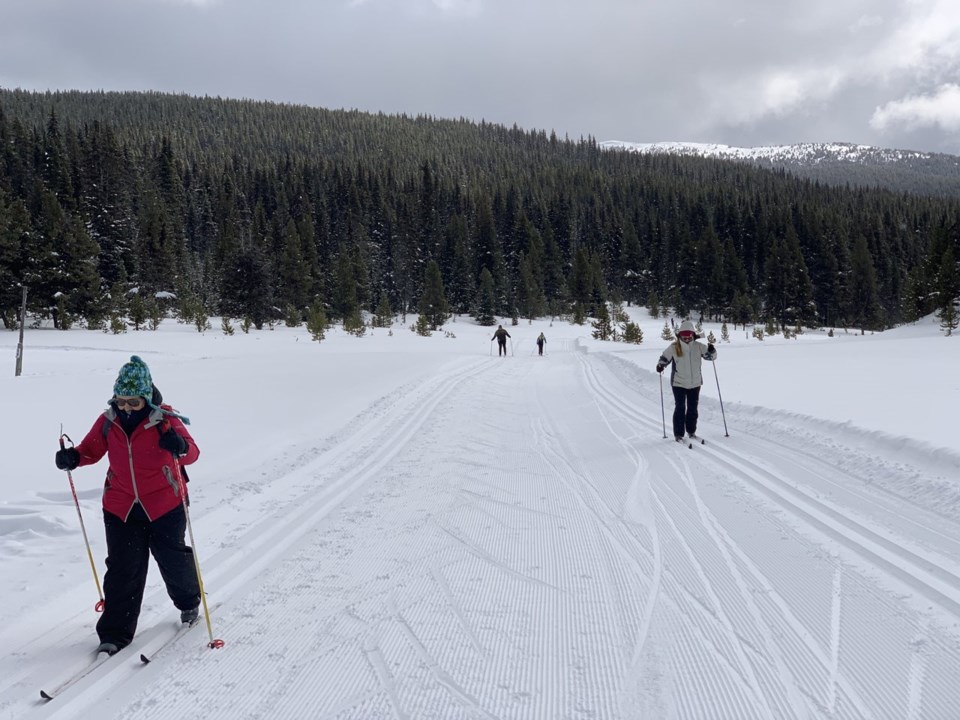 Penticton, B.C. Photo: Travel Penticton
Surrounded by mountains, lakes, vineyards, and orchards, the South Okanagan is all about that outdoor lifestyle. In the winter months, Penticton's Nordic skiing wonderland can be found at Nickel Plate Nordic Centre.
Nickel Plate boasts over 56 kilometres of soft, dry snow and groomed trails, with many offering a reward for your efforts with views of the mountain ranges and valleys beyond at 6000 feet elevation. Intermediate and advanced Nordic skiers should try the climb to the lookout at Panorama Ridge, Reimer's Reach, or the Motherlode trail, which is the highest point of the Nickel Plate trail network.
For more fun adventures in the snow, enjoy the forested 1 km skating loop at Apex Mountain Ski Resort or go winter mountain biking along the Campbell Mountain trail network.
If you can't figure out which B.C. destination to visit, why not make it a road trip and visit them all this winter? It'll be a winter adventure you won't forget!
For more information on Nordic skiing destinations in B.C., check out facebook.com/BCNordicXC and hellobc.com.