Richmond has long been known for its culinary attractions, but let's face it: what foodies really love about the city is its outstanding array of regionally diverse Asian fare. It's literally award-winning.
Given that Richmond is home to more than 800 restaurants and features bucket-list highlights, such as the aptly named Food Street (three blocks with over 200 eateries), it can be a bit difficult to wade through the noise and find those hidden gems.
Food tour to the rescue! Tourism Richmond has published a curated map of the 20 restaurants best known for their delectable dumplings of all shapes, sizes and origins and affectionately referred to as the "Dumpling Trail."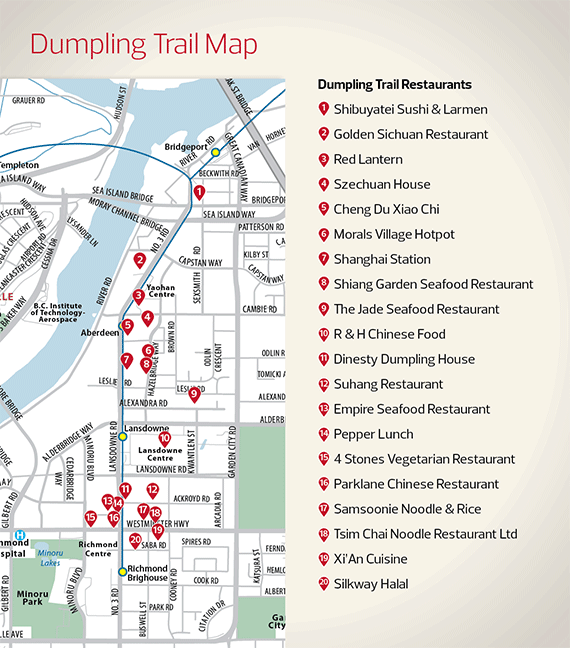 A definite must-see on the Dumpling Trail, R&H is well-loved for its unpretentious fare and juicy Xiao Long Bao (soup dumplings). It's nearly impossible to avoid a line at this little stall in the Lansdowne Mall food court, but it's worth the wait. Besides, it's always entertaining to watch those little dumplings being freshly made. Pro tip: pair your dumplings with the Grilled Juicy Pork Buns. You won't regret it.
Address: 5300 No. 3 Road, Lansdowne Centre Food Court
 Our favourite finds are those hole-in-the-wall spots packed with happy regulars. This is one of those places. Samsoonie specializes in Korean fare: think sizzling bulgogi and delicious seafood pancakes alongside rice cakes, ramen and much more. Their Korean Mandu (dumplings) are what got them on the list of Dumpling Trail restaurants, but don't stop there when sampling their selection. Whether you like your dumplings pan fried, deep fried or steamed, they have it all. Samsoonie doesn't shy away from large portions, so come hungry.
Address: #140 - 8211 Westminster Highway
This family-run spot caters to the vegetarian diner who loves the flavours of Chinese food, but may feel left out when it comes time to order. Vegetarian Chinese cuisine is growing in popularity (because it's amazing), and 4 Stones Vegetarian provides an abundance of options. Be sure to sample the well-loved steamed dumplings, all of which use vegetables, tofu and soybeans as a meat substitute.
Address: 7771 Westminster Highway
Empire Seafood is one of those spots that you have to catch during dim sum hours (10am-2pm), as this is the only time that you'll be able to taste their delectable dumplings. They also make perfectly assembled wu gok (fried taro dumpling), Cantonese pork croquettes and crispy jian dui delicacies. Go forth and feast; reservations are highly recommended.
Address: #200 - 5951 No.3 Road
Pepper Lunch stands out from the crowd for being one of the only Japanese options on Richmond's Dumpling Trail. This restaurant features a teppanyaki experience, where you use an iron griddle to cook your own food. While you could come for an entire meal, Pepper Lunch earned its spot on the trail for its tasty beef and chicken gyoza.
Address: 150 - 5951 No.3 Road
You'd be hard-pressed to find anyone who doesn't rave about Xi'An Cuisine after tasting their delicious fare. Located on the second floor of the Richmond Public Market, they specialize in authentic dishes, including handmade spicy wontons and dumplings. Try the pan-fried pork dumplings — you won't be disappointed.
Address: 8260 Westminster Highway
Situated at the north end of the Dumpling Trail, this upscale eatery features the spicy, robust flavours of traditional Sichuan cuisine. Golden serves up shui jiao dumplings (stuffed and water boiled) all day long, so no need to worry about specific dim sum hours to get your fix.
Address: 3631 No.3 Road
A five-minute walk from Empire Seafood, Suhang is known for its modern decor and wide array of authentic Shanghainese fare. Whether you're in the mood for Xiao Long Bao (XLB) or water-boiled dumplings, Suhang is a great spot to check out. Pro tip: call ahead to pre-order any special dishes, such as the crab XLB.
Address: #100 - 8291 Ackroyd Road