The sun is shining, which means it's time to make use of those vacation days and start having fun.
This summer, we recommend spending less on the journey so you can make the most of the destination, which is why we're getting geared up to explore the Fraser Valley.
Located about 90 minutes east of Vancouver, the Fraser Valley is home to award-winning restaurants, craft breweries, wineries, countless outdoor activities and breathtaking scenery. Everything you need to feel like you're enjoying a vacation a million miles away...
FOOD, DESSERT, COFFEE
The main reason to travel anywhere is of course, food. While Vancouver is known for a particularly fresh take on West Coast cuisine, the Fraser Valley takes farm-fresh to a new level, particularly when it makes use of the region's countless farmers and artisans.
A quick online search will tell you that Restaurant 62 is a must-try. The award-winning restaurant boasts a rotating menu that's heavily inspired by what's in season in the Fraser Valley. Their preparations are elegant, but remain firmly rooted in the area's soul-satisfying rustic charm.
New to the area, The Polly Fox (Abbotsford) is a bakery and bistro specializing in 100% gluten-free fare. While the intention is certainly wholesome, the food is pure decadence. Oozing cinnamon buns, classic cookies and baked goods galore are just a few reasons to pay them a visit.
If you're craving something lighter, head to historic downtown Abbotsford to The HABIT Project; a boutique cold-pressed juice company that serves everything from green juice to small batch nut mylk. In an effort to be zero-waste, The Habit Project send unused pulp back to local farmers to be used as compost in order to grow the very produce that The HABIT Project squeezes so much deliciousness out of.
This is the point in the trip where seafood lovers can throw their hands up in celebration. Bow & Stern is a family owned restaurant serves up everything from fish & chips to fresh oysters. They have gluten free options and the food is super fresh, super affordable and super in-line with the Fraser Valley's quality-comes-first food philosophy.
Finally, head to Oldhand Coffee for speciality coffee and elevated baked goods. Their highly instagrammable space and European-inspired menu is a coffee lovers dream.
CRAFT BEER AND TASTING ROOMS
If you want to understand what life is like in the Fraser Valley, head straight to Field House Brewing Co's picturesque outdoor beer lawn. With super enticing new flavours (Chamomile Blanche), unique collabs, on-point branding, a superb tasting room and live music, Field House is a brewery you might find yourself visiting more than once on your sort-of-staycation.
Ravens Brewing is inspired by the agricultural roots surrounding the Fraser Valley, where they brew fantastic European and West Coast beers, each sticking close to the ingredients traditionally found in these classic brews.
Trading Post Brewery blends traditional brewing techniques with modern-day passion and skill to carefully create each of their amazing beers. Oh, their tasting room is so nice you'll definitely want to stick around for another round (or two).
VINEYARDS AND WINERIES
While hop-growers are certainly killing it in the Fraser Valley, the region has always been a go-to destination for fabulous wine.
Mt. Lehman Winery grows 50 different grape varieties on-site, which has resulted in award-winning wine since 1991. Singletree Winery celebrates the aromatic, crisp, and juicy flavours of B.C. terroir and their rose, which recently took hold a gold medal at the all Canadian Wine Championships. Finally, Seaside Pearl Winery boast small-batch artisanal wine and a so-charming-it-hurts chapel tasting room that you'll never want to leave.
EXPLORING, SHOPPING AND OUTDOOR FUN
With the extra savings that come with staying in town, you may as well treat yourself…
Spruce Collective is a independent shop that carries a curated collection of local items, vintage finds and timeless quality goods ranging from home decor to clothing and gifts. Hop over back to Langley and you'll find The Local Space, a cute-as-hell brick-and-mortar shop selling jewelry, home furnishings, decor (and more), designed and produced by local B.C. artisans and makers.
Punctuated by green farmlands and perfect and impressive mountains, the Fraser Valley is also the perfect place to get outside and play. Since the area is known for its farm-to-table philosophy, it's definitely worth visiting some of the region's farmers.
Circle Farm Tours offer visitors the opportunity to take self-guided tours of the many of the unique agri-tourism destinations that can be found in the Fraser Valley. If you're interested in a more behind the scenes look into the farming process, EcoDairy in partnership with Science World boasts a one-of-a-kind demonstration farm, offering a unique and highly interactive learning environment.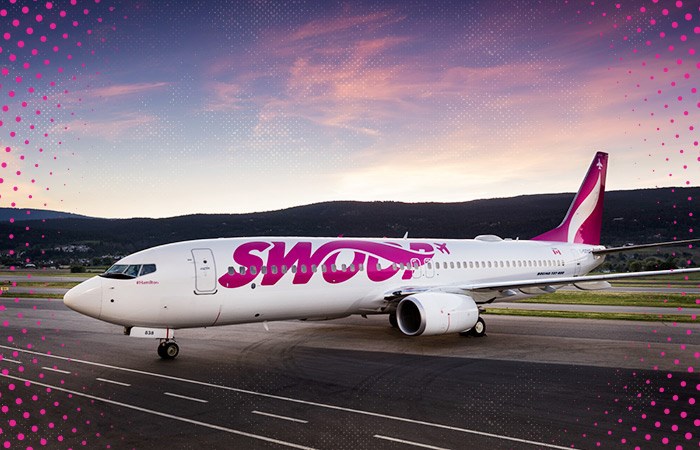 Now that you've checked out Fraser Valley, why not explore more of Canada with Swoop. With their ultra-low cost airfare, Swoop will get you to your next destination without breaking the bank.
At Swoop it's traveller's choice. Unbundled fares mean you choose where you save and where you spend. It's a brand new way to travel, designed to save you money.

To learn more visit FlySwoop.com