Whether you're new to Vancouver or a long-time resident, exploring this city can sometimes feel overwhelming. With so much to do and see, organizing an itinerary and finding your way around Vancouver can be a tricky task. That's why Vancouver is Awesome and Best Buy Mobile teamed up to bring you some of the best apps to help you get around Vancouver. Take a look at the ones below and feel free to offer suggestions in the comments area below!
Busmaple
Released just a few days ago, Busmaple makes it easy to determine if you have time to grab a quick coffee before the bus comes or if you need to run because it's just around the corner! Using real-time data updated every 10-40 seconds, this app shows you exactly where each bus is on its route. This simple web-app can be used for free on your mobile or desktop. Check it out at https://busmaple.com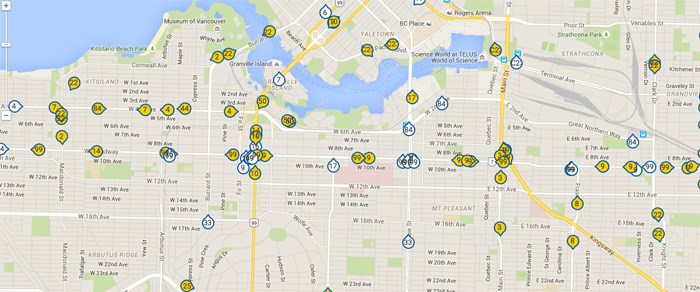 Radar
Similar to BusMaple, Radar provides up-to-the-minute information on Vancouver bus routes and times. Designed specifically for Vancouver transit, Radar allows users to plug in their stop number and see even more details about each bus. For example, by clicking on a stop you can see if a bus is running early, on-time, or late. Radar can be downloaded for free on the Apple App Store (HERE).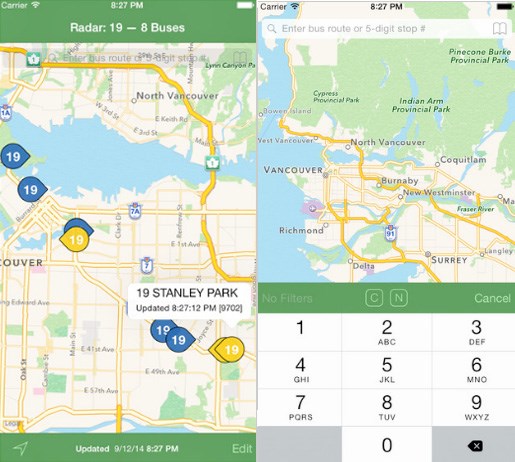 Waze
Designed to avoid the frustration of sitting in traffic, Waze offers real-time traffic and road information. This app is perfect if you want to shave 5 minutes off your route, stay up to date on construction and traffic delays, and give other drivers the heads-up when it comes to driving conditions. Waze is available for free on Android (HERE) and iOS (HERE).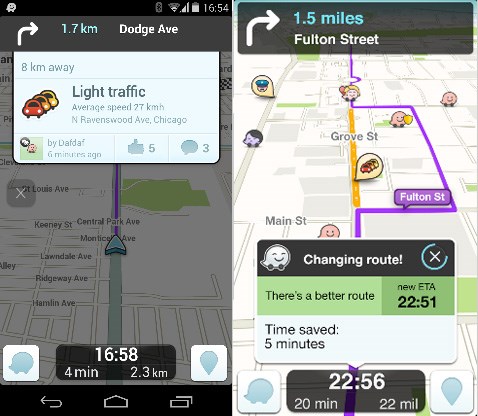 Paybyphone
This is perhaps one of the handiest apps for those who despise carrying change. With the touch of a button you can add money to your meter, set text reminders and have your receipts emailed to you. The great thing about paybyphone is that you only pay for the number of minutes you wish to park – no more throwing money away! To get started, visit paybyphone.com and enter your phone number, credit card information, and license plate number. Paybyphone is a free app available on both the Google Play store (HERE) and the Apple Store (HERE).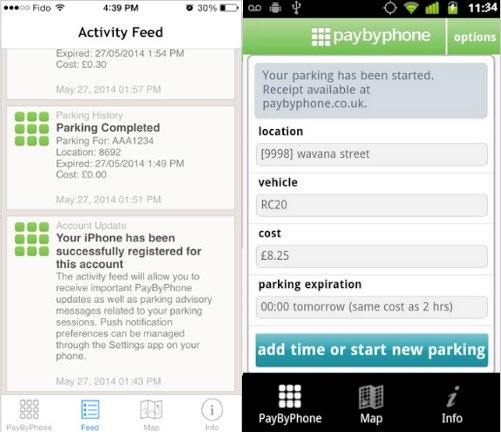 Yellow Cab
If you don't have access to a car in Vancouver, don't sweat it. Yellow Cab's mobile app makes getting around the city super easy. You can request a taxi immediately or schedule a future date and time for pick-up. Yellow Cab can also find your location using your current GPS position – just in case you're a little lost. Download this free app on the iTunes store (HERE) or on the Google Play store (HERE) and have the ability to order a cab 24 hours a day, 365 days a year!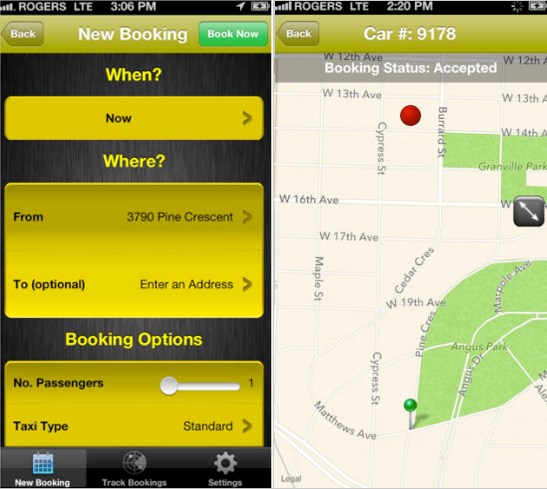 car2Go
Over the next two months, car2go is doubling its Vancouver fleet to over 1,200 cars, giving us the largest car2go fleet in the world! With over 12,400 vehicles in 29 global cities, car2Go has redefined urban mobility. Just fill out an application form on the car2Go website (you'll need a drivers abstract and a credit card) and once approved, tap your new member card on any car2go vehicle to activate your trip. Not only it is extremely affordable (just $.41 per minute!), there are also tons of free parking spaces all over Vancouver – making a trip to Science World or Stanley Park super convenient. You can grab the free car2go app through the Google Play store (HERE) or the Apple Store (HERE).
TripAdvisor
If you're looking for the most popular activities and the best sights in Vancouver, then the TripAdvisor mobile app is definitely for you. This app gives you access to thousands of reviews, tips, photos, and directions to Vancouver's best attractions. The great things about this app is that you can download maps, reviews, and your bookmarked destinations for over 300 cities worldwide, which helps save you money by avoiding expensive roaming data plans. Check out this free app on the iTunes store (HERE) or the Google Play store (HERE)!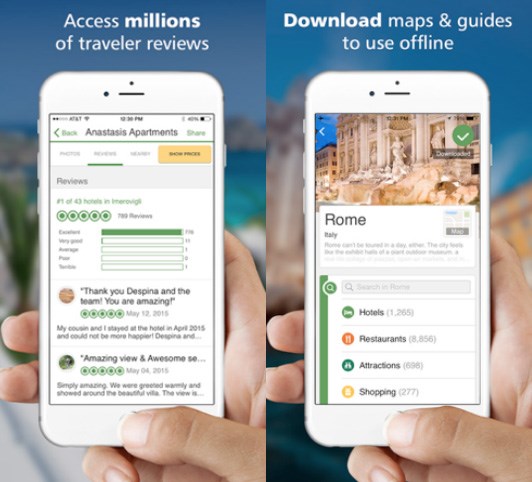 Visit Vancouver
Launched by Tourism Vancouver, this app is a must-have for those who want to make the most out of their time in this beautiful city. Visit Vancouver allows individuals to take a virtual tour of the city, learn how to get to and from Vancouver, discover new activities, and find perfect accommodation and dining options. Best of all, you can easily access all of this information while offline – making it perfect for tourists! Visit Vancouver is free and available for iPads on the iTunes store (HERE) and for Android (HERE).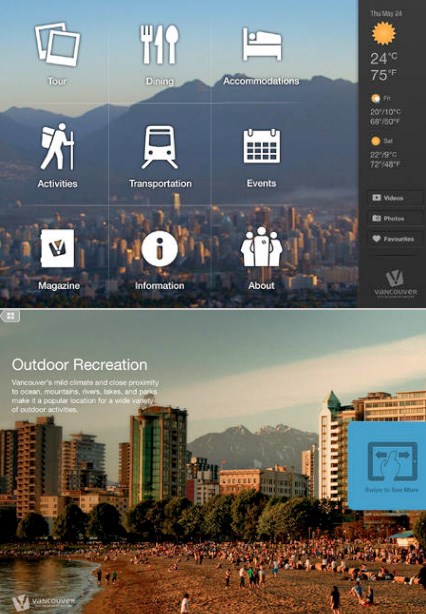 Vancouver Maps and Walks
If you're looking for new and interesting routes in Vancouver, then this app has you covered. This app comes with a detailed and fully functional city map to assist you in exploring the city and locate sights. From hidden gems to historic walks, Vancouver Maps and Walks includes over 100 self-guided routes. You can track your steps, take photos as you go, and then share your adventures with friends! This free app is designed for both iPhones (HERE) and Androids (HERE).
My City Bikes
This app is a wonderful resource for cyclists in Vancouver who want to find local routes for transportation, road biking, mountain biking, and sightseeing. You can stay up-to-date on bike lane access and infrastructure, and choose new and exciting trips to explore. As an added bonus, My City Bikes also offers tips on the basics of bike maintenance! Download My City Bikes on the Google Play store (HERE) or the Apple Store (HERE), pack a lunch and set out on adventure today!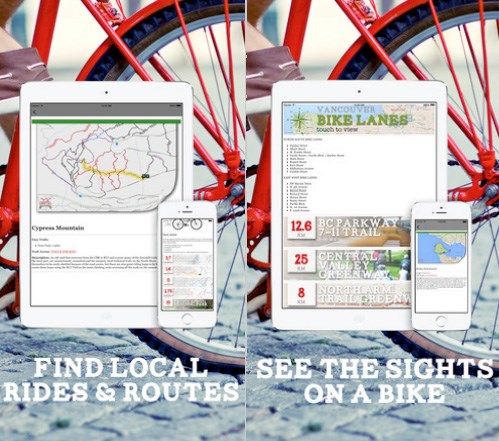 This Content is made possible by our Sponsor; it is not written by and does not necessarily reflect the views of the editorial staff.