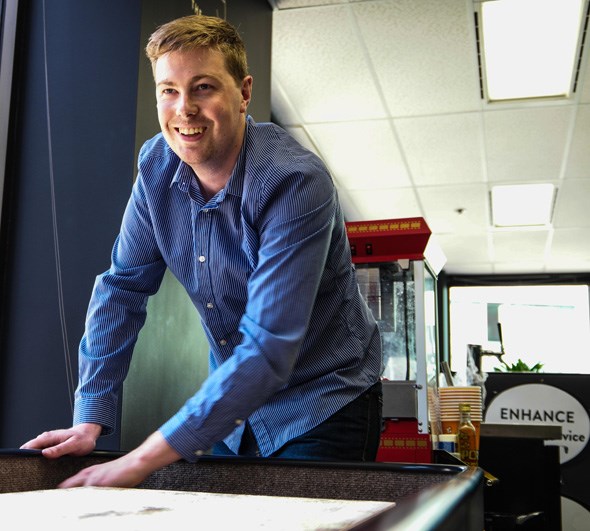 Photo: Stefan Szary
For young professionals looking to boost their career, obtaining a Chartered Professional Accountants (CPA) designation can be the ticket to a lucrative job path at an exciting company. Christian Knowler has worked his way up the ladder at JOEY Restaurants—having started off working part-time in the kitchen and eventually becoming the Regional Office Manager at JOEY Bentall.
Today, Christian is the Payment Services Coordinator on the JOEY Restaurants head office finance team. He decided to obtain his CPA designation after realizing not only how much he enjoys accounting, but how much it has benefitted his career. He spoke with us about why the CPA Professional Education Program (PEP) is worth the hard work, and challenged the myth of the quiet accountant.
What was your career path before starting the CPA PEP program?
I have a Bachelor's degree in Geography with a focus in Urban Studies because I was interested in that field of study when I was younger. But it's a difficult field to get into, and I didn't know where to go after I graduated. I was working as cook for JOEY Restaurants, but I was looking for something else. I inquired about part-time cash positions—office-related work like reconciling statements, doing bank drops, and entering payroll. I started doing that part time on weekends, and I found I enjoyed it, especially the cash and accounting duties. So I quit the kitchen and moved to full time at the office in Kitsilano. I realized this is what I want to do for a career.
What did it take to continue down that path successfully?
I found out I needed to get an accounting designation. I talked to managers, who told me how exciting accounting was. I researched the CPA and looked into taking the courses required to qualify for the CPA program. Even if you have an undergraduate degree in accounting, you have to complete the CPA PEP program.
When I started the program, I had zero accounting experience and had taken no courses, so I had to start at the beginning and take the CPA Prerequisite Education Program (PREP) modules.
How intensive is the program?
CPAPEP is very intensive. It's a lot of work and it's tiring. Each course is only two months long, but within those two months you're doing homework every night. But it's worth it.
How will having the CPA designation change your job?
Right now I have a junior position with JOEY. My medium-term goal is to become a controller, so I need an accounting designation. By doing the CPA program I'll have my designation which will allow me to fully enter the field of accounting, which opens up all sorts of doors that aren't open to me yet.
In the future, whether I'm with JOEY or not, I can pursue anything I want within accounting. High-level executive positions tend to require or at least value the CPA designation. An in-depth knowledge of finance is crucial for roles such as CFO, CEO or other C-suite positions.
Do you have any advice for people considering taking the CPA program?
It's worth it, but you need to be organized and committed. I found going through CPA PREP and PEP I've formed a group of colleagues and friends, and we're very supportive. When we have questions or need to talk we have each other. A support network is crucial.
What do you say to people who think CPAs are a quiet bunch?
I know for a fact that our department at JOEY is one of the loudest and most boisterous. We're an entertaining bunch. That stereotype is just not true, especially from the stories I hear from CPA moderators. But maybe that's just the entertainment and restaurant industry. I don't know about other industries.
Any last words about getting the CPA designation?
When I spoke to high-level managers about what I wanted, they mentioned that they hired me at head office because I expressed an interest in accounting, had done research about CPA, and signed up for the program. A lot of my schoolmates said their bosses wanted them to take the designation, but I did it on my own. Being part of the CPA and working towards it, there's a lot of respect that goes along with it.
It's hard but definitely worth it. I learned more in a year and a half getting the CPA designation than in a four-year undergraduate degree—it's stuff I can apply to both my job and my life in general.