For most, the Emerald Isle isn't a place that's top of mind when you think Halloween—New Orleans or Transylvania, maybe, but Ireland, not likely, unless of course, you're well-versed with ancient Celtic traditions.
Nevertheless, Derry, Ireland was voted the number one Halloween destination in the world, and is the inspiration behind the first annual, month-long Burnaby Halloween Festival, whose mission is to be the number one Halloween destination in Canada by 2027.
"We heard about Derry in 2019 and presented a proposal to council, who thought it was a great idea," says Chris Peters, executive director, Tourism Burnaby. "We took a trip with a couple of councillors and city staff, and attended events to check out how we could adapt it to Burnaby."
"There's nothing like it in Canada," Peters reveals. "Our goal is to have 50 events by 2027."
Expect the bewitching month to come alive in Burnaby, much like the gruesome
procession of zombies that will trudge along in the Zombie Walk, just one of the events in celebration of All Hallows' Eve, October 1 to 31.
Peters admits, "We want people to come for more than one day and stay overnight."
Eight events will test your nerves and your scare scale. Peters assures most events register between four to five on a scale of 10. He rates the zombie apocalypse near 10, but there's no jump scares, gore, or violence, except the HEX After Dark Film Festival.
"Generally, everything we're doing is family-friendly, and as it grows over the years, we'll be able to add more depth to our offerings," says Peters.
Chilling, thrilling event highlights
Get ready to squirm and scream, flinch (probably often), and squeal with delight as the spooky haunts, adrenaline-fuelled adventures, ghoulish creatures, immersive experiences, and costume revelry kick into full gear. Capture the Spirit: Photo Competition is part of the excitement, too.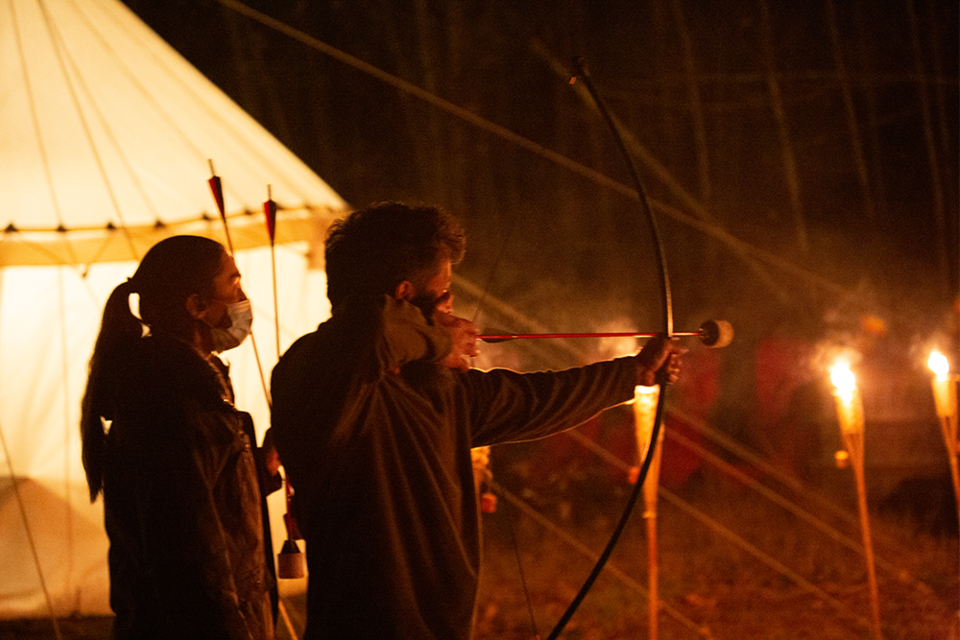 Eerie Illusions: Oct. 20 – 31
5:30 p.m. – 10:30 p.m., Burnaby Village Museum; Adult: $10, Children (2–5): $5
Talking crows, invisible bands and photo-bombing ghouls amidst state-of-the-art lighting and special effects.
Pumpkins After Dark: Oct. 22 – 31
6:30 p.m. – 10 p.m., Swangard Stadium & Central Park; Adult: $21.95, Youth (4–16): $17.95
6,000-plus hand-carved lit pumpkins within a magical pathway, music and special effects.
HEX After Dark Film Festival: Oct. 14 – 16
Various times, Cineplex Cinemas Metropolis; 3-day pass: $25, individual screenings: $7
Largest three-night narrated horror film festival in Western Canada.
Zombie Walk: Oct. 13
6 p.m. – 7 p.m., Patterson SkyTrain Station to Swangard Stadium; $25/person
Includes $5 donation to the "Society to End Homelessness in Burnaby," and entry to Pumpkins After Dark, post-event.
Haunted Halloween Adventure: Oct. 20 – 31
5 p.m. – 10 p.m., Warner Loat Park; $50 per person/groups of four
The Empty Chest's adult-only, fully-immersive, role-playing adventure. Seek out haunted quests, battles, axe-throwing and archery. Steamworks Brewing Co. sponsored tavern.
Exhibit: Spectral Visions: Oct. 1 – 31
10 a.m. – 4:30 p.m., Burnaby Art Gallery; $5 suggested donation
The City of Burnaby Permanent Art Collection transports you through chilling encounters present and past.
Won't you be my (spooky) neighbour
Enter your home's "BOO-tiful" outdoor display between October 1–27 in the free Halloween Neighbourhood Decorating Contest for a chance to win fabulous prizes.
"This is one of the most exciting ways to tie the festival together across the city," says Peters. "We'll post an interactive map and route suggestions, so people can make a night of it and drive around with their family."
Get together with your neighbours! Trick or treat teaser: your street could win a block party package for next summer. Entry deadline: October 24.
"The main thing we took away from Derry's festival was that largely everyone in the region took part in some way and really built community, and that's truly at the heart of what we're trying to do," says Peters.
"This is something that should bring all the community members across Burnaby together."
For more information, visit burnabyhalloween.com.