"Not having your community can feel isolating and with rejections during a job search, it's easy to feel dejected. It's important to have cheerleaders in your life who will constantly remind you of what you have achieved and what you can do in the future."

These are the words of Shreeya Shakya, a former IT Program Manager who moved from Nepal to B.C. during the pandemic. Shakya came across the Immigrant Services Society of BC (ISSofBC) upon relocating and found the cheerleader she was looking for.

"I worked with Bita Firouzian as my case manager virtually during the pandemic", she says. "In our first few interactions, I could see Bita was committed to helping newcomers. She reviewed my resume, gave me actionable suggestions and also ran a practice interview with me."
Firouzian's mentorship was part of the ISSofBC's Career Paths for Skilled Immigrants program; a free support program for skilled job seekers who have been in Canada for 10 years or less and are struggling to land a job or career comparable to their previous occupation. Many skilled workers who arrive in Canada are forced to work in lower-paying jobs because their education, training, or credentials are not recognized upon relocating. This can be disheartening, particularly, for those who have invested time, money, energy, and resources into building a meaningful career and who are coming to Canada for a better life.

As part of the Career Paths program, ISSofBC offers one-on-one personalized support in addition to services such as settlement support, career and employment programs, English classes, refugee services, employer matching, and mentorship programs. Funding can even be provided for clients' training, re-credentialing, and necessary licensing.

Career Paths however offers more than just services, they aim to offer genuine support to their clients, no matter what their situation or where they're from.

"Bita gave me immense confidence in my interviews – a job search is a grueling process for anyone," says Shakya. "When I hit rock bottom I reached out to Bita and she responded back in the kindest supportive way. I found a cheerleader in her and couldn't have been more grateful."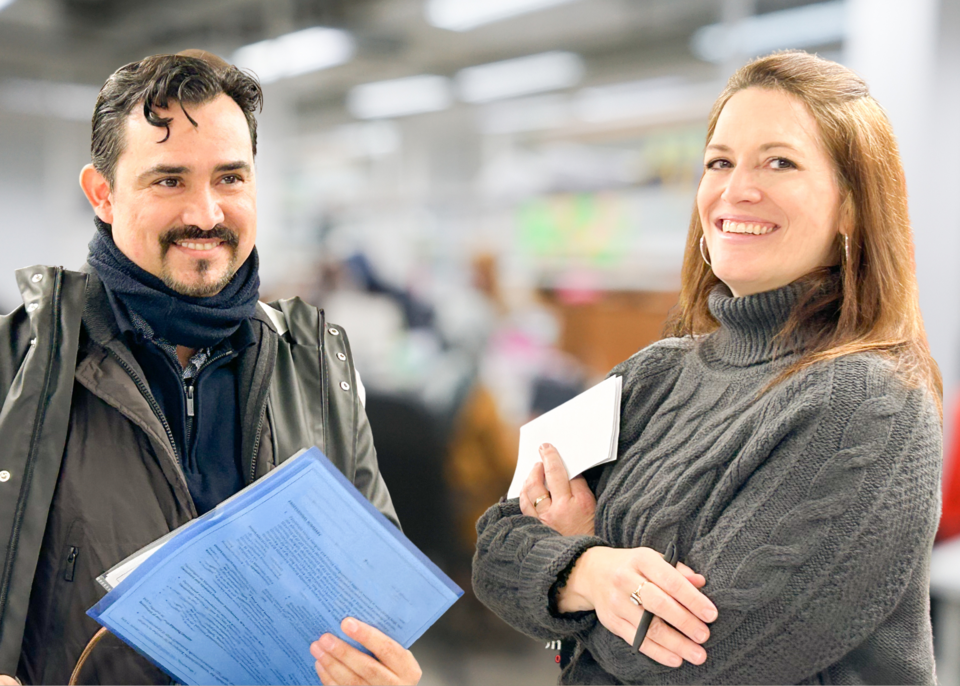 According to Firouzian, this struggle is common for most newcomers to Canada. "One of the common concerns I have seen for immigrants and refugees is the barrier of trying to obtain Canadian work experience without having local experience yet. We work with highly educated individuals who have years of experience in their country of origin. We support immigrants and refugees to leverage these skills, facilitate their re-credentialing process, fast-track their entry into the workforce, and contribute their extensive experience to the B.C. labour market. "
Shakya finished the program and now works as a Senior Project Manager for an IT company based in the USA with operations in Vancouver. As part of her new job, she was attending the Women in Tech Regatta conference, where she serendipitously met her mentor for the first time in-person having previously only connected over Zoom.

"It was like meeting an old friend and we bonded instantly. I am glad to have her not only as a cheerleader and a friend I can count on."

The feeling was mutual, "It was such a special moment for me and brought the biggest smile to my face" Firouzian told us. "We instantly connected and were so excited to discuss our updates and reflect back on the journey together. These are the moments that inspire me to work in the field that I do."

In the initial months or first year of transition, newcomers can feel lost with a sense of losing their identity. When asked about what advice Shakya has for newcomers to Canada, they said to "keep your friends and cheerleaders close."

As the go-to employment support program for professional newcomer immigrants, ISSofBC's Career Paths for Skilled Immigrants is a bridge to career fulfillment if you are a newcomer to Canada struggling to pursue your profession.

If you or someone you know is looking for a cheerleader that will help them pursue their career in Canada, visit issbc.org/ask.