What's the best neighbourhood in Vancouver?
While there are a lot of worthy contenders, there's something about Gastown, with its antique charm, hip flair, and Instagrammable streets, that makes Vancouver's oldest neighbourhood come to mind immediately.
And on Thursday, August 31, the second Meet Me in Gastown outdoor event will bring together 30+ Gastown businesses to celebrate this thriving Vancouver neighbourhood!
Organized by Low Tide Properties, in collaboration with the Gastown Business Improvement Society, PCI Developments, Reliance Properties, and The Salient Group, this free community event in Gastown will feature a partial closure of Water Street from Carrall Alley to Abbott Street for the festivities.
"Meet Me in Gastown is a major highlight for our community during the summer," says Harmony Cornwell, director of property management and operations at Low Tide Properties. "This event showcases all that Gastown has to offer and brings our local businesses, residents, and visitors together to celebrate the historic and vibrant atmosphere that Gastown holds."
This neighbourhood event will feature a celebration of live music, dining, shopping, art activations, games, and more. Here's a rundown of what you can expect from this year's Meet Me in Gastown:
Shop in Gastown
All along Water Street, shoppers can take advantage of in-store discounts and activations (such as a free floral bouquet station) at their favourite local businesses, including The Latest Scoop, Australian Boot Company, Herschel, Native Shoes, and gravitypope.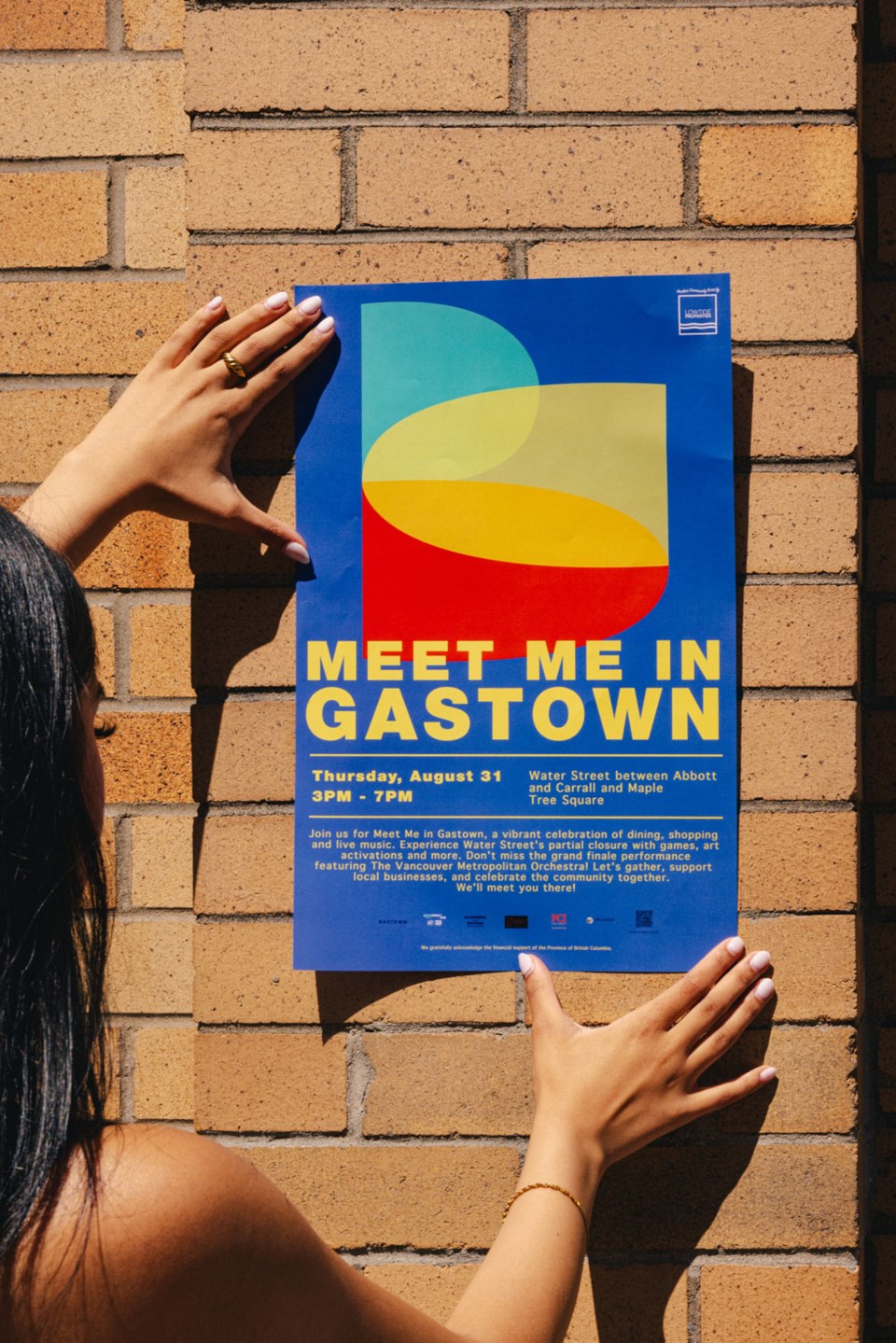 Dine in Gastown
Treat yourself to a delicious meal and beverage on the cocktail patio in Carrall Alley hosted by Monarca and Guilt & Co. Monarca's new-age Mexican fare, paired with handcrafted cocktails made with premium tequilas and mezcals, is not to be missed. An intimate space for live music, Guilt & Co. is steps above your typical bar with premium food and drink offerings.
Other popular Gastown eateries, such as Local Public Eatery, MeeT in Gastown, Twisted Fork, L'Abbattoir, and The Greek, will also be lively spots for guests to enjoy a bite or sip. Picnic tables will be set up along Water Street for attendees to enjoy takeout from the neighbouring businesses.
For some food competition fun, check out the oyster shucking competition at The Portside Pub, starting at 5:30 p.m.
Be Entertained in Gastown
Between 3 p.m. and 5 p.m., audiences can listen to the tunes of Emmett Jerome and Hayley Wallis at the Maple Tree Square Stage. Additional musical acts, including Alannah Clark, Katie Stewart, and Lee Nichols, will be stationed throughout Gastown to create a lively atmosphere throughout the streets.
Local visual artists Arega Grigoryan, Katherine Cross Olivia Di Liberto, and Paige Jung will also be set up on the street for a series of captivating live art demonstrations.
From 5 p.m. to 7 p.m. at the Abbott Street Stage, Meet Me In Gastown attendees can see an enchanting musical performance by the Vancouver Metropolitan Orchestra. Stay until the end for a surprise grand finale performance to close out the evening.
For more info on Meet Me In Gastown, visit lowtideproperties.com/meet-me-in-gastown-2023.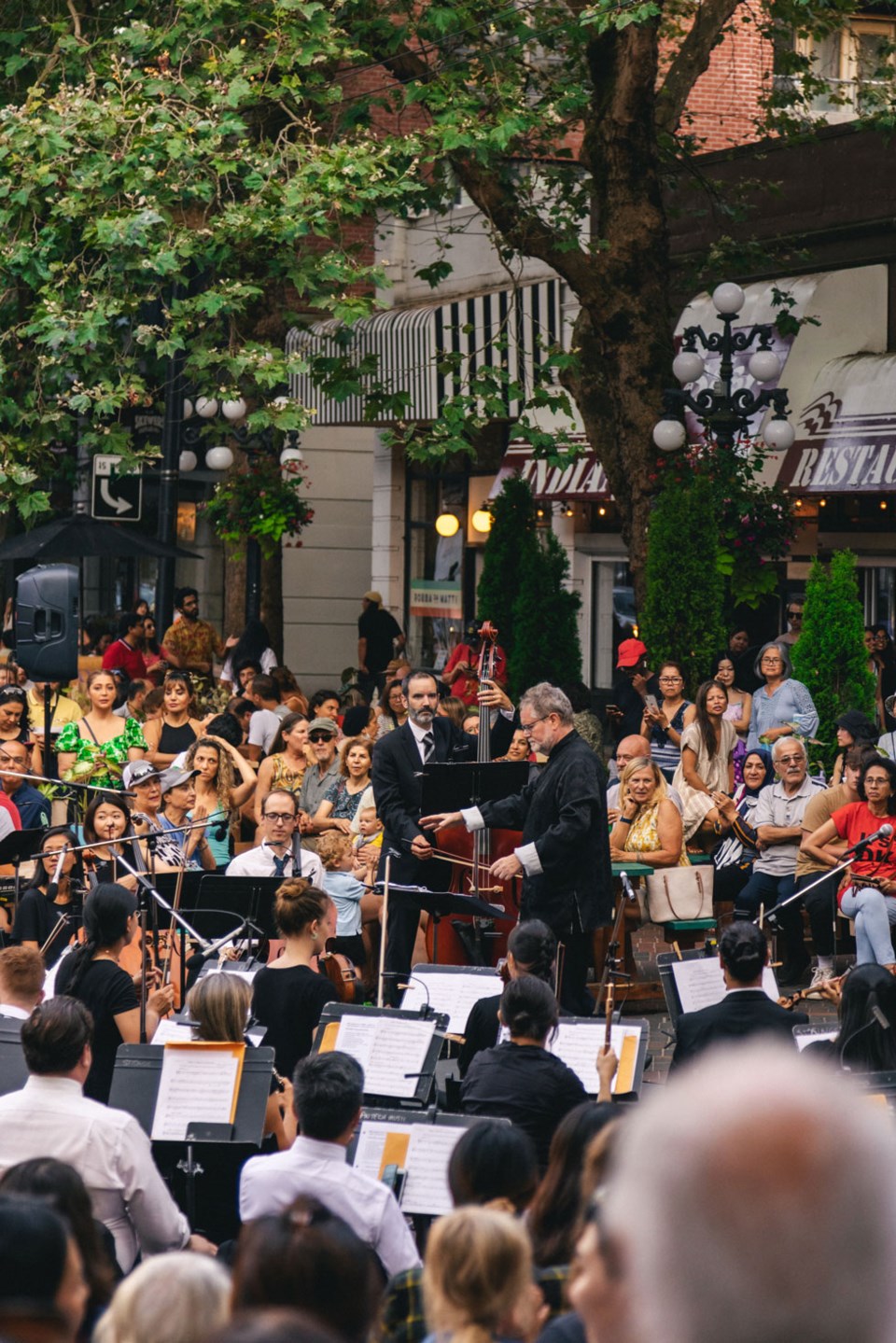 We've partnered with Meet Me In Gastown to give TWO lucky winners one of two $250 gift cards to a couple of beloved Gastown establishments!
The Grand Prize gift card options include:
A $250 gift card to Guilt & Co, OR
A $250 gift card to Monarca
Total Grand Prize Value: $250 CAD each (two winners)
You can enter via the contest entry form below. For additional chances to win, visit Meet Me in Gastown's website for 10 bonus entries, and visit their Instagram page for another 25 bonus entries.

This contest is open to British Columbia residents and closes on August 28 at 9 a.m. PST. The contest winners will be contacted via email on this date.