It's been an entire century since the occurrence of one of the greatest archaeological discoveries in history — the uncovering of King Tut's tomb.
Led by archaeologist Howard Carter, a team of excavators discovered the intact tomb of the 18th Dynasty Pharaoh Tutankhamun in the Valley of the Kings in Luxor, Egypt on November 4, 1922. Covered by debris and not extensively robbed, it was the best-preserved royal pharaonic tombs ever found in the Egyptian valley.
Exactly 100 years later, National Geographic's Beyond King Tut: The Immersive Experience will open on November 4, 2022, at the Vancouver Convention Centre East Building for a once-in-a-lifetime opportunity to experience the highly-anticipated travelling exhibition.
Through this immersive digital exhibition, you can descend into King Tut's tomb and unlock the 3,300-year-old story of the world's most famous Egyptian pharaoh.
​Through nine distinct galleries across multiple rooms of discovery, the self-guided storytelling experience will transport visitors into the past for an hour-long journey into the ancient world of the 18th Dynasty, where King Tut ruled and Egyptian gods like Ra and Anubis were worshipped by all. Visitors will also be able to travel to see the various wonders of the Egyptian world, such as the Great Sphinx, the Karnak Temple, and the Pyramids of Giza.
Using state-of-the-art multimedia projections, the time-travelling experience starts with a walkthrough along visual galleries to reveal more about the young pharaoh's life, as well as present a recreation of the boy king's burial chamber. The final room will greet guests with larger-than-life projections of King Tut's treasures, showcasing all the exquisite detail and artistry of these ancient items through cutting-edge clarity.
VIP ticket holders can also tour the famed tomb through "Tutankhamun: Enter the Tomb", a VR experience, narrated by Downton Abbey's Hugh Bonneville, that transports guests on a flythrough of the tomb in incredible high-definition detail.

Tickets for Beyond King Tut, which runs from November 4, 2022, to January 8, 2023, are on sale now. Go to beyondkingtut.com/vancouver for more information.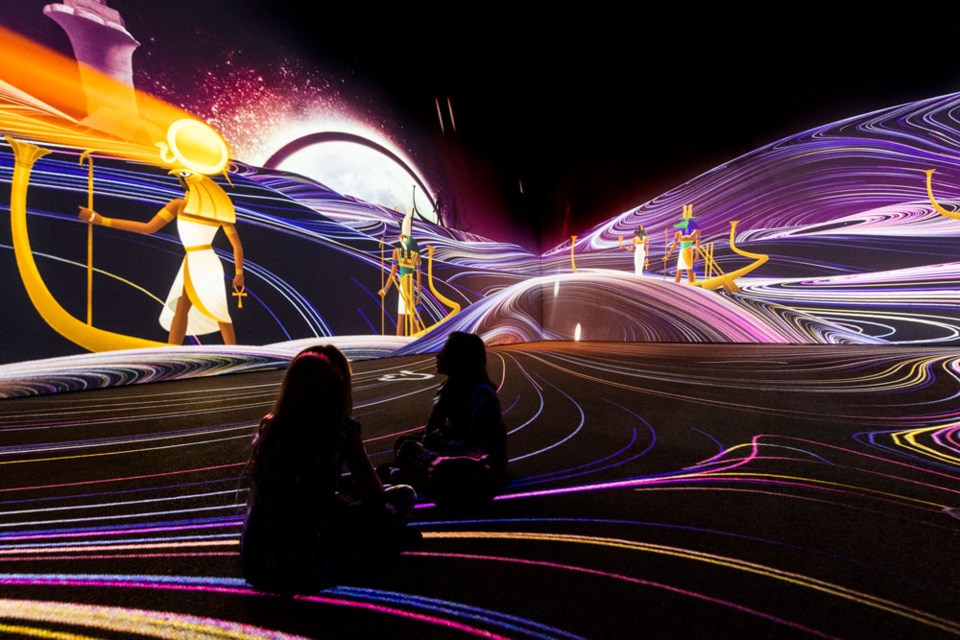 We've partnered with Beyond King Tut to give one lucky winner a pack of four tickets (valued at $300) to Beyond King Tut: The Immersive Experience!
You can enter via the contest entry form below. For additional chances to win, visit the Beyond King Tut website for 10 bonus entries, and visit their Facebook and Instagram pages for another 25 bonus entries each.
This contest is open to British Columbia residents 18+ and closes on September 26, 2022. The contest winner will be contacted via email on this date. Tickets will be set up under the winner's name for pick-up at the exhibit.