Whether you're the meditating, star gazing, spa-visiting type, or the axe-throwing, snowshoeing, wilderness survivalist type, Echo Valley Ranch & Spa has just the remedy for your connection-seeking soul.
Tucked far away from the hustle and bustle of hectic everyday life, this small, family-owned ranch sits at the convergence of the Marble Mountains, the Fraser Canyon desert, the boreal forests and the Cariboo grasslands.
Complete with accommodations in a cabin or lodge, morning Thai yoga classes, access to a sauna, indoor pool, gym and games room and nourishing meals to eat, Echo Valley Ranch & Spa's all-inclusive package gives you a variety of wellness-focused activities to choose from.
Keep reading to find out more and for your chance to win a two-day getaway for two next winter or spring!
Empty your busy mind with meditation
Time to tuck away your to-do list! After one of Echo Valley's meditation sessions in their Baan Thai (Thai home), you'll be sinking into a harmonious state that leaves you feeling like you can fully experience each moment, as it happens.
Sip hot cocoa while stargazing
Appreciate the absence of urban light pollution under the gorgeous night sky, tucked in a cozy blanket with a cup of hot cocoa or tea in your hand. All you have to do is look up!
Snowshoe or hike through forest trails
Strap in for a low-impact walk through the winter wonderland around the ranch, or half-day hike through wooded trails, wonderful vistas and the historic remains of the Reinhardt Shipping Company.
Learn wilderness survival skills
This half-day course with Echo Valley's expert guides will teach you a series of survival techniques, like finding a water source, building a fire, scavenging for edibles and even building a shelter. The end of the day caps off with a lesson on finding your way back home, using the sun and landmarks for directions.
Bond with Echo Valley's herd of horses
You'll be pleasantly surprised just how fast you can build a connection with these beautiful animals! Accompanied by a guide, you can get familiar with the herd of horses enjoying the winter out in the pasture, learn how to read their body language and communicate with them through intuition.
Channel your inner lumberjack with some axe throwing
After an introduction on how to safely handle and throw an axe, it's time to spark your competitive nature and hurl as many one-handed or two-handed bullseyes as you can!
Also available for an additional charge are Echo Valley's spa services, inspired by both classic European and authentic Thai therapies.
To book your getaway, visit evranch.com.
Echo Valley Ranch & Spa is a proud partner of Wellness Travel BC.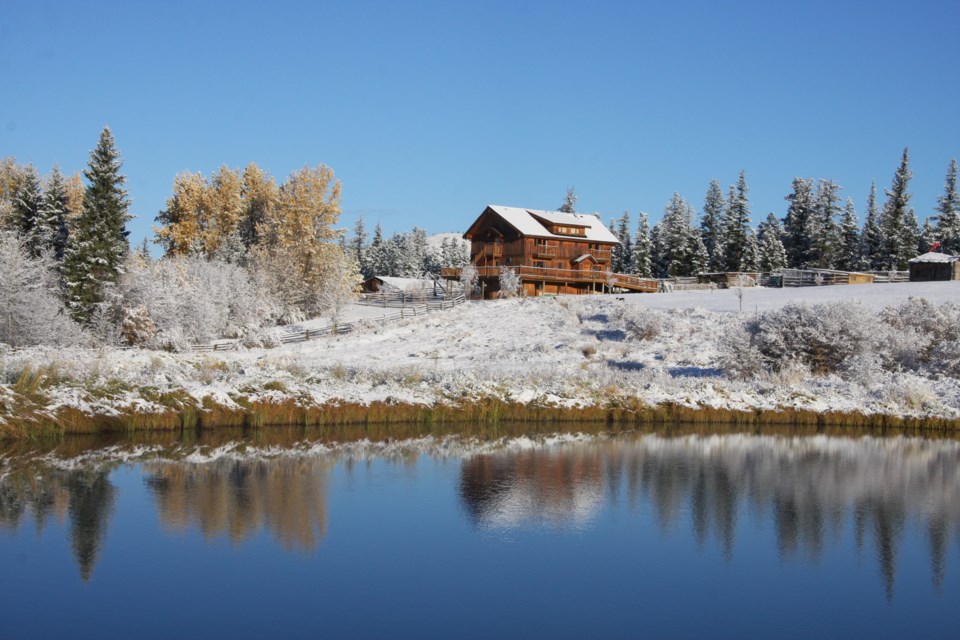 We've partnered with Echo Valley Ranch & Spa to give one lucky winner and their guest an all-inclusive wellness getaway for two nights (for a total grand prize valued at approximately $2400)
The Echo Valley Ranch & Spa Grand Prize includes:
An all-inclusive package for two people for two nights (Valued at $549 per person per night), which includes accommodation, meals (including snacks and non-alcoholic beverages) and the winner's choice of the following guided winter activities: meditation, snowshoeing, winter survival, axe throwing, connecting with the horses on the winter pasture, or star gazing
Use of Echo Valley Ranch's facilities, including the sauna, indoor pool, fitness room, and games room, is also included
You can enter via the contest entry form below. For additional chances to win, visit Echo Valley Ranch & Spa at their website for 10 bonus entries, and visit their Facebook and Instagram for another 25 bonus entries each.
This contest is open to British Columbia residents and closes on October 31, 2023. The contest winner will be contacted via email on this date. The grand prize is valid for redemption between November 1, 2023 and April 30, 2024. Echo Valley Ranch & Spa is closed between December 23, 2023 to January 31, 2024. Bookings are subject to availability. Transportation to and from Echo Valley Ranch & Spa is not included. Spa services are available at an additional charge.