There's a certain nostalgia and comfort associated with sewing. If you're part of the makers and designers' community, in all likelihood you had a grandma, or knew someone's, whose sleek black mid-century Singer was the cast steel portal to channel her creative energy to produce something beautiful—and as a result—a lot of joy.
Today, not much has changed, except you might favour electric over a hand crank and treadle. But whether you sew professionally (seamstress, dressmaker, tailor), engage as a hobbyist sewist (hybrid of artist/sewer), or you're partial to quilting, knitting, or embroidering—undeniably, it's an enjoyable creative outlet of self-expression.
Whatever your interest in needlework—one thing is certain—Fabricana and their knowledgeable and friendly staff can assist you with tips, advice, and any project need.
"We have a lot of really experienced staff, mainly because they really love helping people with their projects," says Myles Hurtubise, Fabricana's vice president of purchasing.
"When you come through our doors, you realize we're an A-to-Z kind of store. We have thousands of bolts of fabrics of every kind, for every occasion: fashion fabrics, quilting, faux furs, a beautiful bridal department, a full-service home décor department (Coquitlam only), notions, and more."
Fabricana's longevity, sewing classes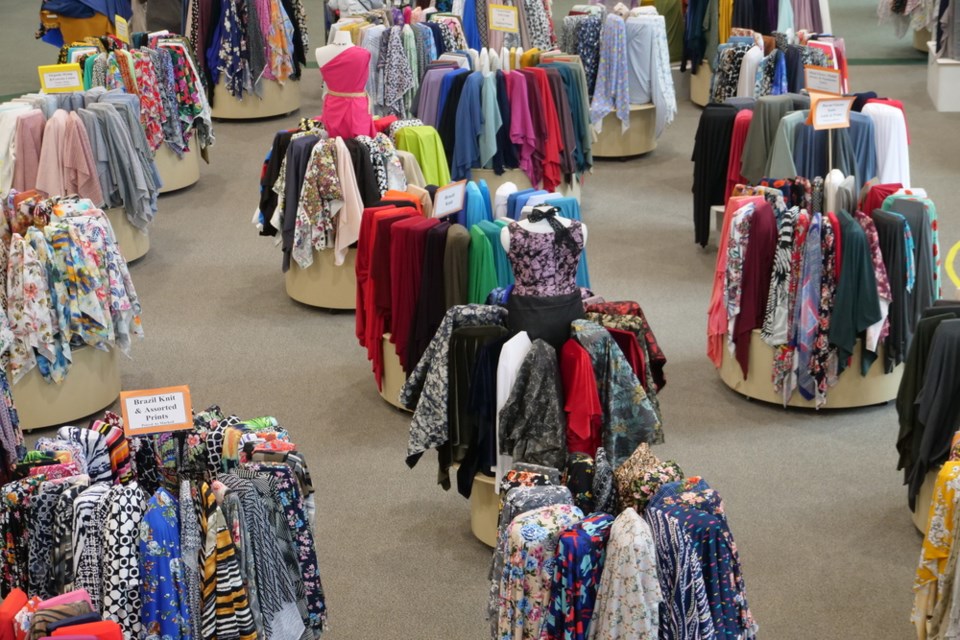 Founded in 1970 by Richard Megrian, Fabricana is a family-owned and operated fabric store spanning three generations, with locations in Richmond and Coquitlam.
"We have a long-standing staff, myself included (I started in 1995), and there's a personal pride and enjoyment that comes from working for a family-owned business with such a long history," reflects Hurtubise. "It's a testament to a great company when employees stay so long."
As the holiday season approaches, you're likely brainstorming festive projects or are well underway. A personal touch to gift-giving is always rewarding and if you're looking for some inspiration, Fabricana's blog provides some holiday décor, baby clothes, and DIY gift ideas. Fabricana's sales associates are always at the ready to impart their wisdom and help guide you, too.
To perfect your skills or learn new techniques, register online for in-store spring sewing classes running from March 21, 2023 to April 1, 2023. "Ron Collins, Canada's best known sewing personality, will lead workshops geared toward intermediate and advanced sewers, focusing on specific skills people want to develop," says Hurtubise.
"There's a three-day jeans workshop, a one-day zipper workshop, a full-day class on pocket types, as well as a class working with knits."
Vancouver Is Awesome has partnered with Fabricana to give one lucky winner a holiday prize pack from Fabricana!
One winner will be randomly drawn and awarded their choice of 1 of 2 grand prizes.
The first grand prize includes a $500 Fabricana gift card or store credit (or combination) to be used for any in-store shopping, towards classes, or online orders.
A $150 Fabricana gift card/store credit and $150 prepaid credit card will be offered as an alternative prize. "The lesser value option might be more applicable for somebody who isn't an avid sewer or doesn't have a big project on the go," suggests Hurtubise.
"We want to help all levels of sewers have success with their project," he admits. "It's rewarding to know our staff's love of the craft is being passed on to people, who will be inspired to return."
Enter for your chance to win your choice of 1 of 2 Fabricana holiday prize packs:
A $500 Fabricana gift card or store credit (or combination) to be used for any in-store shopping, towards classes, or online orders, OR,
A $150 Fabricana gift card/store credit and $150 prepaid credit card
Total Grand Prize Value: $500 CAD
You can enter via the contest entry form below. For additional chances to win, visit Fabricana at their website for 10 bonus entries, and visit their Facebook and Instagram for another 25 bonus entries each.
This contest is open to British Columbia residents and closes on December 21, 2022. The contest winner will be contacted via email on this date.