Vancouver Pride will be blooming with pride and joy throughout Vancouver's downtown neighbourhoods.
With the support of Yaletown BIA and the West End BIA, Fleurs de Villes PRIDE, presented by Porsche Cars Canada, returns to Vancouver once again this year to offer a stunning showcase of locally-designed pop-up floral installations.
Running for six days during Vancouver Pride Festival from August 2 to 7, the internationally-celebrated Pride-themed floral show will feature 25 bespoke floral displays spread out across Yaletown, Davie Village, Bentall Centre, Park Place on Burrard, and 745 Thurlow Street.
The Pride-inspired displays present floral tributes to 2SLGBTQIA+ icons, trailblazers, and allies of the local and global Pride communities. Conceptualized and created by some of Vancouver's most talented and imaginative local floral artists, this season's showcase will include a colourful mix of Instagrammable swings and benches, along with a giant floral rainbow.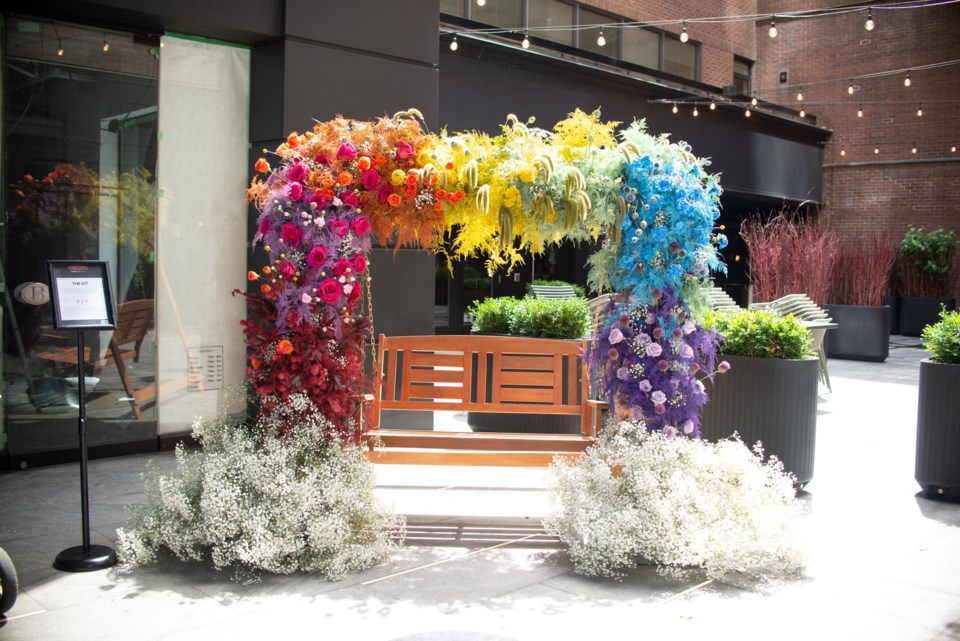 The West End and Yaletown districts play monumental roles in Vancouver's 2SLGBTQIA+ timeline.
Back in August 1973, Vancouver was part of the first nation-wide celebration of Pride Week for LGBT rights across Canada's major city centres, with the hosting of a picnic and art exhibit in Ceperley Park, located near Second Beach in Stanley Park. Five years later, in 1978, Vancouver held its first pride parade through the West End, which includes a modest procession of supporters from Nelson Park to Alexandra Park via Beach Avenue and Pacific Street. In 1981, the Vancouver Pride Society was incorporated and 10 days of festivities were organized around an official parade. Today, a number of 2SLGBTQIA+ -friendly businesses, like Little Sister's Book and Art Emporium, cement Davie Street's space in queer history.
New for 2023, the Vancouver Pride Parade & Festival will be changing its traditional route and location, beginning at Davie and Denman, proceeding from the West End through Yaletown down Beach Avenue, Pacific Street, and Pacific Boulevard, and finishing at the new festival site at Concord Community Park.
Fleurs de Villes is proud to join these neighbourhoods in honouring Vancouver Pride's past and present, while celebrating the best way they know how - with flowers! Having also popped up in cities like Sydney and San Francisco, Fleurs de Villes PRIDE, presented by Porsche Cars Canada, aims to put the spotlight on incredible local florists around the globe as they pay floral homage to inspirational members and allies of their city's LGBTQIA+ community.
Visit fleursdevilles.com/pride-vancouver to see the map and follow the floral trail. Visitors are encouraged to snap a photo with the installations and tag #FDVPRIDE to enter an Instagram contest for a chance to win a 3-day Porsche Drive Rental with the all-electric Taycan.
For more information on this and other upcoming Fleurs de Villes events, visit fleursdevilles.com and check out @fleursdevilles on Instagram.