So you might not be able to jet off on that international golf trip you want to take (bummer!) but in case you didn't know, B.C. is home to one of Canada's most diverse (and photogenic!) golfing landscapes.
Kamloops is a premier spot for an unparalleled golf getaway that will make you feel like you're playing away from home. With an eight-month golf season that boasts year-round sunshine and amazing conditions, the Thompson Valley provides awe-inspiring fairways and dramatic riverside links.
Whether you're on the golf course to test your skills, play for fun, or enjoy the scenic views, Kamloops has an experience for golfers of all levels.
Intrigued? Here's the tee on what to cover over the course of 3(ish) days at this all-season dream golf destination this spring.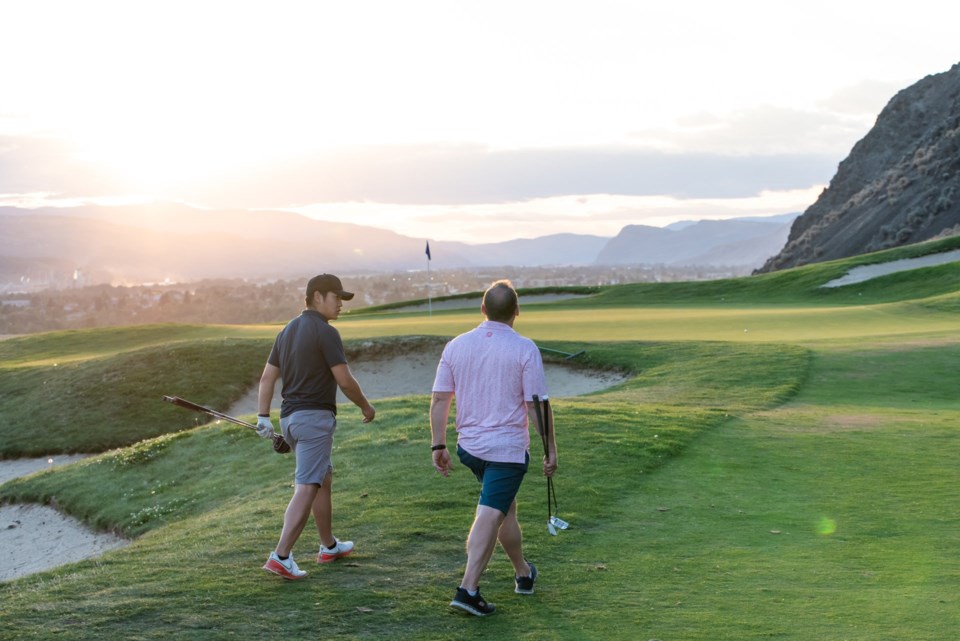 Bighorn Golf & Country Club. Photo: Golf Kamloops/Mary Putnam
DAY 1
Hit the ground running by scoping out the diversity of the various golf courses across Kamloops.
From lake shorelines to cliffsides, Kamloops' distinct and dramatic landscape provides a myriad of wow-inducing panoramic views and challenges for golfers. You will experience an incredible game from the mountain tops to the riverside vistas at courses that are immaculately designed and different from the next — like the rugged sand dunes of The Dunes.
Located along the Trans-Canada Hwy and on the bluffs above Kamloops Lake, Tobiano is the signature golf course of Kamloops. In a setting that's unique, dramatic, and a blast to play, its 18-hole championship layout boasts large sloped greens and a full turf range. On the 7th hole, golfers can make an epic tee shot over a vast, rugged canyon. Golf does not get more exciting than that!
Close to the Kamloops Airport, Kamloops Golf & Country Club is Kamloops' friendliest, oldest, but newest, golf course, having recently been redesigned with new greens and tree-lined fairways. Golfers can often come across wildlife, as the area is home to deer and many species of birds.
Just 5 minutes from downtown Kamloops, Bighorn Golf & Country Club's desert golf course — with its bent grass fairways, natural sand dunes, gently contoured greens, and fragrant sagebrush — is an ideal place to golf, take in spectacular views of the city, and perhaps encounter some of the resident bighorned sheep.
Rivershore Golf Links is a par 72 course that stretches seamlessly over the riverside landscape with winding fairways. In this links-style course, players will find holes lining the South Thompson River on route to the clubhouse.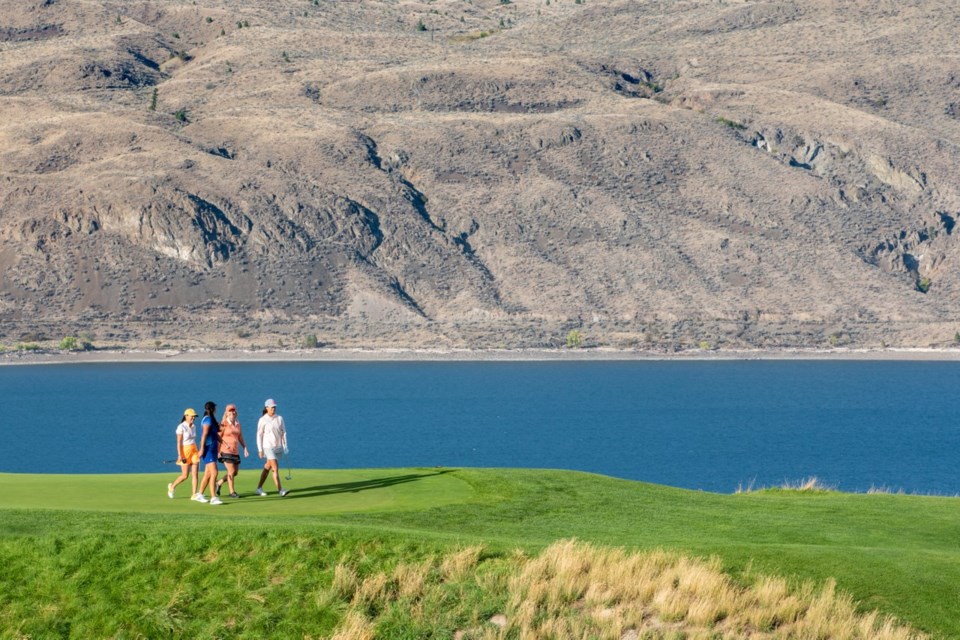 Tobiano Golf Course. Photo: Golf Kamloops/Mary Putnam
DAY 2
After playing at one or two (or more) of the Kamloops' top golf courses yesterday, venture out a little further today.
Sitting atop one of the highest points in the valley is Eaglepoint Golf Resort. This clifftop course in the Barnhartvale hills has untouched terrain with holes that see-saw and wind through the valleys and cliffs.
A regional fave, Talking Rock Golf Course meanders through a sandy forest and finishes with a spectacular 18th hole along Little Shuswap Lake, 45 minutes east of Kamloops. The extensive panoramic views from the upper holes are simply breathtaking.
Located just 45 minutes northeast of Kamloops, The Golf Course at Sun Peaks has greens located at 1,200 metres above sea level, making it B.C.'s highest elevation course. Surrounded by sweeping mountain views, the challenging yet rewarding 18-hole par 72 Graham Cooke course weaves alongside the Sun Peaks village at the foothills of the Tod, Sundance, and Morrisey ski mountains.
The best part of golfing in Kamloops and the Thompson Valley is that you can swing without the crowds in a golf environment that's more relaxed, chill, and just fun!
Since weekend tee times fill up fast, we recommend you go in for a midweek play. Go on and use up those vacation days you've been banking up!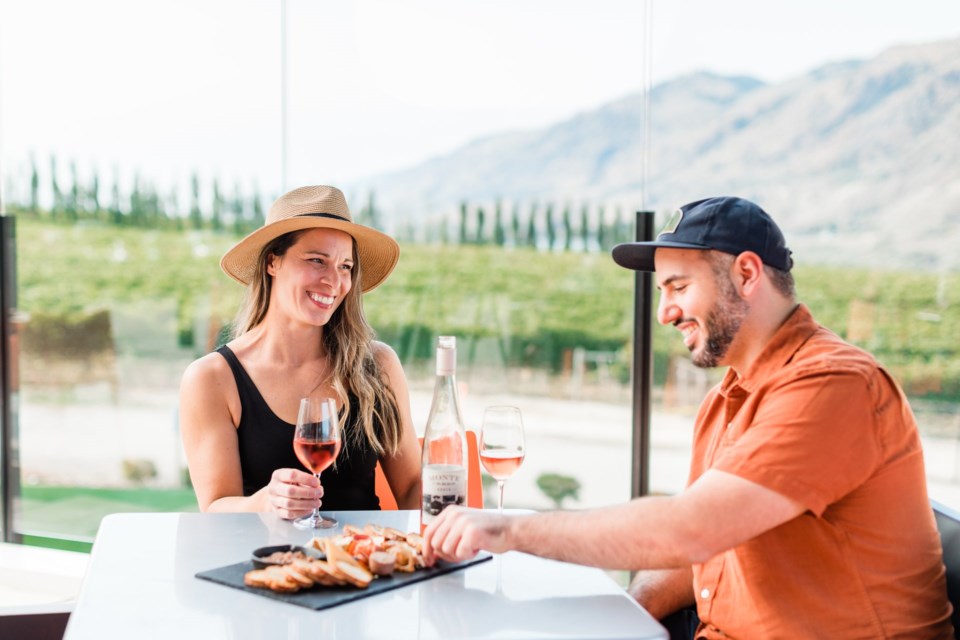 Monte Creek Winery. Photo: Golf Kamloops/Royce Sihlis
DAY 3
By the third day, you're going to want to give yourself a break from swinging golf clubs all day, so switch it up and try out other fun activities nearby.
From the water to the land, Kamloops is a mecca for outdoor adventures. With over one hundred lakes nearby, it is also known as a world-class fishing destination with ample access to prime stillwater. The region is also renowned as a mountain biking paradise, with its rugged landscape, rolling hills, and diverse bike trail systems.
Golf and vino… wine not? This pairing goes perfectly well together along the Kamloops Wine Trail in the beautiful Thompson Valley wine region, which includes three of Kamloops' premier wineries — Harper's Trail, Monte Creek, and Privato.
When you book a golf and wine getaway through Golf Kamloops, you can add a tasting voucher for all three wineries. Full guided wine tours and shuttles are also available through TasteFull Excursions.
Golf Kamloops has tee'd up a number of golf experience packages to enable you to make the most of your time and get the best bang for your buck. You can even request to customize a package that includes everything you want to do, combining rounds, activities, and accommodations so you can get the most out of your B.C. golf vacation.
Since weekend tee times fill up fast, we recommend you go in for a midweek play. Go on and use up those vacation days you've been banking up!
Tee off in Spring 2022! Plan ahead and book now. For more info, visit golfkamloops.com.